Drones over the desert
Unmanned air vehicles (UAVs) are becoming a key enabler for African military and security forces in combatting terrorism and armed militancy. The expansion in UAV fleets across the continent has not escaped the Sahel, where the Niger National Guard (GNN) is growing its own drone component for intelligence, surveillance and reconnaissance (ISR) duties.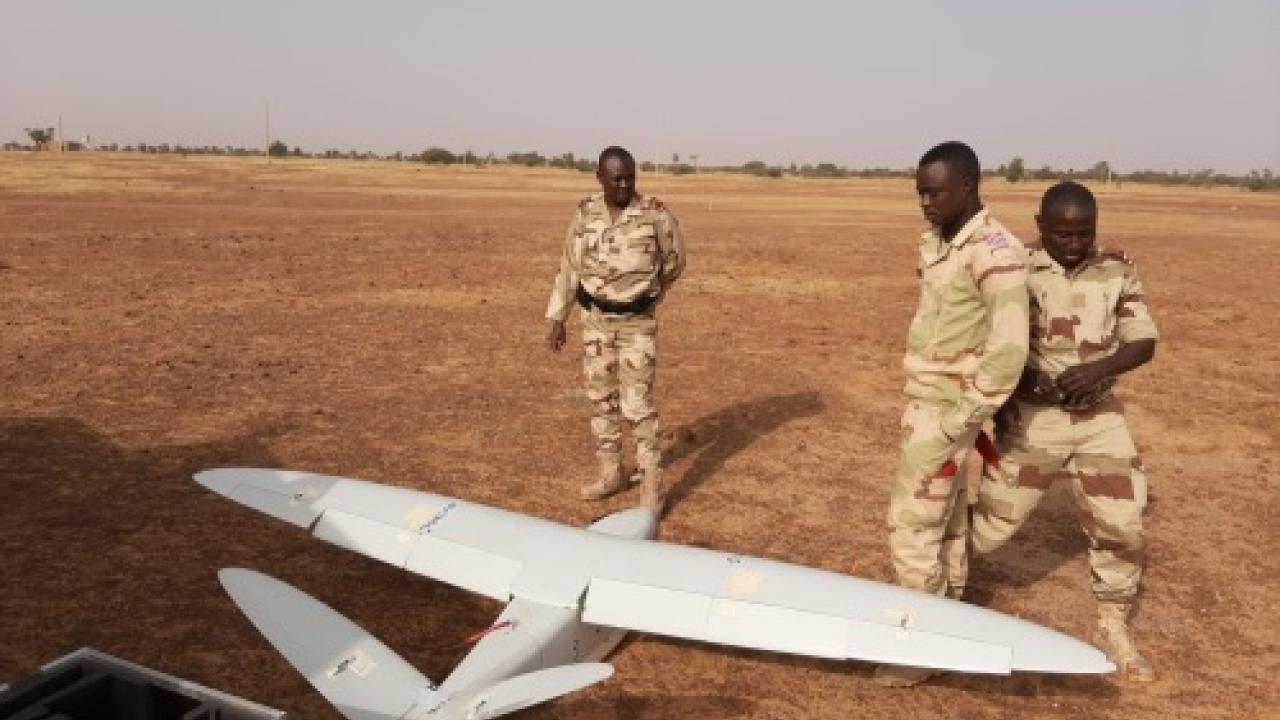 Small success: The Niger National Guard now operates three Delair DT26M small UAVs with a fourth on order. Picture: Delair.
The GNN is a military force tasked with internal security, judicial police duties, intelligence gathering, patrolling, and riot control, with a focus on rural areas, although it can also be deployed in urban settings for public order support. Erwan de Cherisey reports.
The GNN is intended to provide a visible government presence in the vast expanses of the Nigerien hinterland, where no other security forces operate, reach out to the local population, and serve as first responder in case of criminal activity.
Its experience in operating across the length and breadth of the Niger desert, notably along the border with Mali, and its keen understanding of local populations in these areas have turned it into a key asset in the ongoing fight against terrorist threats.

In light of its critical intelligence-gathering role, and to further strengthen its surveillance capabilities, the GNN was singled out to be provided with a UAV capability under a bilateral agreement between France's Directorate for Security and Defence Cooperation (DCSD) and the Niger Government.
In 2018, French UAV manufacturer, Delair, was selected by the DCSD to provide its DT26M UAV for the project, together with support equipment.
The DT26M is a mini UAV with an endurance of up to 170 minutes and a range of 50km. It can carry a payload of up to 3kg, which for the GNN is an InPixal ASIO-155HD, combining a high-definition video camera with an infrared imager in a two-axis gyro-stabilised gimbal mount.
As one Delair executive outlined, the operational environment and context where the UAVs would be used were carefully assessed by the DCSD before a selection was made. The reliability of the DT26M was a key strongpoint which resulted in its selection.
He added: "The idea with the DT26M is for it to be the Toyota of drones – rugged, simple and efficient."
Delair was also already registered as a fixed-wing UAV supplier of the Public Procurement Groups Union (UGAP), a centralised French Government procurement platform, which made it much easier to expedite procurement compared to other companies.
The initial contract signed with the DCSD covered two UAVs, a control station, as well as training for operators and maintenance personnel. These were selected by the GNN from its own ranks on the basis of their technical culture and informatics knowledge.
Training was carried out throughout the first half of 2019, both in France and in Niger.
In November 2019, the two aircraft were formally handed over to the GNN, thus allowing the activation of its UAV unit.
That same year, a maintenance and sustainment contract was ratified by the DCSD to ensure long-term support of the UAV fleet. Under this agreement, Delair technical teams travel to Niger every six months to provide training refreshers, inspect the UAVs and undertake preventative maintenance on them.
Due to the Covid-19 epidemic, the initial schedule had to be altered and, after a first visit in early 2020, a second was conducted in November, albeit with a longer duration to compensate for the delays.
The GNN and DCSD have both been satisfied with the DT26M's performance, as well as with Delair's support.
The Delair executive noted that particular emphasis was placed on sustainment, given the harsh operating environment.
Constant interactions with the customer take place, including regular conference calls to ensure that any issues can be resolved as quickly as possible.
This strong track record led to a follow-on order for a third aircraft in 2019. This was delivered in June 2020. Then in September, a contract for a fourth aircraft was formalised.
Stay up to date
Subscribe to the free Times Aerospace newsletter and receive the latest content every week. We'll never share your email address.