Crops and robbers...
Today's asymmetric and counter-insurgency operations have placed a premium on persistent, cost-effective, armed intelligence, surveillance, and reconnaissance (ISR) and close air support aircraft that are able to detect and engage fleeting targets, and that can operate from semi-prepared forward airstrips. As Jon Lake reports, among the many aircraft types developed to meet these requirements are at least three derivatives of humble agricultural crop-sprayers.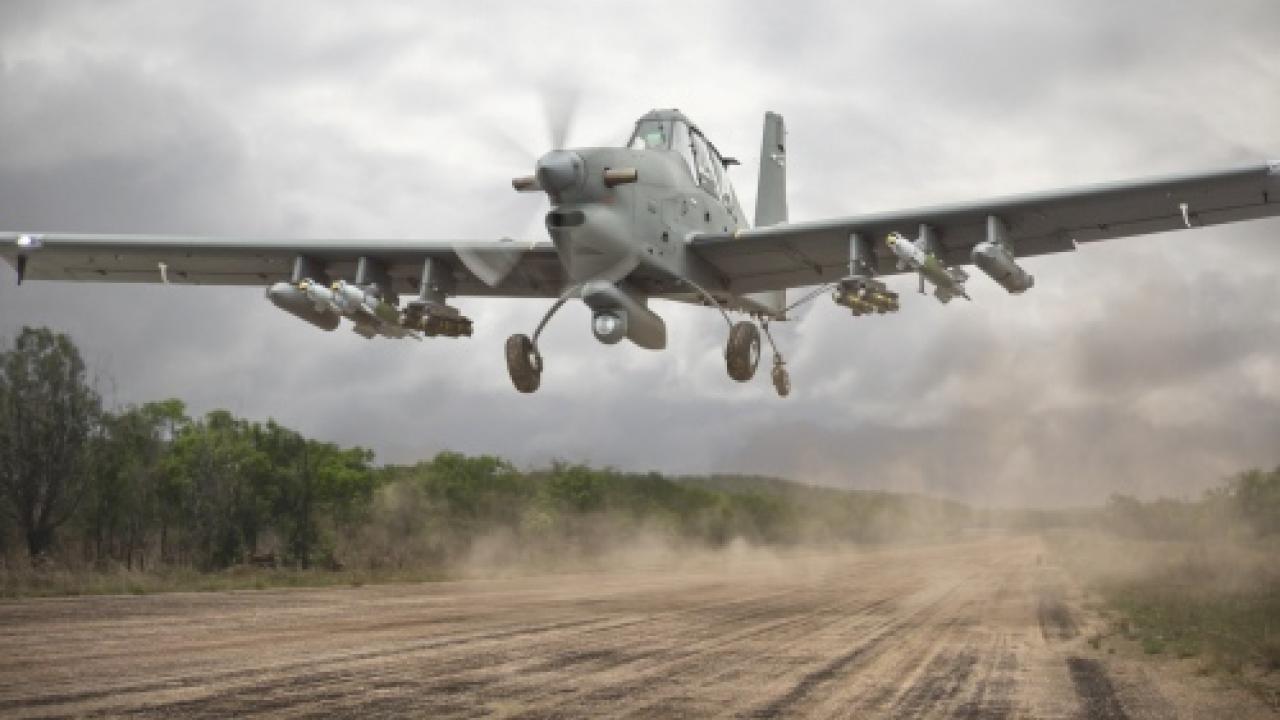 Some aircraft initially designed for crop-spraying are, these days, being asked to fly a very different mission.
The development of light attack and ISR aircraft based on platforms that were originally designed as cropdusters dates back the 1980s when the US State Department bought a fleet of modified Ayres Turbo Thrushes to be used in the 'War on Drugs' in Latin America.
Cocaine and marijuana growers did not take kindly to having their lucrative cash crops sprayed with Roundup herbicide, and frequently greeted the crop-spraying aircraft with a hail of gunfire. Consequently, the Ayres Turbo Thrush narcotics eradication delivery system (NEDS) aircraft were fitted with armour plating around vital components and had bulletproof windshields and cockpit windows.
While the NEDS aircraft were armoured but unarmed, the US Central Intelligence Agency (CIA) in Colombia reportedly undertook a similar programme, using similarly modified Air Tractor aircraft. Some reports suggest that these aircraft were also used for ISR and attack missions against the drug cartels and FARC rebels.
Though Ayres and Air Tractor were separate companies, both produced a very similar aircraft, designed by the same man, Leland Snow!
What this means is that the main competitor to the Air Tractor (a crop-sprayer derived from the original Snow S-2) is the similar Thrush (another derivative of the Snow S-2). Both types have spawned armed light attack and ISR derivatives.
Before the company went bust, Ayres launched the Ayres V-1-A Vigilante, a dedicated close air support derivative. This attracted interest, but failed to win orders, and it was not until 2008 that another attempt was made to develop an armed crop-duster.
In response to the nascent US Air Force light attack/armed reconnaissance (LAAR) programme and a growing international requirement for light counter-insurgency aircraft, Air Tractor developed an armed model, the AT-802U.
The AT-802U prototype was displayed at the 2009 Paris Air Show, where it was reported that it was expected to become the first of 24 production aircraft ordered by the UAE.
In the event, the UAE turned to a relatively new company, Iomax of Mooresville, North Carolina, instead. The Block I Border Patrol Aircraft (as the company called its conversion of the Air Tractor AT-802U) was its first aircraft programme.
Iomax delivered an initial batch of 10 Block I Border Patrol Aircraft between November 2010 and May 2011 and then, from January 2012, delivered a batch of 14 similar aircraft to Block II standards, modified to carry heavier payloads and with other detail enhancements.
The UAE has already moved on to the further-improved Archangel, designed as the third iteration of the BPA, maintaining all its current weapons capabilities (GBU-12 Paveway II laser-guided bomb, GBU-58 Paveway II dual-mode bomb, Cirit laser-guided rocket, and AGM-114 Hellfire anti-tank guided missiles) but based on a different airframe.
The UAE has gifted six of its Block I aircraft to Jordan, where they are still employed on a daily basis. The aircraft have been upgraded to virtual Block II standards, with the Archangel weapons control system, heavy stores pylons (which allow the carriage of 500lb stores), and some new avionics.
A dozen Block IB and Block II aircraft were gifted to Egypt in a programme that concluded in June 2017. These aircraft all have heavy stores pylons but have two slightly different cockpit configurations.
In July 2017, Iomax signed a contract with Egypt to service, support and provide training and spares for these aircraft.
Five BPAs currently remain in use in the UAE, but with the delivery of all 24 Archangels, these are also likely to be cascaded to an ally.
The UAE's BPAs were used operationally in Libya, in Egypt and over the Yemen, proving themselves to be extremely useful and versatile ISR and light attack platforms.
Experience with the Block I and Block II BPA led the UAE and Iomax to conclude that the Air Tractor platform had significant flaws, and that the Archangel, as the next iteration of the BPA, would require extensive modifications, some of which would need to be incorporated on the production line.
This prompted Iomax to move away from using the Air Tractor AT-802 as the basis for the Block III BPA (soon to be renamed as the Archangel) and to shift to the Thrush Aircraft S-2R Turbo 660 Thrush.
The original BPA proved hard to operate from the back seat, while the vertical stabiliser was judged to be inadequate for completing the mission that was being asked.
In the Archangel, Iomax moved the cockpit forward, added area to the vertical tail, and built in significantly greater safety features, correcting what it saw as deficiencies in the AT-802.
The company is now working on a further improved Block II Archangel for the UAE and other customers, and this is due to be formally launched at the Dubai Air Show.
Iomax has worked aggressively to improve the overall flight characteristics, lightening the airframe by using titanium in place of steel for a wing 'carry-through' spar in the fuselage, and substituting a titanium spring main landing gear for the original steel spring.
It has improved the acceptable centre of gravity range by moving equipment, and has increased the horizontal tail and elevator area to enhance control authority in pitch.
The Block II Archangel has improved braking, with bigger wheels, tyres and brakes, and is fitted with a bigger 25-inch diameter electro optical/infrared (EO/IR) sensor (an MX-25), giving double the sensor range
For improved adverse weather targeting Iomax will add radar – either in the shape of a podded Thales I-Master or a fully integrated Leonardo Osprey 30, with two arrays in the wing leading edge.
Two new weapons systems are also being integrated, one of them forward-firing, one unpowered. Iomax is coy about detailing these, which it says are "proprietary to the client" (which is not necessarily the UAE).
The company began flying the Block II configuration in stages, starting in June, using its original Archangel EMD aircraft as a test-bed.
Iomax's charismatic CEO, Ron Howard, passed away on June 12, and was succeeded by his son, KC Howard.
"Finding customers who have a requirement for this kind of aircraft was one of my primary objectives when I took over from my father in June," he said. "We're excited about the number of opportunities in the market right now – foreign military sales (FMS) and direct commercial sale, plus US customers."
Iomax has now delivered 48 of this class of aircraft and these have used 3,500 munitions in action (4,500 total), making experience and combat record a key differentiator for the Archangel.
But the Archangel is not 'the only game in town'.
The US Air Force's 6th Special Operations Squadron began looking at the armed ISR crop-duster concept in 2012 and, when a requirement emerged to provide such an aircraft to Yemen, the Big Safari programme office approached L3 to provide a solution.
L3 had made a name for itself as a provider of special mission aircraft conversions as a result of the MC-12W Liberty programme, which saw Beech 350s converted into ISR aircraft to meet an urgent operational requirement in Afghanistan.
The company aimed to do the same thing by converting AT-802Us into AT-802L Longsword ISR platforms.
The first four L3 Longsword aircraft, which were built to an unarmed, interim standard, were not delivered to Yemen because of the rapidly deteriorating situation, and were, instead, eventually delivered to Jordan, where Iomax may convert them to full Block II BPA standards.
The full-up Longsword was unveiled at the Paris Air Show in July 2017 and featured L3's ForceX Widow MMS mission software system, an L3 Wescam MX-15D high-definition EO/IR sensor, and the Thales Scorpion helmet-mounted display.
The aircraft is fitted with an armoured cockpit, self-sealing fuel tanks, an AN/AAR-47 infrared warning receiver and an AN/ALE-47 electronic warfare countermeasures dispenser system. It can be armed with a range of weapons from gun pods, bombs and rockets to the AGM-114 Hellfire missile.
In January, the US State Department approved the potential $418 million sale of up to 14 Longswords (12 AT-802Ls plus two AT-504 trainers), but the sale has been dogged by controversy, and Iomax is fighting hard to overturn it and to sell its own combat-proven Archangel.
A further contender is offered by the Bulgarian company, Light Armed Surveillance Aircraft (LASA) Engineering Ltd. LASA's T-Bird, a lighter and cheaper aircraft than the Archangel or Longsword, is based on the Thrush 510G and is optimised for ISR rather than for interdiction.
LASA seems to have had some involvement in the controversial programme that saw two Thrush 510Gs modified as ISR aircraft for Frontier Services Group (FSG) by Airborne Technologies at Wiener Neustadt in Austria from about August 2014, but which was abandoned in the face of a potential breach of weapons export regulations.
LASA managing director, Vesolin Djurov, said: "Maybe in the very beginning the idea for an efficient ISR plane based on a common crop-duster originated from FSG Group. But, even though the T-Bird is based on the same idea, it is not an FSG project. For any sales abroad, LASA Engineering is strictly adhering to both national and European regulations."
The T-Bird is integrated with the targeting and reconnaissance (TR) pod – a version of Airborne Technologies' self-contained aerial reconnaissance (SCAR) pod with targeting capability.
The pod incorporates stabilised, gimballed EO and IR payloads with an integrated sighting system giving precision weapons capabilities. It has a data link that allows for real-time exchange of intelligence and coordination between the aircraft and ground forces, but which also allows intelligence officers and commanders to play their part in the decision-making and targeting process.
The aircraft is wired for the carriage of a range of weapons and incorporates pylons that could accommodate Western and Eastern-bloc weapons and provision for podded 23mm machine guns. It was also fitted with 19mm bulletproof ballistic glass cockpit windows, a Kevlar-lined cockpit, an armoured engine block, and explosive-suppressing mesh in the self-sealing fuel tanks.
LASA's philosophy in developing the T-Bird was to keep the price and costs as low as possible, excluding smart and stand-off weapons from the base variant and, instead, offering a range of NATO and Eastern European munitions that are widely and cheaply available, and already in extensive use.
Orlin Trifonov, LASA's T-Bird project manager pointed out: "T-Bird is by far the lightest of the three similar airframes and, as such, cannot carry as much payload. The lesser fuel consumption, however, gives her unrivalled endurance – 14 hours with the TR-Pod only.
"A typical mission will last about six hours carrying a rocket pod, a cannon pod and an electronic countermeasures (ECM) container (now under development) in addition to the TR pod. In our view, this load will account for more than 80% of the missions.
"Overall, the idea behind the T-Bird is to give the governments, suffering from ever-greater expenses, a readily available, cheap yet potent airframe for countering asymmetric threats. This way, the solution (rather a part of the solution) is as asymmetric as the problem.
"State-of-the-art sensors and data links are indispensable in counter-insurgency. At the same time cheap, yet effective, munitions will be able to swiftly and efficiently eliminate 95% of the threats, without raising the price and operational costs."

Stay up to date
Subscribe to the free Times Aerospace newsletter and receive the latest content every week. We'll never share your email address.