Cameroon's eyes in the sky focus on Boko Haram
Since May 2014, Cameroon has been battling the terrorist organisation known colloquially as Boko Haram. Erwan de Cherisey takes a look at the country's capabilities.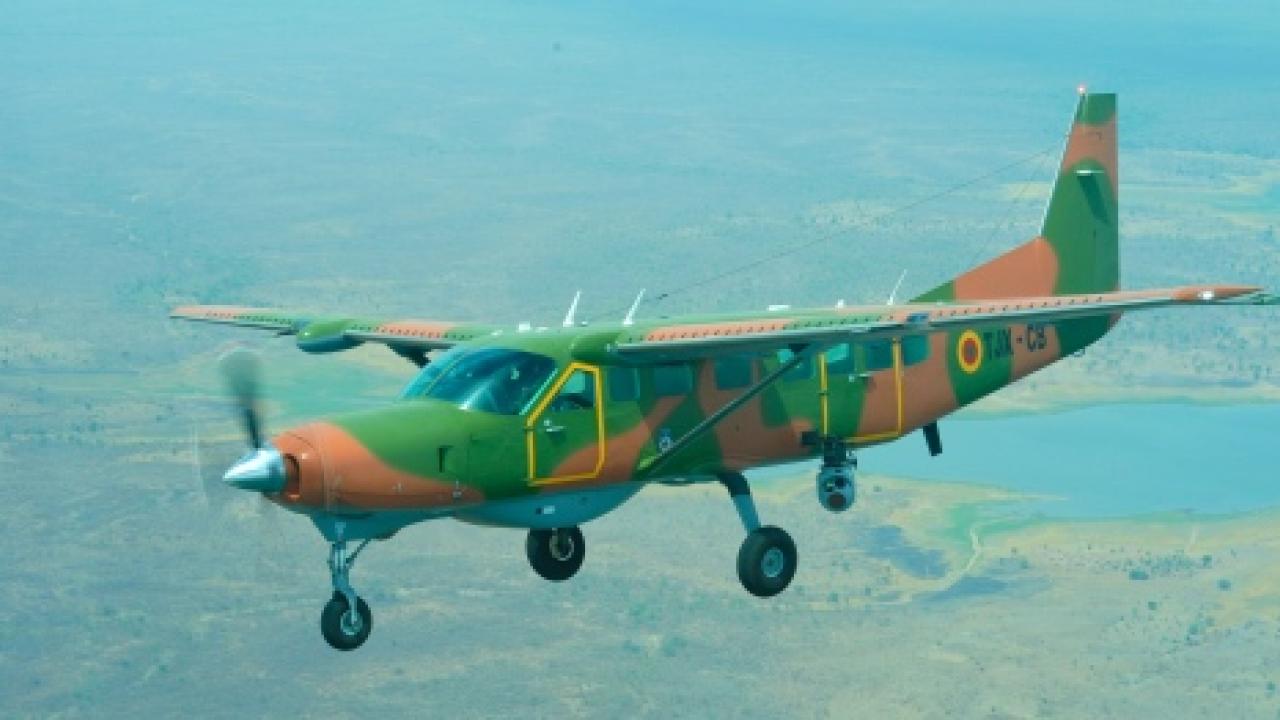 Cameroonian forces are currently deployed in the far north region under three distinct operations: Emergence 4, which is headed by the commander of the fourth joint military region (RMIA 4); Alpha, which is a separate counter-insurgency effort of the elite rapid intervention battalions (BIR); and the multinational joint task force's (MNJTF) sector 1.
The latter is led by a Cameroonian general, and is made up of more than 2,200 troops, while Operation Alpha mobilises between 2,500 and 3,000 personnel, and Emergence 4 is made up of several thousand more.
The conflict against Boko Haram has prompted an increase in airborne intelligence, surveillance and reconnaissance (ISR) assets, of which the Cameroonian Defence Forces (CDF) were almost devoid in 2014.
The elite BIR, a high-readiness component of the CDF under the direct authority of the Cameroonian presidency, were the first to introduce state-of-the-art airborne ISR capabilities in the field, with a number of unmanned air vehicles (UAVs) and a single Cessna 208B Grand Caravan EX aircraft configured for surveillance and locally known as 'Phoenix'.
It was delivered to the BIR in October 2015 and is currently assigned to the Observation and Liaison Flight, based at Maroua-Salak Airport, in the far north region.
The former is part of the rapid intervention airmobile group (GIRAM), the BIR's main aviation unit, which is commanded by Lieutenant-Colonel Didier. It also flies Mi-24s, Bell 412s, and a single Beechcraft Super King Air 350ER.
Air and ground crew training took place in the US prior to the arrival of the aircraft in Cameroon.
The 'Phoenix' is powered by a Pratt & Whitney Canada PT6A-140 turboprop and has a Garmin G1000 avionics suite featuring three multi-function displays (MFDs).
The ISR suite comprises a Star Safire III forward-looking infrared (FLIR) optronic turret and an embarked control station. The former features a high-resolution colour camera and a thermal imager. A datalink provides a live feed between the aircraft and a ground control station at Maroua-Salak.
While part of the GIRAM, the Cessna 208B EX is tasked operationally by the BIR's air observation group (GOA), which also controls its UAV fleet.
A GOA officer is usually found aboard the aircraft to provide guidance during sorties on ISR aspects.
As Lt Colonel Alex (all names are withheld for security reasons), commander of the GOA in April 2018, explained at the time, 12% of the flying hours (outside training sorties) of the Phoenix were used to the benefit of the Nigerian Army, 17% in support of Operation Emergence 4, 5% for the 4th BIR of Garoua, in the north region, and the remaining 66% for Operation Alpha.
The 'Phoenix' has been involved in most major cross-border operations undertaken by the BIR inside Nigeria since late 2015 to destroy major Boko Haram bases.
In January 2018, the Cameroonian Air Force (CAF) received two Cessna 208B Grand Caravan EX aircraft configured for ISR duties. The aircraft were donated by the US Government (a formal handover ceremony took place at Yaoundé, on May 11) to enhance the CDF's intelligence-gathering capabilities, notably to support forces deployed in the far north. As noted by a US Africa Command spokesperson, overall value for the program is $38 million.
While the CAF is a relative newcomer regarding the use of dedicated ISR aircraft, it has moved at double speed to achieve full proficiency in the operation of its two new Cessna 208Bs.
The aircraft are part of the 322nd Reconnaissance Flight of the 32nd Air Squadron headquartered at Garoua's Air Base 301 (BA 301).
They feature a Garmin G1000 avionics suite and each is fitted with an L3 Wescam MX-15HDI turret, which incorporates a high-resolution daylight zoom camera, a thermal imager, as well as a laser illuminator, and an embarked control station.
A long-range communication antenna has been installed at BA 301 which, thanks to the aircraft's datalink, can receive live transmissions of sensor imagery up to 130 nautical miles. Systems integration was carried out by North American Surveillance Systems (NASS).
A pair of L3 Scorpion ground station operator consoles (GSOCs) were also delivered. These are the main components of the ground control station, as they centralise aircraft sensor feeds.
To facilitate the deployment of the Cessna 208s throughout Cameroon, a mobile antenna has also been delivered, which can be set up anywhere in the country in just half a day, together with one of the GSOC.
Once operational, the antenna can relay aircraft sensor feed from distances of up to 100 nautical miles. This means that if the mobile antenna and control station are positioned at Maroua, it is possible to maintain a live feed with a Cessna 208 operating almost anywhere in the far north.
Several L3 SPIDER portable terminals have also been received, which can be distributed to ground forces, providing them with their own independent live sensor feed. The SPIDER is similar in size to a standard tablet, although bulkier and heavier, and can relay images from aircraft operating at ranges of up to 16 nautical miles.
The Cessna 208s are not overly affected by the high temperatures found at Garoua, retaining an endurance of more than five hours. Standard operating altitude is usually below 10,000 feet to remain under the cloud cover. Flying activity is intense with daily flights. By April 2018, the aircraft had each clocked more than 150 hours.
The personnel tasked with operating the aircraft undertook training in the US in 2017. Seven pilots and eight ground technicians were trained at Spartan College of Aeronautics and Technology.
The former undertook a 45-day conversion course, except for two of them who took a three- and-half-month instructor course.
Technicians qualified to undertake level 1 and 2 maintenance and servicing. As one CAF officer explained, the longer-term aim is to achieve level 3 proficiency.
Sensor operators were trained by NASS, which also deployed a two-man support team at Garoua to provide additional training and technical assistance.
US instructors interviewed at Garoua praised the Cameroonian personnel's professionalism and fast learning abilities.
NASS in-country assistance concluded in November 2018, as per contractual obligations.
While the CAF discloses little information about its Cessna 208 operations, notably regarding any deployment to the far north, General Benoit Eba Eba, commander of RMIA 3, noted that the aircraft have conducted surveillance sorties over the Bouba Ndjida National Park, as part of anti-poaching efforts.
They have also been used to track illegal miners operating in the park, as well as to monitor illicit activity on the Lagdo Lake.
The campaign against Boko Haram has precipitated a major expansion of the CDF's ISR capabilities, significantly increasing its intelligence gathering potential. However, with the continuing war, and new security challenges appearing elsewhere in Cameroon, it is likely that additional ISR assets will be required in the future.

Stay up to date
Subscribe to the free Times Aerospace newsletter and receive the latest content every week. We'll never share your email address.