Battle-weary Bahrain looks to upgrade forces
Royal Bahraini Air Force commander, Major General Hamad bin Abdullah al Khalifah, discusses his country's major defence and security issues with Alan Warnes.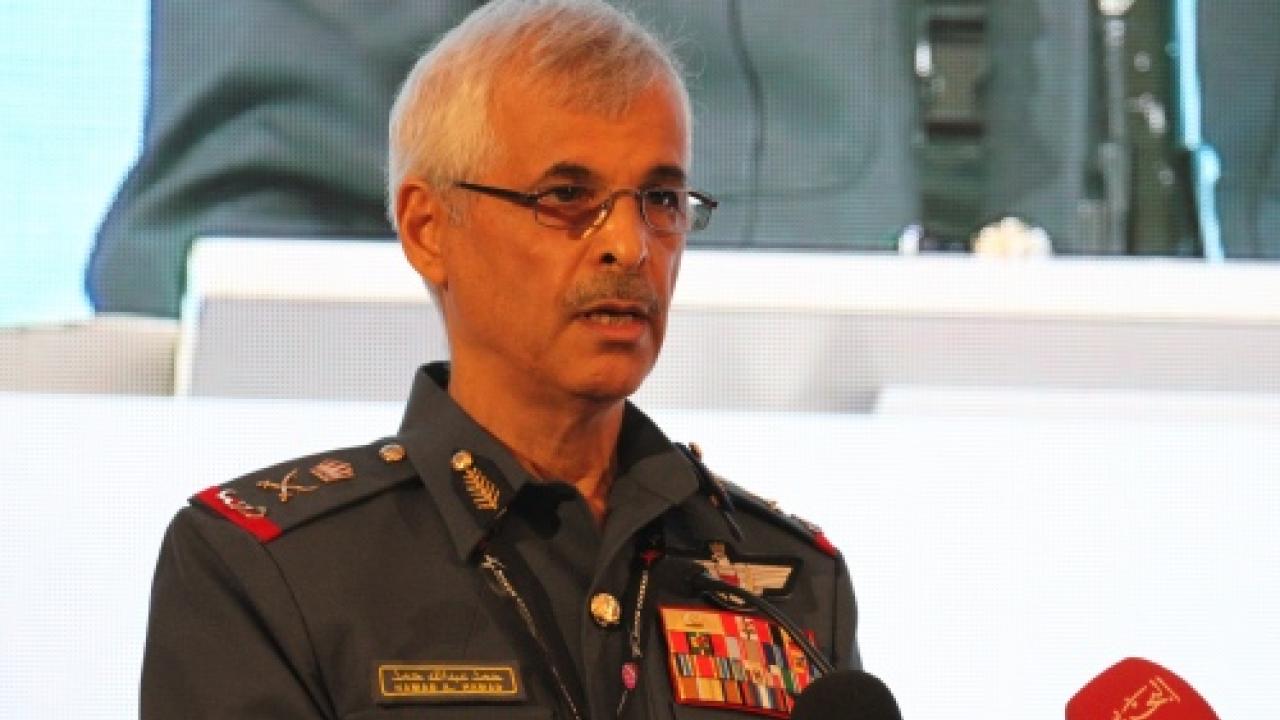 Bahrain has been supporting the Saudi-led coalition against the Houthi militia in Yemen since the bombing campaign started in March 2015.
During the recent Bahrain International Air Show (BIAS), the Royal Bahraini Air Force (RBAF) commander, Major General Hamad bin Abdullah al Khalifah, revealed that, over the past three-and-a-half years, the RBAF F-16s had flown more than 10,000 hours and in excess of 3,500 sorties.
"We are providing close air support along Saudi Arabia's southern border with Yemen," he explained.
The mission, according to the commander, has meant the aircraft fly daily, ensuring unauthorised traffic is not crossing the border.
"We are only using F-16s, [believed to be four] because other allied countries are providing the helicopters and transport," he said.
It hasn't all gone to plan though. One of the RBAF's F-16Cs was lost due to a malfunction on December 30, 2015. Fortunately, the pilot ejected and was recovered safely.
The Major General said all the allies were involved in training exercises to hone their capabilities and work together as one force. "It has seen a lot of improvements in the way we work together and we have advanced a lot in many fields [since the mission started], but need to do more in space, cyber, missile defence and our own defences," he added.
Right now, the RBAF is concentrating its modernisation efforts on the front-line aircraft. Last July, the Bahraini Government signed a $2.785 billion deal with its US counterpart for 16 brand new Block 70 F-16C/Ds and their support. The Major General, who has been the air force commander for more than a decade, is looking forward to their arrival in 2022. "These new F-16s will add to our current capability and will be integrated with the assets of other allied air forces," he said.
The new jets will house the Northrop Grumman APG-83 scaleable agile beam radar (SABR) active electronically scanned array (AESA) radar; a new modular mission computer (MMC); a large centre pedestal display with improved programmable display generators; a high-speed databus; embedded GPS/INS navigation systems; and Link 16.
The aircraft will also have a lifetime of 12,000 hours rather than the standard 8,000 as per previous models.
There is provision for a wide range of weapons, according to the US Defense Security Cooperation Agency (DSCA) notification released in September 2017. These include the Raytheon AIM-9X Sidewinder air-to-air missiles (AAMs); Raytheon AIM-120C advanced medium-range air-to-air missiles (AMRAAMs); Raytheon AGM-154 joint stand-off weapons (JSOWs); Boeing AGM-84 Harpoon anti-ship missiles; Raytheon AGM-88 high-speed anti-radiation missiles (HARMs); Boeing GBU-38 joint direct attack munition (JDAM) GPS-guided bombs and GBU-54 laser JDAMs; Boeing GBU-39 small diameter bombs; GBU-24 Paveway III and GBU-50 enhanced Paveway II laser-guided bombs; and BLU-109/111/117 hard target and penetrator bombs.
More detail on the deal for 12 single-seat F-16Cs and four F-16Ds, announced in July, was forthcoming at the air show.
Lockheed Martin's Rick Groesch, director regional VP Middle East business development, who is set to retire after 23 years with the company, said: "They will be handed over to the US Air Force in the last quarter of 2021 with the first jets delivered to Bahrain in the first quarter of 2022."
On deliveries, Groesch added: "The first will be an F-16D, followed by an F-16C, and this pattern will continue until the four F-16Ds are delivered. Then it will be all the remaining F-16Cs."
Lockheed Martin was hoping that the RBAF would go ahead with a plan to upgrade its existing 20 F-16C/Ds to a similar standard, known as the F-16V. But, at a reputed cost of $1.1 billion, the RBAF commander was not looking to upgrade them just yet. "Our priorities lie with the 16 new Block 70s. Our current fleet has been modernised to a very high standard and is extremely capable, until the Block 70s arrive. What happens after that we don't yet know," he said.
Some of the reason he has opted to drop the F-16 upgrade deal is because the budget has been spent on acquiring 12 AH-1Z Cobra Viper attack helicopters. The $912 million deal was announced at the air show.
The commander said deliveries would start in late 2022 and be completed in 2023. "Our Cobra fleet will be significantly improved to continue our share in the growth and security of the Gulf region," he added.
Bahrain is the second AH-1Z export customer, after the Pakistan Army. The latter was going to receive 12 AH-1Zs through the US Government's foreign military sales (FMS). However, a breakdown in relations between the US and Pakistan, based on US claims that Pakistan is not doing enough in the war on terrorism, stopped the helicopters being delivered earlier this year.
That deal now looks dead and there is some speculation that the Pakistan Army examples could be delivered to Bahrain. However neither Bell, nor DSCA director, Lt General Charles Hooper, were willing to speculate.
These new helicopters will supplement Bahrain's existing fleet of AH-1s, which will by then be made up of 18 AH-1Fs and around six TAH-1P Cobra trainers.
Turkish Aerospace is upgrading the 18 AH-1Fs as part of a $25 million deal agreed in June 2015, which draws upon avionics systems already operational on Turkey's T129 advanced attack and reconnaissance (ATAK) helicopter.
Integration of the ASELFLIR 400 turret into the attack helicopter's nose is one major improvement, as well as an enhanced weapons delivery set-up and a night-vision goggles (NVG)-compatible cockpit.
It was expected that one of the three upgraded AH-1Fs already worked on might have been at the show but nothing was there and neither the RBAF nor Turkish Aerospace were keen to talk about the deal.
Relations between Turkey and Saudi Arabia are not good currently, so the Ankara-based company would not comment, although it did have Cobra Upgrade literature at its stand.
The RBAF commander would only tell the author: "They should all be delivered by the end of 2020" and that the deal covered a 'good number' of helicopters.
Turkish Aerospace won the contract in June 2015 and the first upgraded AH-1F made its first flight from the company's Ankara facility in September 2017. Turkish weapons manufacturer, Roketsan, confirmed at the show that its 2.75-inch CIRIT laser-guided missiles would be integrated.

Stay up to date
Subscribe to the free Times Aerospace newsletter and receive the latest content every week. We'll never share your email address.