Why sustainability is the new name of the game
Dave Calderwood takes a look at what will be focusing the attention of the business aviation community in 2021.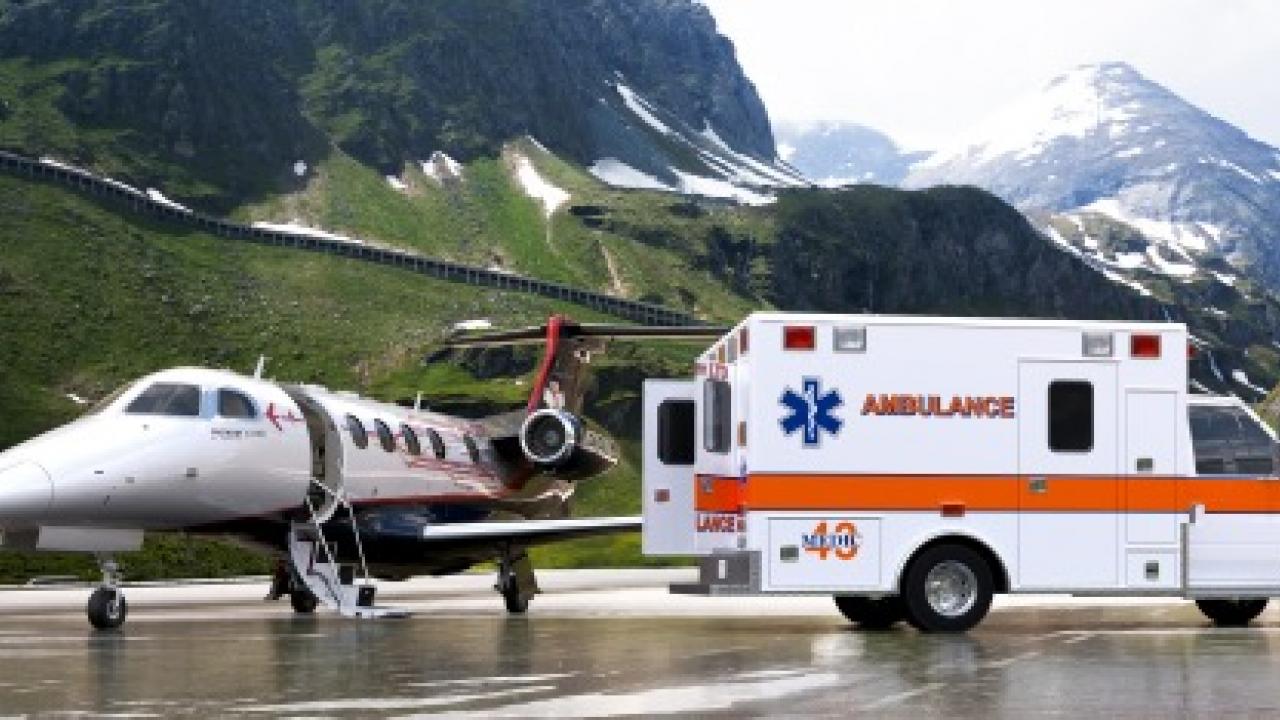 Embraer recently announced the Phenom 300MED, a medevac solution for Phenom aircraft. Picture: EMBRAER
There are two buzzwords flying around business aviation at the moment – Covid-19 and sustainability.
We all know how the virus is affecting all areas of aviation – indeed it caused the MEBAA show to be moved from its original December 2020 date – but on the positive side, right across business aviation, sustainability is gathering pace.
It is the issue of the moment and is even being seen as a central part of the recovery.
In late September, the European Business Aviation Association (EBAA) launched two working groups tasked with defining guidelines for the sector's standards and training for aviation responsibility and sustainability (STARS) initiative.
STARS is supported by the International Business Aviation Council (IBAC) and comprises a three-tier set of standards and resources, which permits even the smallest of business aircraft operators and companies to receive accreditation for complying with progressive social and environmental best practices.
"The road to recovery from Covid-19 can, and should, happen in a sustainable way across all industries," said EBAA secretary-general Athar Husain Khan. "For business aviation, STARS aims to provide the guidance and resources to do so. We anticipate having the standards and the accompanying label ready to launch in early 2021."

The Middle East is ready to play its part, too. One of the founders of UAS International Flight Support, headquartered in Dubai, Omar Hosari, said: "This is a perfect time to explore new approaches to aviation's energy systems and ways to accelerate energy transition. Naturally, technological innovations will play a great part in this, as will the autonomous actions of governments as they rebuild the industry in their own countries.
"It would be great to all collectively agree on a blueprint for green recovery that fits all of our needs, taking into account the inevitable challenges that were unforeseen a year ago. It should also include details of the social benefits of aviation and the outcome of CO2 goal analysis. Greener recovery is possible and, at a time like this, all sectors need to be on the same page so we can best work together toward achieving it."
Jet Aviation is another major business aviation company committing itself to sustainable aviation. At a virtual summit, held in September by the Business Aviation Coalition for Sustainable Aviation Fuel, Jet Aviation president and GAMA chairman, David Paddock, joined a panel of industry and original equipment manufacturer (OEM) leaders. Paddock emphasised the need to invest in solutions for owners and operators and the importance of public-private partnerships in driving awareness, understanding, research and development.
"We intend to make sustainable aviation fuel (SAF) available when and wherever possible throughout the Jet Aviation global network," said Paddock.
"We are always looking for ways to adopt new technologies and develop innovative solutions. In our completions business, we have invested considerably in research and development to improve our designs, including reducing fuel consumption through lighter weight cabins and lower power consumption, and are also exploring the use of sustainable materials. Similarly, we are constructing new buildings and adding new equipment to existing facilities with sustainability in mind, including incorporating solar panels, electric vehicles, and recycling systems."
Aircraft makers are driving the change to more efficient and less polluting aircraft. Airbus Corporate Jets (ACJ), for instance, says its A321LR delivers 30% fuel savings and a reduction of 50% in noise footprint compared to earlier aircraft. The French firm has recently won an order for two multi-mission capable A321LR jets from the German Air Force, joining an existing order of three ACJ350s.
ACJ has also revealed a new cabin concept, called Harmony, which will first be seen on an ACJ330neo but can also be installed on other ACJ wide-body jets, such as the ACJ350.
"The Harmony cabin concept combines the benefits of ACJ VIP wide-bodies – such as comfort, space and quietness – to produce a consistently harmonious customer experience," said a company spokesperson.
"Long-haul flights provide time for productive work and socialising, as well as rest. ACJ's Harmony cabin concept is wonderfully well designed to enable all of these possibilities. Harmony is a timeless and elegant design concept. Concentric circles, like ripples on a pond, are a feature of the cabin layout."
ACJ's rotary counterpart, Airbus Corporate Helicopters (ACH), has also been busy. First, it has received its European Aviation Safety Agency (EASA) type certificate for the all-new H160 medium-size multi-role helicopter. American (FAA) certification is under way.
"This achievement represents years of hard work designing, industrialising and defining the support ecosystem with our suppliers and partners," said Bruno Even, Airbus Helicopters CEO. "I now look forward to the H160 entering into service and offering its innovative features that bring competitiveness alongside additional comfort and safety to customers worldwide," he added.
The H160 performs a wide range of missions, such as offshore transportation, emergency medical services, private and business aviation, and public services. It includes advanced safety features such as Helionix pilot assistance and flight envelope protection, sound-reducing Blue Edge blades, fuel efficiency, and a simplified maintenance eco-system.
Abu Dhabi-based Falcon Aviation is one Middle East operator interested in the H160, with at least four helicopters on order. Falcon chief operating officer, Captain Raman Oberoi, said: "The H160 definitely meets our demanding standards for VIP travelling in terms of comfort."
Over at rival Boeing, the company recently won the private jet design concept title in the 2020 International Yacht and Aviation Awards for the Massari design for its BBJ Max 7.
"The open-plan living area serves as a relaxation area that can also be used for dining and business needs. The large bathroom area mimics that of a luxury five-star hotel; open plan and spacious," said the award citation.
BBJs are bread and butter for completions specialist GDC Technics. The Fort Worth, Texas-based company recently announced the installation of Aviation Clean Air's (ACA's) cabin ionization component, a proactive air and surface purification system for VVIP, business, and commercial aviation.
"The installation of this system will neutralise harmful pathogens that just sneezing, coughing, or breathing can spread within an aircraft," said Brad Foreman, GDC Technics CEO.
GDC Technics also announced delivery of a B777-300ER, with exterior modifications and a fully customised interior cabin, for an unnamed head-of-state customer.
The B777-300ER is equipped with cutting-edge technologies to provide industry-leading in-flight data, connectivity, and passenger comfort capabilities. Exterior modifications include a full security system; forward-looking, quad, downward zoom, and tail fin cameras; and worldwide connectivity – including a duel satcom system, Ka-Band antenna, Iridium system, and satellite TV antenna, to provide live, 4K television.
Picture: GULFSTREAM
Over at Gulfstream, flight-tests are continuing on the company's latest aircraft, the G700 – the launch customer will be Qatar Executive – expanding the flight envelope at both low and high speeds, and recently reaching Mach 0.99 and an altitude of 54,000ft.
"These accomplishments at this stage in flight-test point to the impressive maturity of the G700 programme," said Mark Burns, president, Gulfstream. "We designed and developed the G700 for our customers to fly safely, securely, and efficiently, while enjoying the same level of comfort as they do on the ground."
Dassault Falcon, too, is pushing ahead with its latest and roomiest aircraft, the Falcon 6X, targeting early 2021 for the aircraft's first flight, despite Covid-19 affecting work routines.
"Bringing the Falcon 6X to market on schedule is a top priority for the company," said Dassault Aviation chairman and CEO, Eric Trappier.
"Our planning and production staff have been diligent and resourceful in adapting procedures to new sanitary guidelines to keep this programme running smoothly. Our suppliers have also made extraordinary efforts to support us. We are grateful to them all."
The first of the three pre-production 6X aircraft that will take part in flight certification has been powered up and has entered ground-testing. A second and third aircraft are in advanced stages of assembly, and parts creation for serial production has already begun. Certification and entry into service are set for 2022, in keeping with the original timetable, confirmed Dassault.
Not all private jets are for VIP or corporate operations. Embraer recently announced the Phenom 300MED, a medevac solution for Phenom aircraft, which is available new or as a retro-fit. It's been developed with German aerospace company Umlaut and Aerolite, which supplies medevac equipment.
Embraer and Umlaut are developing various configurations, which will feature either one or two stretchers, as well as the ability to carry an incubator and additional medical equipment. The aircraft will also have hospital-grade trim and finishing, to be a purpose-built medevac solution.
"Umlaut is known for generating full-service, cross-industry, and end-to-end solutions," said Tobias Geißinger, managing director. "Now, we are combining Embraer and Umlaut's strong competencies in aircraft engineering, refurbishment, and certification know-how to bring an unprecedented solution to the market.
"Together with Aerolite's state-of-the-art aeromedical equipment, we will deliver a solution that will transcend the current market."
Who's for the Bossa Nova? No, not the Brazilian dance, but Embraer's new interior for the latest Phenom 300E, the first being recently delivered to a US customer.
Bossa Nova encompasses Embraer's latest interior developments, such as carbon-fibre accents, Ipanema sew style and piano black surfaces. It was first introduced on Embraer's Praetor 500 and Praetor 600 and won best design in the 2019 International Yacht & Aviation Awards.
Can you believe it's already five years since the Cessna Citation Latitude entered into service? Around 240 have already been delivered, making it 40% of all mid-size business jet deliveries since 2015, according to Textron Aviation.
"Five years since its introduction, the Citation Latitude is now an industry icon," said Rob Scholl, senior vice president, sales.
"Business travellers were the first to appreciate its versatility and comfortable cabin, which makes the jet ideal for business productivity and leisure alike.
"The jet's innovative design has enabled its deployment in a variety of applications, from European air ambulance operators, to the Japan Air Self-Defence Force, which, in April of this year, took delivery of two Citation Latitude jets configured for flight inspection."
There's a new Beechcraft King Air turboprop, the 360/360ER, which is already in production with first deliveries taking place.
A key feature is an innovative solutions and support (IS&S) ThrustSense autothrottle, which automatically manages engine power from take-off through the climb, cruise, descent, go-around and landing phases of flight, reducing pilot workload.
There's also a new digital pressurisation controller, which automatically schedules cabin pressurisation during both climb and descent, again reducing pilot workload and increasing overall passenger comfort.
An idea that many thought would never happen – a supersonic business jet – achieved a major milestone in September when Honeywell Aerospace signed up to work on the avionics for the AS2.
This will include Honeywell's next-generation, state-of-the-art, flight deck – an advanced display system incorporating intuitive symbology, advanced communication and navigation systems, plus flight guidance and management systems.
All aspects of the new avionics will support supersonic flight and Aerion's revolutionary 'boomless cruise' technology, which enables the AS2 to fly at both transonic and supersonic speeds over land, with no perceived noise reaching the ground.
Stay up to date
Subscribe to the free Times Aerospace newsletter and receive the latest content every week. We'll never share your email address.