Why Krimson is in the pink
Ethiopian business aviation operator, Krimson Aviation, is growing fast. Dawit Lemma, CEO, tells Dave Calderwood how the company is coping.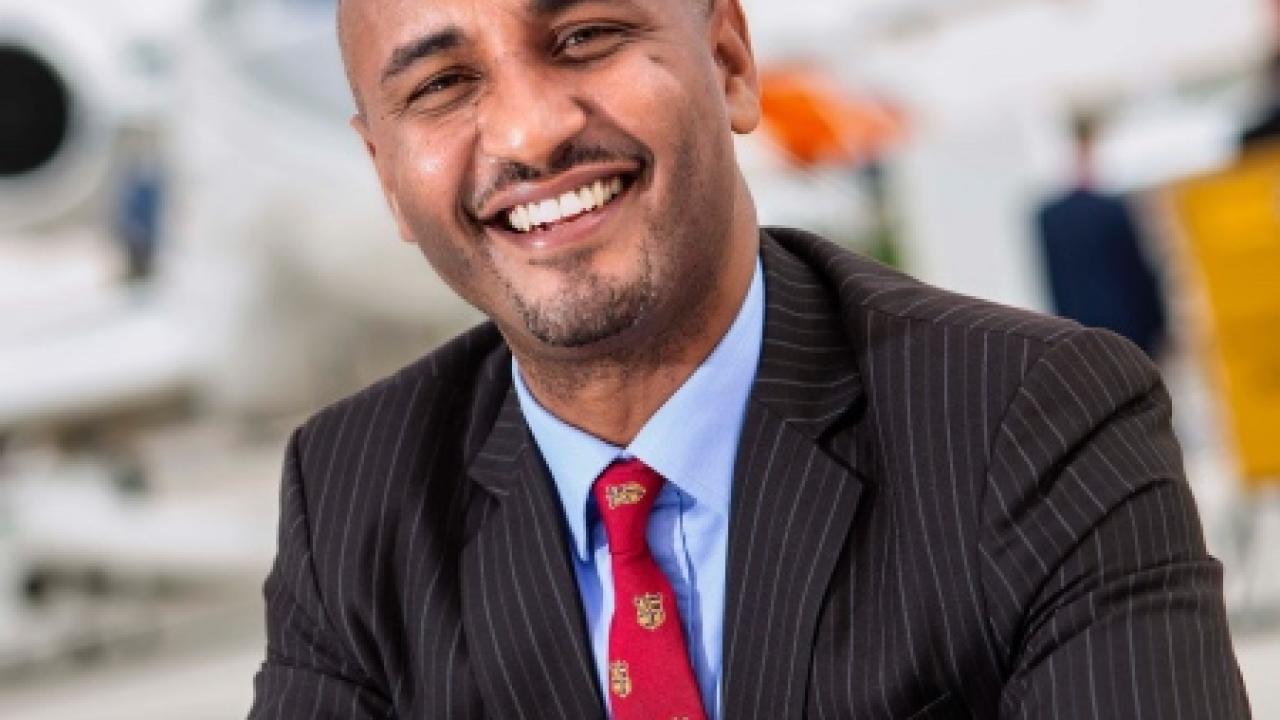 Krimson Aviation, one of the first operators to be granted a licence to carry out business aviation flights in Ethiopia, has expanded its backroom team to better manage the company's extraordinary growth.
No fewer than five new members joined the Addis Ababa-based company this summer.
Edomgenet Sentayehu has been appointed as the chief financial officer – Krimson's first –while Helina Teshome and Nadia Getachew have come on board as flight operations officers. Betelhem Shumu heads up marketing and Yonas Desalgne is re-joining the company, after a year working with Oxfam, to look after IT and support Betelhem with graphic design and branding skills.
CEO Dawit Lemma enthused: "I'm so excited about the depth of experience, the professional abilities and fantastic team that is now supporting Krimson. Recruiting for aviation is a challenge but my new people have a wealth of skills, talent and character.
"Our growth is being driven by an increase in business activity, coupled with our reputation as a reliable ground-handler and trip planner for the region. We operate locally to the highest quality of standards, driven by my experience operating in Switzerland. We understand the expectations of international operators and customers and try and anticipate all needs and requests."
Krimson is also building a reputation for its understanding of the local processes, its local connectivity within Ethiopia and further afield in Africa. "We are winning business through word of mouth, which is often one of the best ways to acquire new customers," said Lemma.
"We have been supporting more medevac operations, too, which is a new area of business for us. We've handled some complicated flights around this subject and, consequently, operators are coming back to us to take advantage of our offering and knowledge."
Addis Ababa is the head of the African Union, which means that there are a lot of governmental and head-of-state flights to handle. "Ethiopia is also the fastest growing economy in Africa, and one of the fastest growing in the world, which is driving more and more international flights as the opportunities presented here for commerce are expanding," enthused Lemma.
"The government is also actively supporting the industry and is currently constructing a new airport. All these factors bring more business to the country.
"Regionally, we have also seen more activity since the airspace above Eritrea has opened up. It means more flights can route directly, which has significantly increased traffic."
There are still some frustrations, however. "Permits are an ongoing challenge in Africa," said Lemma. "There are as many ways to process overfly or landing permits as there are countries on the continent. Some countries require simple online applications and take around an hour to be granted, others expect a lot of administrative information including licences, crew and passenger passports, which can take a minimum of three days to process. It is improving but it remains a challenge.
"Lack of infrastructure generally is still a problem and, while awareness of the need for dedicated facilities for business and general aviation is growing, so is the amount of commercial air traffic. Airports are becoming more and more congested and non-commercial airline traffic is given least priority. Small business aircraft are vying with commercial operations for slots, parking, or navigation routes, so that can be an issue, too.
"Staying up to date with simple things like valid entry and exit points, airway closures, and military exercises can also all be issues to overcome. We are making progress, though, and I'm optimistic as we move forward – we handled our 220th flight last month, so business continues to grow.
"We are looking at developing further services that interline with commercial aircraft. So, for example, we've recently begun to develop our concierge service for those flying business class with Ethiopian Airlines. We offer a service that welcomes and helps passengers transfer through the airport.
"We are also developing a concierge service for crew, not just passengers. Crew are always asking us what to do and where to go as they average a couple of days on the ground. We would like to give them more than just a recommendation and really help them enjoy the sights and sounds of Addis and beyond."

Stay up to date
Subscribe to the free Times Aerospace newsletter and receive the latest content every week. We'll never share your email address.