The BBJ's Royal family
Business jets have been a controversial subject across Africa as governments of developing nations recognise a need for top-level travel for their heads-of-state while, at the same time, fending off accusations of buying expensive white elephants. Now, as Alan Peaford discovers, there is an alternative from the Middle East.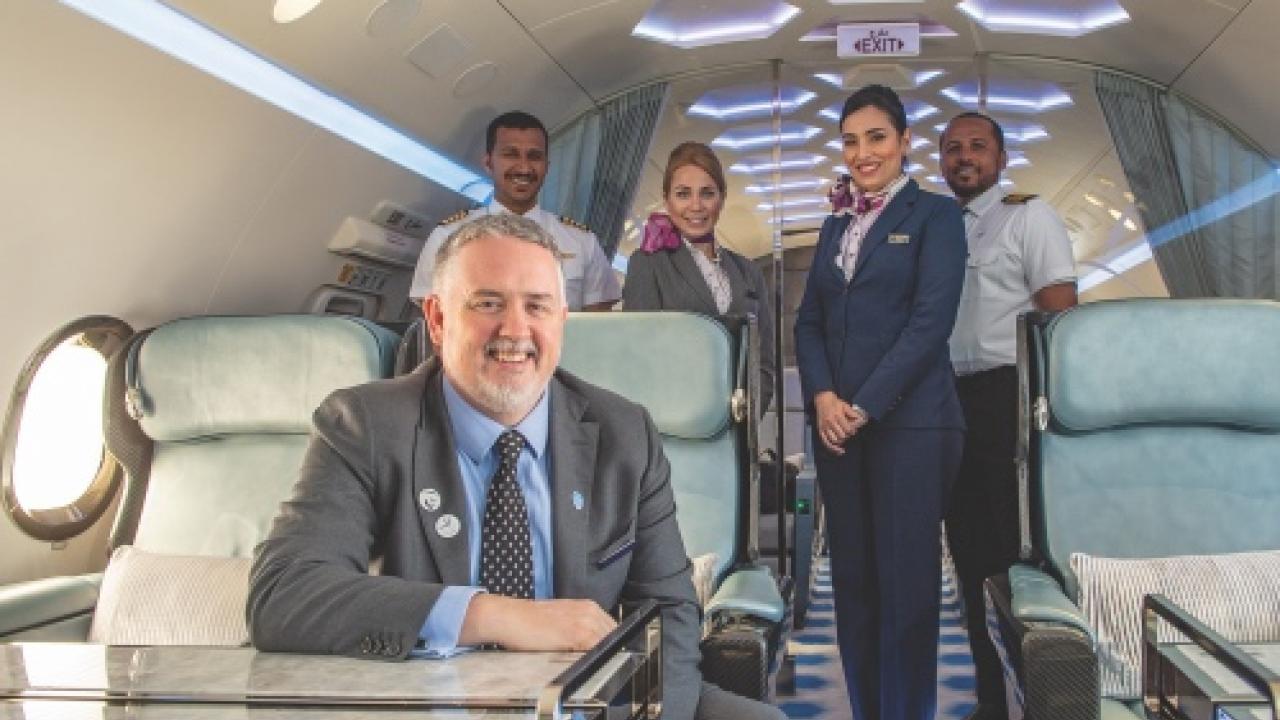 The jet touched down on the runway of a central African country's main airport. The only thing that distinguished it from the other Boeing 737s or Airbus narrow-bodies was its lack of airline livery. It could easily have been a white tail carrying out a temporary service for a regional carrier.
But the giveaway was a small national flag on the horizontal stabiliser. This indicated the aircraft was on official government business in service for the country's head-of-state and senior government officials.
Events like the African Union, key UN meetings, or special gatherings, such as the World Economic Forum meeting at Davos, are the must-attends for heads-of-state across Africa – and a private jet is essential. This is not to massage the ego but, in fact, to offer all the things that makes business aviation a key sector in the aviation industry – security, privacy and speed.
Interestingly, although the aircraft is one of the top-of-the-range business aircraft, this Boeing Business Jet (BBJ) was not a capital burden for the country – it was chartered from the largest BBJ operator in the world, Abu Dhabi's Royal Jet.
"Leaders who don't need to have a head-of-state aircraft sitting in a hangar for most of the year are typical of our customers," explained Rob DiCastri, CEO of the Royal Jet business. "When the head-of-state does need to travel with an official entourage, say from Africa to a UN function in Europe or the USA, then the BBJ is ideal."
Royal Jet is the world's largest operator of the Boeing Business Jet with eight of the VVIP aircraft in service – and is planning to add more.
"We have just had a record year and we want to build on that momentum," DiCastri said.
Royal Jet was spun out of the UAE's Presidential Flight 15 years ago and has been growing a reputation for a capability that maintains that pedigree, matching expectations of the some of the world's most discerning passengers.
Royal Jet's eight Boeings come in different configurations, from a traditional 19-seat layout right through to 52-seats. That allows for great flexibility as the company has several 'combi' aircraft that, in three hours, can transform from executive layout to economy or business-class seating to meet the individual customer requirements.
Africa is also high on the operator's agenda with increasing enquiries coming from governments.
"We can handle the large entourage, we are used to working with heads-of-state and government leaders. That experience makes a huge difference," DiCastri said.
As well as the jets themselves, Royal Jet is also marketing its fixed-base operation (FBO) services.
The Royal Jet terminal is favourably situated right next to the runway at Abu Dhabi International Airport which, DiCastri said, allows for swift taxiing time. "With no queue or slot restrictions, we are able to offer our clients a guaranteed 40-minute turnaround time for technical stops," he said. "Our FBO also benefits from its own security, customs and immigration department, meaning that discretion and security are always assured."
DiCastri said Africa offers great opportunity. "There's a lot of business, potentially, in the BBJ-size aircraft... We're doing more of that lately. It's government and ultra-high-net-worth individuals. It's all VVIP.
"There's a bit of a vacuum, a gap in Africa in terms of the larger aircraft. Our niche is the BBJ. We're not going to put a Global 5000 in there or a Gulfstream, because there are plenty of those. But there's not a lot in the entourage-type aircraft that have more seats and space," he said.
Royal Jet also includes two Bombardier Global 5000 standard business jets in its fleet.
Four of the BBJs also have the capability of adopting a medevac layout.
The plainness of the Royal Jet fleet is a selling point. "We are discreet on the ramp and a lot of people like that. We can also quickly change the appearance so a national flag or a club or government logo can appear on the tail or the fuselage."
Service is the main key to the Royal Jet offering. "We have two galleys on each BBJ, and we have additional crew, so even staff entourage get that special service. We say that the 'Royal' in our name reflects that Royal service," DiCastri said.

Stay up to date
Subscribe to the free Times Aerospace newsletter and receive the latest content every week. We'll never share your email address.