Wild eyes...
Whether it's birds, mammals or reptiles, wildlife populations in and around an airport pose a significant threat to operations. Chloë Greenbank finds out how one specialist company is helping African airports to mitigate this risk.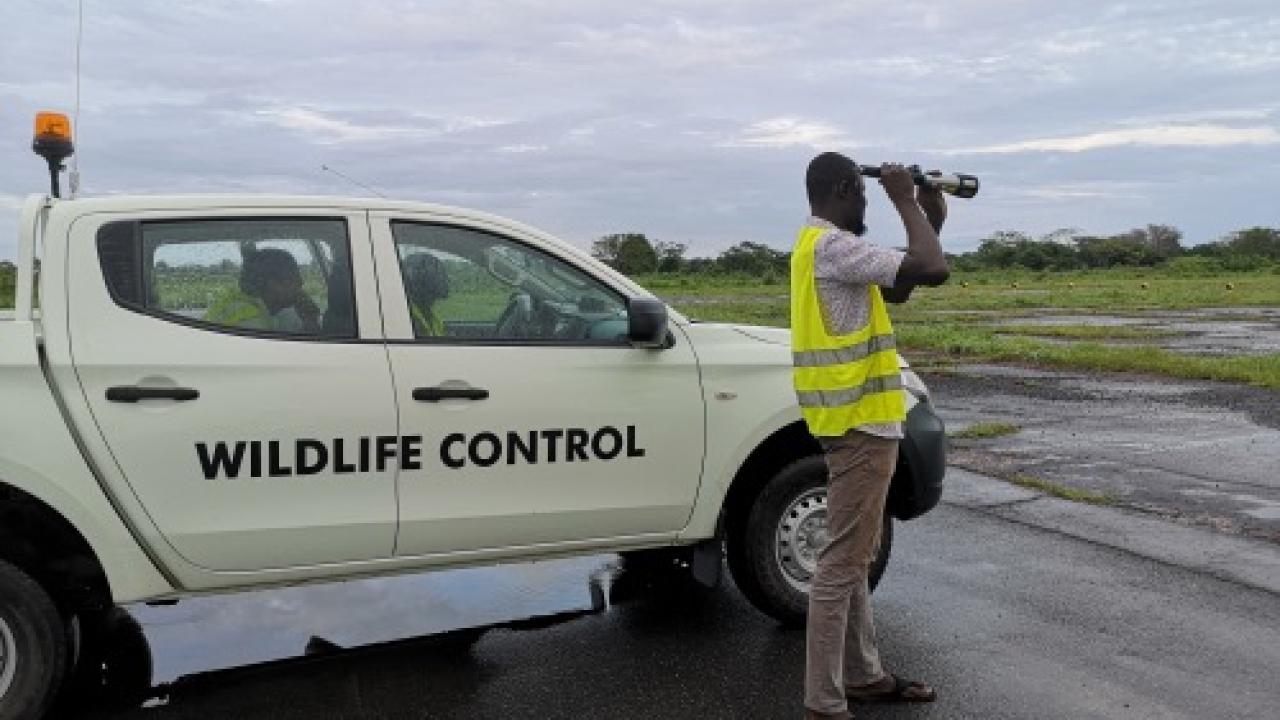 The Aviaire wildlife control team at Banjul International Airport focus on ensuring safe operations. Picture: Aviaire.
Air traffic might be down more than 60% across Africa as a result of the global pandemic but, with the aviation industry now focused on recovery, wildlife hazard management at airports is integral to the safe restart of operations.
"It's been a difficult time for airports. However, maintaining safe, secure operations is critical," said Cerian Henshaw, director of operations at Aviaire, a UK company specialising in wildlife hazard safeguarding and data services.
"It's different for every airport. Some have seen wildlife populations increase as a result of the reduction in air traffic, while others haven't noted that much change.
"Fundamentally, though, the lack of air traffic has presented an opportunity for airports to gain a better understanding of the conditions and factors attracting birds and other animals to their facility so they can be effectively managed."
Aviaire has been working with Banjul International Airport in The Gambia to address its wildlife hazard management strategy. Home to more than 550 avian species, The Gambia is well known as a bird lovers' paradise. However, the risk of avian ingestion or any damage to aircraft and airside facilities poses a significant threat to airport operations.
With bird-strike costing the global aviation industry around $1.2 billion annually, according to the Federal Aviation Administration (FAA), Henshaw explained that all airports are subject to the risk. "However, Banjul is further compounded by the fact that it is in the line of flight of two double migratory corridors."
Aviaire has been working alongside the airport's operations team to support them in developing a better understanding of the factors influencing the migratory routes and associated wildlife populations. "We have been working with airport management, as well as the operations team and key authorities outside the airport," said Henshaw. "They all have a role to play in mitigating the risk of wildlife hazards."
With birds and other wildlife attracted to an airport and its surrounding environment because it offers something they want, one of the key factors for consideration at Banjul is waste management. "We've engaged with the office of the president and the Gambia Civil Aviation Authority to address this issue around waste management," said Henshaw, referencing a large waste disposal site just outside the airport's perimeters, which provides the perfect feeding ground for birds.
"By reducing this attraction for birds, such as kites, the airport can mitigate the likelihood of them venturing into the critical phases of flight for aircraft as they approach or take-off from Banjul."
She also highlighted that working in partnership with local communities and stakeholders, alongside the authorities, is key to achieving sustainable solutions and successfully managing factors outside an airport's jurisdiction. "We have been doing a lot of outreach work with the elders in the community close to Banjul Airport, as well as local schools," she explained.
While birds might be the most common threat in terms of a strike risk, animals such as elephants, wildebeest, baboons, snakes and even domestic animals, such as cattle and dogs, all pose a threat of disrupting airport operations, particularly in terms of runway incursions.
"Fundamentally it's the same process in terms of managing these risks," said Henshaw. "It's about understanding the behaviour patterns of the species presenting a threat, what their characteristics are and the factors influencing their behaviour, such as environmental, climatic or human factors. Then we can address those influences and manage them, to repel the attractant for that creature to be in that conflict zone."
Given that the majority of serious wildlife-related incidents occur during take-off and landing, the International Civil Aviation Organization (ICAO) recommends airports address all potential wildlife hazard risks within 13km of an aerodrome.
Good quality data collection is integral to the process of building an accurate picture of wildlife occurrences and movements within this range. In addition to field surveys, data can be collected using an avian radar, which, although an expensive investment, far exceeds human capabilities as it enables data to be collated 24/7 over extended periods of time.
Nevertheless, Henshaw emphasised that a successful wildlife hazard management strategy is about combining modern technology, such as avian radar, with a human presence and the appropriate training. "One of the most important things at the airports in Africa we work with is a boots-on-the-ground presence," she said. "Having a comprehensive training framework in place is also key in helping to determine the responsibilities of those involved and ensuring best practice in their roles."
Aviaire is focused on supporting a holistic approach to mitigating the likelihood of wildlife problems. Techniques that can be deployed to deter animals and birds range from bio-acoustics and pyrotechnics to lasers and netting.
However, Henshaw warned that getting equipment into a country is also a factor for consideration. "The transport of equipment and getting it through customs on arrival can be tricky," she said, citing past experience.
Aviaire previously worked on a wildlife hazard management project in Rwanda for Kigali Airport, where bringing pyrotechnics into the country proved a complicated process requiring special licenses.
With climate change having an impact on behavioural and migratory patterns for birds, what does this mean going forward for African airports?
"Ultimately, just as no two airports are the same, no two bird species are the same in terms of their behavioural patterns. So, it comes back to understanding what wildlife species are in and around the airport, getting good quality data and understanding the risk assessment, then you can employ a strategic, cost-effective plan and focus on the techniques and equipment needed to manage those hazards and safeguard your airport."
In the more immediate future, though, Henshaw said the focus is on ensuring safe operations as African airports start to see demand return for air traffic. "Following the pandemic and the lack of aircraft movements, airports need to demonstrate how safe their operations are and wildlife hazard management is key to that," she concluded.
"It's about rebuilding relationships between the different stakeholders, establishing and understanding what needs to be done in terms of managing wildlife hazards. Then we can deliver the most appropriate solutions where and when they're needed on or off an aerodrome."
Stay up to date
Subscribe to the free Times Aerospace newsletter and receive the latest content every week. We'll never share your email address.