Erie journey out of lockdown
Normally around 11 million passengers per year transit through Cape Town International Airport, making it the third largest in Africa. Now, as Guy Leitch reports, the airport has been brought to an almost complete standstill.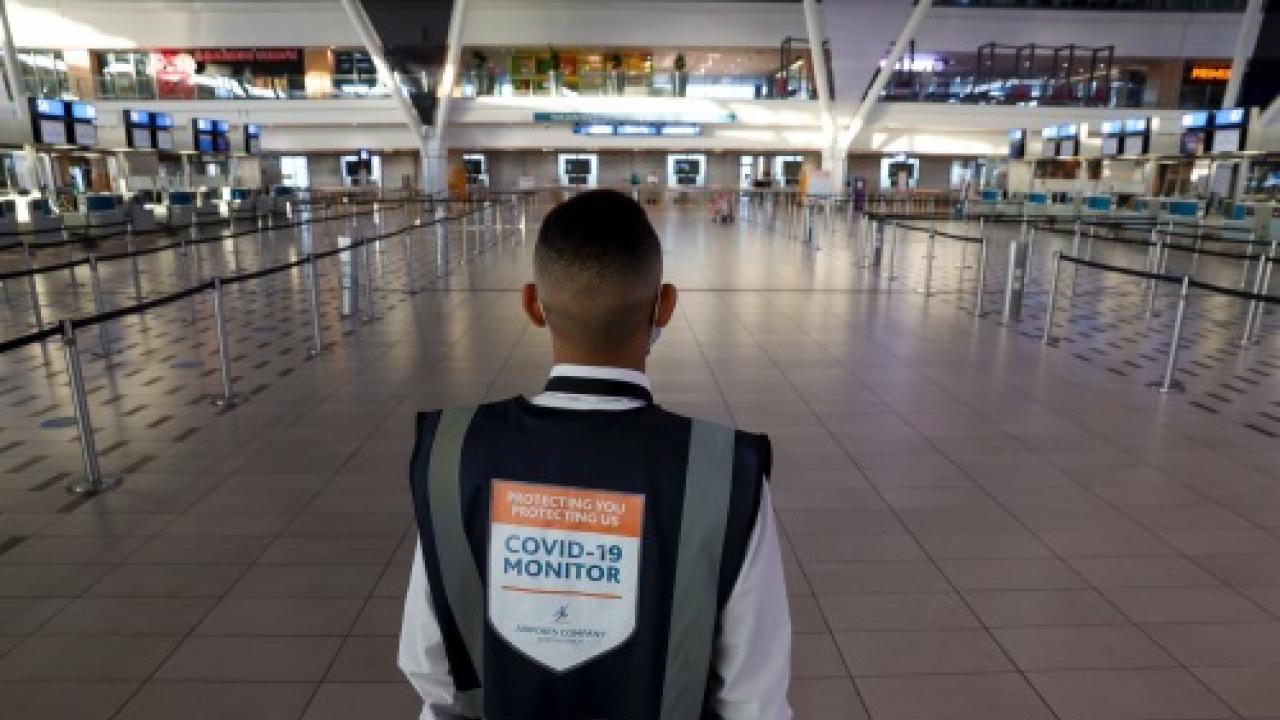 Eerily empty: The wide open spaces at Cape Town International Airport.
Visiting the airport under the lockdown is an eerie experience.
The international departure and arrival halls are deserted, with row after row of check-in counters standing empty.
During the height of the crisis, uplift of JetA1 fuel dropped from 2.3 million litres per day to almost zero.
Prior to South Africa's lockdown restrictions, the airport was handling up to 40,000 passengers and 20,000 items of baggage in a day.
The restrictions have had a calamitous effect on the airport's revenue, but general manager, Deon Cloete, has remained positive.
He explained that the Airports Company of South Africa (ACSA) had used the past months to develop new procedures and protocols to minimise the risk to passengers in anticipation of a slow return to flying in quarter four.
"The new protocols will require screening for all passengers. We have developed them in close collaboration with key industry players – non-ACSA airports such as Lanseria, local and international airlines, government and regulatory bodies."
"There has been a lot of learning, with regular updates and tweaking happening along the way. We also leaned heavily on best practices recommended by the likes of the International Air Transport Association (IATA), the International Civil Aviation Organization (ICAO) and Airports Council International (ACI)."
"While it is still early days, we are confident that the new procedures have created the right spaces for safe passenger processing and facilitation."
With the slight easing of South Africa's travel restrictions in June, domestic flights for business purposes were permitted. These operated on the 'golden triangle' between Cape Town, Johannesburg and Durban. Later, flights to Port Elizabeth and Bloemfontein were also permitted.
The key requirement for an airport to be opened under South Africa's lockdown restrictions was that it met the heath standards set by the department of health – particularly in regard to social distancing and pre-screening requirements. Compliance monitoring – health screening, the wearing of masks, and adhering to social distancing signage and announcements – are handled at the airport by the full-time deployment of Covid specialist staff, who are easily recognisable by clearly branded jackets.
At the time of writing, the take-up of flights for domestic business purposes had been disappointing, with total demand less than 10% of pre-Covid levels. Within the almost deserted Cape Town concourse, information boards showed barely 10 arrival or departure flights per day.
Cloete believes that information technology (IT) will play a key role in future. "Specialised IT teams at ACSA are exploring the upgrade of current CCTV systems and technology that could potentially further scan passengers moving through the airport for any sign of fever or high body temperature. This will be in addition to the current cameras and temperature screening equipment already deployed at all access points into the terminal," he said.
While it remains important to keep exploring the best methods of containing Covid, Cloete reiterated that the actual systems deployed to date are already effective in ensuring safe staff operations and passenger processing.
A compulsory requirement for passengers departing on domestic flights is to arrive at the airport at least two hours before departure, so personal screening procedures can take place.
"Travellers are required to make full and honest disclosures about their recent whereabouts and whether they have had any exposure or contact with people infected by Covid-19," Cloete explained.
He added: "The no-touch principle is being applied, whereby methods have been put in place so that our airport and airline staff have limited contact with passengers or their carry-on baggage."
At the security checkpoints, boarding passes and travel documents are scanned and checked without physical contact or handling of documents. Issuing boarding passes on-line encourages tech-savvy passengers to adhere to the no-touch check-in procedures.
For passengers who still need to check baggage, social distancing rules are rigidly enforced. The manned check-in desks are separated from each another by two unused counters.
In 2018, ACSA announced the launch of its long awaited R7 billion ($395m) capex project. This included upgrades to the international and domestic terminal buildings. Under the Covid-19 pandemic the project has been suspended.
Also under review is the proposed R3.8 billion construction of a new 3,200-metre runway.
Stay up to date
Subscribe to the free Times Aerospace newsletter and receive the latest content every week. We'll never share your email address.