The Direct approach...
Satcom Direct (SD), which is celebrating its 20th anniversary this year, now has its connectivity and avionic products flying on more than 7,000 business aircraft around the world, making it the world's largest business aviation service provider, according to Michael Skov Christensen, managing director, EMEA. Steve Nichols reports.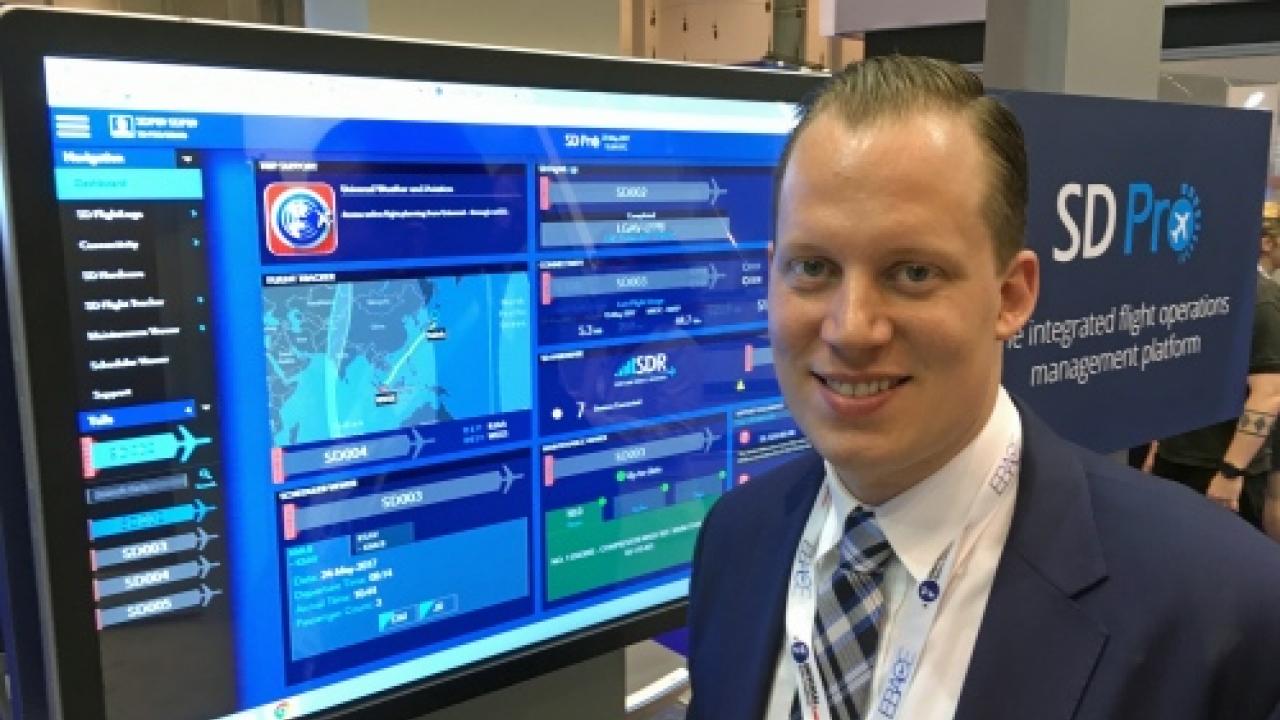 SD specialises in providing connectivity services to VVIP and head-of-state aircraft. It is also a direct contractor to the US Department of Defense (DoD).
With its headquarters in Florida, USA, and its international HQ at Farnborough Airport in the UK, SD also has a hub in Geneva for its wide-body applications and an office in Dubai to service Middle Eastern clients.
"We now have more than 400 employees in 16 locations with account managers around the world," said Skov Christensen. "Our aim is to be within three hours flying time of all our customers."
In 2016, the company added two networks to its portfolio – Inmarsat's Ka-band Jet ConneX and Panasonic Avionic's Ku-band solution for business aviation and government customers.
"We also took the next step to bring multimedia content into the business aircraft including video, audio and conferencing, as connectivity speeds grew from kilobits to megabits per second," Skov Christensen said.
"For example, Inmarsat Jet ConneX offers up to 50Mbps to the aircraft and six Mbps off it. And the data costs have come down too – it is now cents per megabyte rather than dollars.
"The entry level package for a high-speed satellite in-flight connectivity system is now 25Gb for less than $10,000 a month.
"We are seeing a lot of interest in the Middle East and Russia for fuselage-mounted Jet ConneX systems," he added.
"In many cases, early adoption may have been seen as risky, but now that GX Aviation is rolling out commercially, especially as Qatar Airways has adopted the system, we expect the Jet ConneX take-up to increase."
SD is also a distributor for Panasonic Avionic's new Ku-band system for business aircraft. This uses an Astronics AeroSat tail-mount antenna and offers up to 4Mbps peak data speeds, with prioritised traffic for business aviation.
The antenna can also handle both IP and TV connections at the same time, with three channels of Panasonic eXTV available with unlimited use and no extra cost on the data plan.
In 2016, the company also launched its SD PRO integrated flight management system and introduced SD Flightlogs, which do away with the need for manual flight logs.
And, in another move, SD also acquired TrueNorth Avionics, gaining that company's cabin communications solutions and advanced comms systems for VIP and VVIP aircraft, including routers, telephony and handsets.
"By having TrueNorth on board, and our Satcom Direct router (SDR), we now have an interface with everything else on the aircraft. Adding TrueNorth to our family allows us to cover everything from the smallest aircraft to the largest head-of-state jet," Skov Christensen said.
At the European Business Aviation Convention & Exhibition (EBACE), TrueNorth also introduced its new future air navigation systems (FANS-1/A) over Iridium data link unit (DLU) with voice.
The data and voice solution (DLU-vox) provides data link capabilities (ACARS, ADS-C, and CPDLC) plus flightdeck safety voice capabilities in a small, lightweight, stand-alone form factor.
The new DLU-vox has the same dimensions and footprint as TrueNorth's existing FAA TSO-C139a data link unit (DLU).
Mark van Berkel, general manager, TrueNorth, said: "Our new DLU-vox will allow operators to better manage their workload. Text-based contact with air traffic control reduces communication errors, and a channel of enhanced quality voice provides added flexibility. Both will help foster smooth flight operations."
Based on TrueNorth's Iridium-based FANS-1/A solution, the company says the DLU-vox is a lightweight, stand-alone device for the flightdeck. It is designed to fully comply with current and foreseeable technical standard order (TSO) specifications and will be compatible with a variety of multipurpose control and display units (MCDUs) and flight management systems (FMS).
Chris Moore, SD's chief commercial officer said: "The DLU-vox is an important addition to our product portfolio. FANS-1/A capabilities offer clear operational and business benefits. Pairing DLU-vox with SD services, like our FlightDeck Freedom application, gives operators the ability to work more effectively, fly more efficient routes and reduce fuel costs; significant considerations that are important to both pilots and aircraft owners."
SD says the new system offers enhanced voice quality, which contributes to safer flight operations by providing clearer voice than traditional high frequency radio.
Supporting simultaneous data and voice transmissions through a dual-element Iridium antenna, the DLU-vox enables operational efficiencies, allowing pilots to talk and use the text-based interface at the same time.
Van Berkel added: "Part of our mission is to provide flight crews with the most effective means of communicating with air traffic control, ground operations and other aircraft without disrupting cabin communications.
"Through the direct connection into the flightdeck voice system, DLU-vox gives pilots the ability to communicate in a manner that best dovetails with their own working routines."
At EBACE, SD also announced it was extending its nicemedia in-flight entertainment service to all platforms.
The nicemedia premium-content service was launched by SD at the Middle East Business Aviation Association (MEBAA) show in 2016 for aircraft equipped with niceHD cabin systems.
Together with Lufthansa Technik, SD has now expanded the types of aircraft that can benefit from the nicemedia SmartBox system, which delivers Hollywood blockbuster movies and contemporary TV shows to the cabin.
The wide selection of movies and TV shows, available via the portable system, can be viewed on cabin monitors or can be streamed to personal electronic devices (PEDs) including iPhones, iPads, Android smartphones and tablets.
Multiple devices and users are supported, allowing passengers to watch different content on PEDs and cabin monitors at the same time.
To keep the content current, automated monthly updates can be downloaded to the SmartBox while on the ground, avoiding additional data usage on board. Up to 450 movies and TV shows per year will be made available.
Ken Bantoft, SD's chief technology officer, said: "The demand for in-flight entertainment is rising as passengers increasingly expect a similar entertainment experience in the air, as on the ground.
"Our partnership with Lufthansa Technik allows us to provide great entertainment in a convenient format. The option to preload the data, carry on the box, and plug and play, is a real bonus for any operator or owner."
Movies are guaranteed to be shown in English, German, Spanish and French across a variety of genres, including action, adventure, comedy, family and science fiction.
The content is digital rights management (DRM)-secured and licensed, and includes new releases in high-definition.
SD's training division also offers four courses covering satcom fundamentals (two courses for foundation and troubleshooting), crewmember networking and connectivity, and IT certification (AeroCNCT).
AeroCNCT was launched at this year's Asian Business Aviation Conference & Exhibition (ABACE) event. Designed for crew members who need to become more familiar with all aspects of cabin connectivity, SD said this is the aviation industry's first crew member connectivity certification.
It said AeroCNCT provides flight departments and crew with knowledge and understanding of on-board connectivity, how hand-held devices affect flight operations, and how to troubleshoot basic cabin networking issues.
The company also takes cyber security very seriously and has its own state-of-the-art data centre in Florida.
"A lot of the information being sent over satellite link is highly delicate. So the risk of having no control of the data over that link to the aircraft is a no go," explained Skov Christensen. "We can offer full data security and peace of mind right the way through the chain.
"We also offer cyber security training and consultancy. This is bespoke and tailored to a specific company's requirements.
"For a very long time, corporate flight departments would have IT-compliance regulations in their organisation. The only place that didn't extend to was the aircraft. But that's all changed now," Skov Christensen concluded.

Stay up to date
Subscribe to the free Times Aerospace newsletter and receive the latest content every week. We'll never share your email address.