The back-seat driver
Inmarsat's latest study shows that in-flight Wi-Fi remains a key driver in forming customer loyalty and satisfaction among airline passengers across the United Arab Emirates. Steve Nichols reports.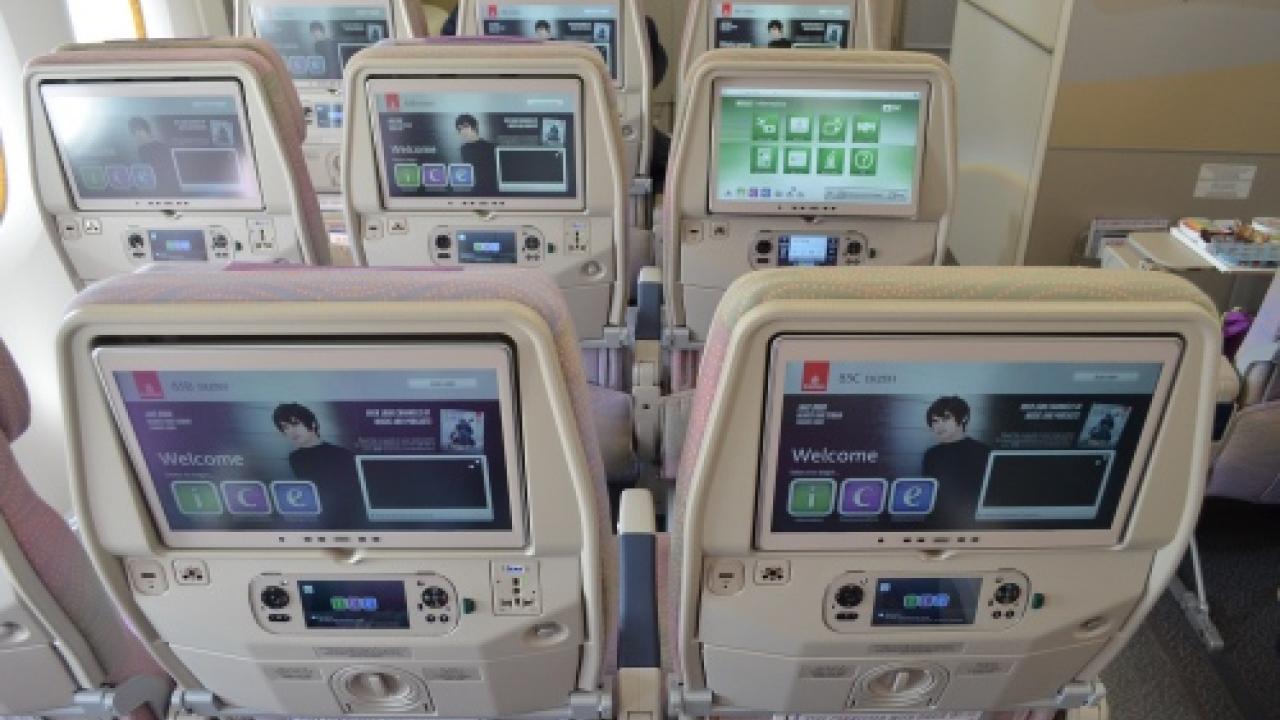 Inmarsat's fourth annual global in-flight connectivity survey, conducted in association with market research company, Populus, found that Wi-Fi is already an essential part of everyday life on the ground, with more than eight out of ten UEA respondents (85%) believing that it is "fundamental" to daily life.
With two thirds of UAE passengers (67%) describing in-flight Wi-Fi as crucial, meeting that demand in the skies is key to improving passenger experience and driving loyalty in the region.
Wi-Fi is now so critical to passengers that more than eight in ten (82%) would be more likely to rebook with an airline if high-quality Wi-Fi was available.
It found in-flight Wi-Fi is now considered the most important factor for UAE passengers when choosing an airline, followed by the carrier's reputation.
The impact of Wi-Fi on loyalty and satisfaction is particularly significant for passenger groups most keen to remain connected in the air.
Nine in 10 UAE passengers (89%) would use in-flight Wi-Fi if it was available on their next flight, with high-value customers, parents, and young passengers among those most likely to use the service – 90% business travellers, 94% passengers travelling with children and 90% 18-30-year-olds.
The survey found on-board Wi-Fi could also lead to more productive business trips, as four in five UAE business travellers (82%) say they would use inflight Wi-Fi to continue working on the aircraft.
Access to Wi-Fi is also an important driver of choice for the UAE's nervous flyers. Three-quarters (73%) said that they would use the technology to remain in contact with family and friends on the ground.
But the Wi-Fi must be reliable – 57% of respondents said no Wi-Fi at all is better than a poor quality service.
Ben Griffin, vice president Middle East, Africa and Asia Pacific at Inmarsat Aviation, said: "Wi-Fi is essential to daily life on the ground, and airline passengers see no reason why their time on a flight should be restricted or spent any differently.
"From sending that important work e-mail to entertaining children, staying online is becoming a crucial part of the in-flight experience for today's airline passengers."
He continued: "The desire to stay connected in the air is especially true to passengers in the UAE, as this year's survey reveals that 90% want to use in-flight Wi-Fi if it is available on their next flight."
Griffin said that he considered the UAE as being at the "top end" of the chart in terms of the take-up and interest in in-flight connectivity. He said this was because carriers in the region invested in the service very early on.
"For example, if we consider Emirates, it was the first airline to have fax machines on board and the first to have a phone in every seat, plus SMS messaging and e-mail," he said.
"Etihad has a 100% connected fleet and FlyDubai is connected through Global Eagle Entertainment. The fleet and route penetration of aircraft equipped with in-flight connectivity in the UAE is greater than anywhere else."
Many carriers started with Inmarsat SwiftBroadband, but have moved on to faster Ku- and Ka-band services as the technology has developed.
Griffin said take-up rates for connectivity varied depending upon the time and duration of the flight and the dependability of the service.
"But, overall, the averages are significantly higher than they used to be. In the early days it was around 3-4%, but we are definitely seeing uptake rates in the teens now, and sometimes into the 20s.
"We are seeing a higher proliferation of people connecting because they know they can. It is either affordable or even free, depending upon your flight status."
Griffin added that the system of charging for in-flight connectivity by the megabyte was dead as far as he was concerned.
"No one really knows how much a megabyte gives you any more – if I bought 10 megabytes of data I really don't know how long that would last to be honest," he said.
He pointed out that many devices are constantly downloading updates in the background so a limited data allocation can soon be used up.
"Terrestrially, we don't buy our internet packages by volume any more, certainly not in the UAE," he said.
"I think airlines can leverage real value from loyalty or from other ways of capturing and maintaining contact with passengers. They can offer concessions or a free service to frequent flyers," he said.
For example, while all Emirates passengers receive 20Mb of free in-flight Wi-Fi, the carrier's Skywards members can enjoy unlimited complimentary or discounted Wi-Fi, depending upon their membership level.
FlyDubai, on the other hand, offers passengers the choice of buying a 30-minute pass (for flights more than two hours), or an all-flight pass.
"Airlines are happy to offer free Wi-Fi as long as they get some information from the passenger that has some value," Griffin said.
Another model sees airlines team up with other commercial entities to offer deals to passengers on a range of goods and services.
"For example, Indonesia's Citilink, which recently signed a fleet-wide contract with Inmarsat for our GX Aviation product, is working with Mahata to bring brands together that have revenue-earning potential through advertising and other media," he said.
But the dilemma is always, do you offer free Wi-Fi to all, but suffer from overuse, slow speeds and a poor level of service. Or do you charge, automatically reduce the number of concurrent users, but then offer passengers a better experience?
Emirates picked up quite a lot of flak when it launched its free Wi-Fi service. On the website onemileatatime.com, travel consultant and blogger, Ben Schlappig, wrote: "Wi-fi on Emirates is excruciatingly slow to the point that it's almost unusable. They have a limited amount of bandwidth they're working with on the plane, and there's a huge difference in usage depending on the pricing."
He concluded: "Personally, my preferred Wi-Fi systems are from airlines like Etihad and Singapore, which let you purchase a Wi-Fi pass for the entire flight for $20, which has no data cap. The speeds are good that way, and the price isn't unreasonable."
Emirates currently uses Inmarsat SwiftBroadband (L-band) and Panasonic Avionics (Ku-band) on its fleet. Its Airbus A380s were traditionally fitted with SwiftBroadband, but a small number of the fleet have also been outfitted with Panasonic's global communications service, offering a megabit or multi-megabit experience.
In a memo sent to staff in June 2017, when it adjusted its pricing structure for Wi-Fi, Emirates wrote: "At Emirates, the overall customer experience is always at the core of everything we do. We constantly review our products and services across all cabins to make sure we continue to surprise and delight our customers and add value to their experience.
"At the same time, we streamline our services based on customer demand and feedback. The Wi-Fi service has proven to be massively popular, with around 750,000 customers connecting every month.
"Now customers can choose a plan to suit their needs, rather than paying a flat fee for a set number of megabytes. And all customers can still connect on board for free for up to two hours."

Stay up to date
Subscribe to the free Times Aerospace newsletter and receive the latest content every week. We'll never share your email address.