Saudi Arabia presses ahead with A2G connectivity
The Kingdom of Saudi Arabia is expected to release more details about its air-to-ground (A2G) in-flight connectivity roll-out before the end of the year, following on from an initial pilot project that was announced in October 2018. Victoria Moores reports.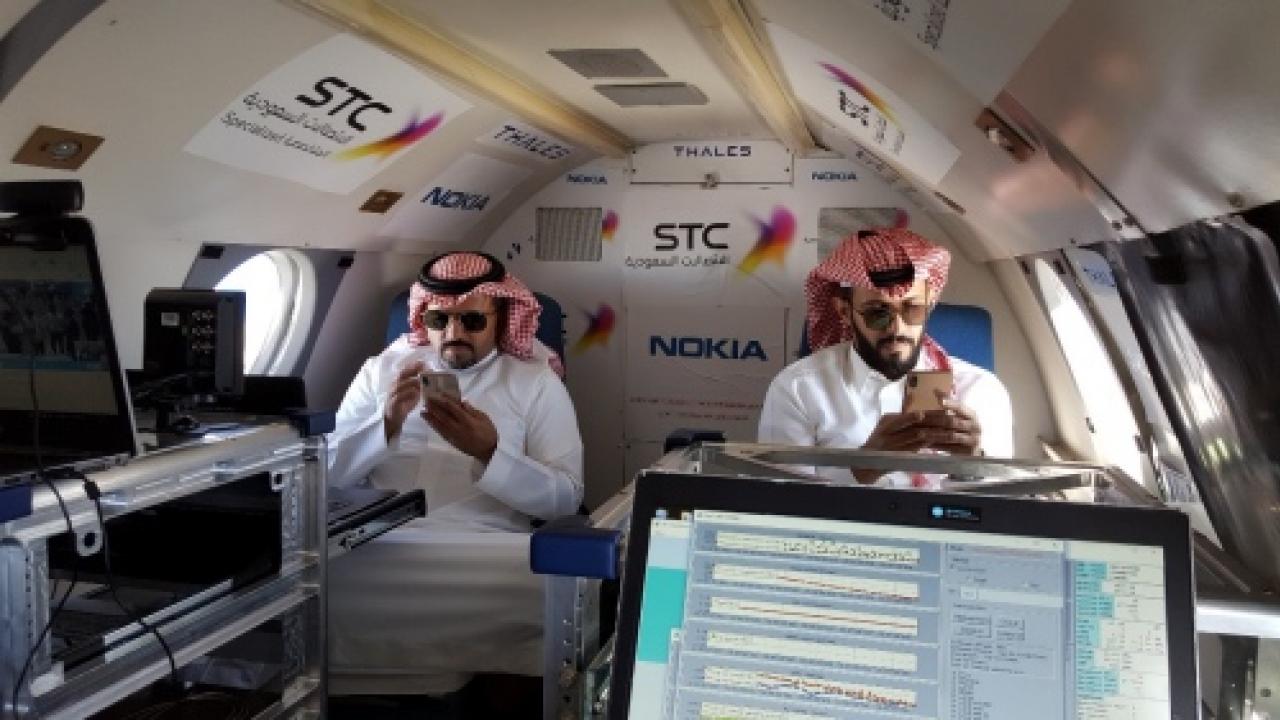 A2G provides fast in-flight WiFi connectivity from the ground.
This means aircraft can use smaller, lower-drag antennas, which makes it quicker and cheaper for an airline to install and operate than satellite connectivity.
However, unlike satellite-based systems, A2G does not work over large oceans.
Only two regions around the world have already rolled out A2G connectivity. It has been available for some time in North America and has just gone live in Europe.
International Airlines Group (IAG) has become the first airline group to use the newly completed European Aviation Network (EAN), which works using an integrated A2G and satellite network.
After watching EAN's progress, in October 2018 Saudi Arabian telecoms provider, STC, announced plans to introduce its own A2G network at the GITEX computer and electronics trade show in Dubai, with the system expected to go live in 2019. This is the first A2G network of its kind in the Middle East.
Once the new network is commercially launched, passengers will be able to hold live in-flight video conferences, access virtual private network (VPN) connections, use social media apps like SnapChat in real time, and stream from the internet, including video services like Netflix and YouTube.
STC signed a memorandum of understanding (MoU) with telecoms firm, Nokia, to launch an A2G pilot network. Nokia played a key role in bringing together the various players for EAN.
Since that initial signing, STC and Nokia have been working on the commercial strategy for the project, with Nokia taking the lead on the network, infrastructure and applications. Thales provided the on-board equipment for the trial.
STC has also established a specialised division called STCSC, which owns A2G activities in the region.
Sources close to the situation say that 10 ground towers are already operational, covering one complete domestic air route between the Saudi Arabian cities of Riyadh and Jeddah. This major air corridor will soon be ready for A2G launch.
Initial circular test flights between these two cities demonstrated that the service worked as expected, with the test aircraft providing connectivity while flying a distance of 10,000km, at a maximum speed of 820km/h at altitudes of up to 8,500 metres.
During these early tests, performed on a Dassault Falcon 20 flying lab, connectivity was maintained more than 99% of the time when the aircraft was above 6,000ft. The trial also achieved 95% success when handing over across the 10 ground-based masts.
Five more routes, beyond Riyadh-Jeddah, will need to be equipped with ground towers to cover all of Saudi Arabia's domestic air corridors. The source was unable to comment on what this would involve, but taking the area covered by EAN's 300 masts as a guide, around 100 masts are likely to be needed for the Saudi Arabian network.
It takes a number of players to establish an A2G network, so work is currently under way to bring together the partners and finalise contracts. Further announcements are expected before year-end, most likely at GITEX (Oct 6-10), or the Dubai Airshow (Nov 17-21).
Saudi Arabia is seen as an influential Middle East technology leader, so it is likely that the STC A2G project could trigger interest in a wider roll-out across the Middle East region.

Stay up to date
Subscribe to the free Times Aerospace newsletter and receive the latest content every week. We'll never share your email address.