Newtec's new tech speeds Panasonic in-flight connectivity
Gulf carriers using Panasonic Avionics' in-flight connectivity solution are set for increased data speeds thanks to a new modem developed with Belgian company Newtec. Steve Nichols reports.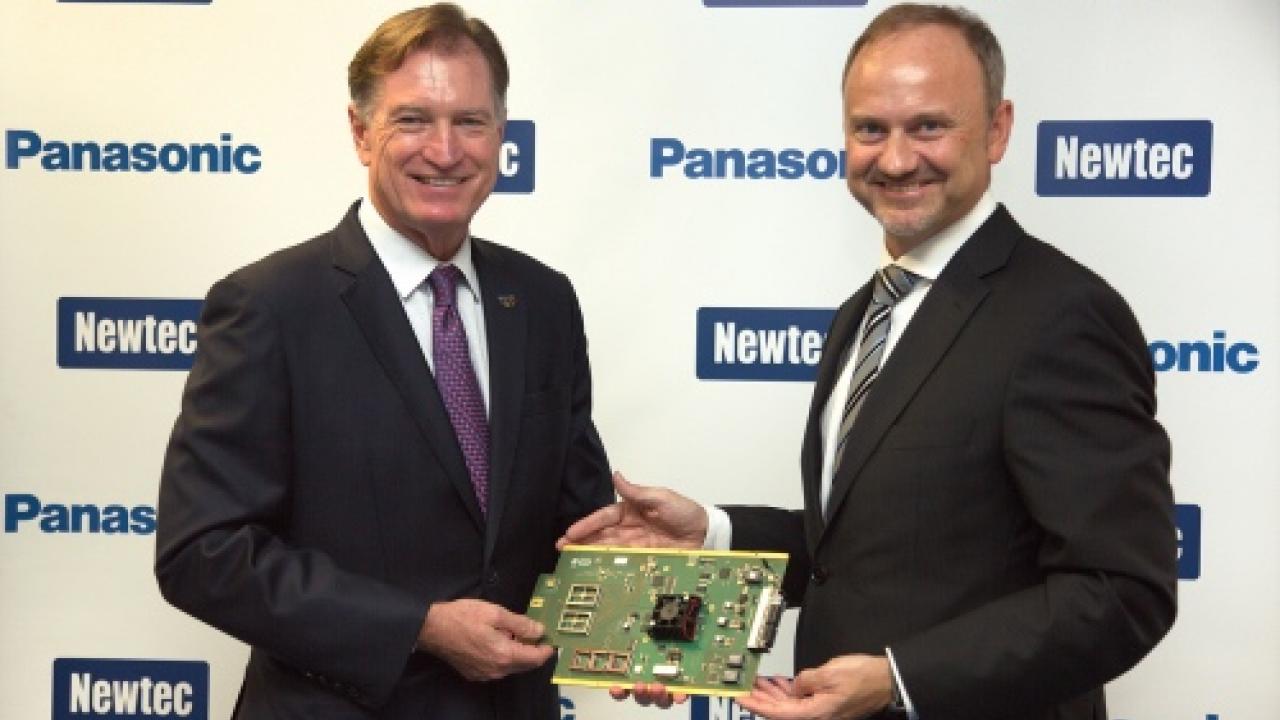 A new satellite modem will offer Panasonic's aero customers up to 20 times the bandwidth of its current solution. It will be exclusive to Panasonic Avionics, is capable of exceeding 400 Mbps, and can scale to meet the evolving needs of airlines and their passengers.
According to Newtec, the modem's headline speed of 400Mbps is achieved by utilising or bonding three 133Mbps channels together. Panasonic will be able to use one, two or three channels independently or bonded.
Panasonic says it will facilitate the increasing bandwidth coming on stream over the next two years as high-throughput satellite (HTS) and extreme-throughput satellite (XTS) services continue to be layered over the company's existing global network.
This will expand network capacity from 2,300MHz today to 15,000+MHz by 2017.
High-throughput satellites, such as Intelsat 29e (I-29e), are the latest generation using narrower spot beams to deliver more power to the aircraft. When coupled with the Newtec modem, the result will be faster connection speeds, enabling a better web surfing and video streaming experience.
Intelsat says its new EpicNG HTS Ku-band platform is already delivering a 165% to 330% increase in spectral efficiency with ground platforms and modem technologies.
It is also giving up to 300% improvement in throughput when using next-generation antenna technology.
Intelsat 29e has been joined by Intelsat 33e, the second of its seven planned EpicNG high-throughput satellites. Other Ku-band satellite providers also have plans to launch HTS.
Paul Margis, chief executive officer of Panasonic Avionics Corporation, said: "As we continue to optimise our second generation global communications network, we are constantly looking for new pieces of critical technology that will enable our customers take full advantage of HTS and XTS technology.
"Newtec's broadband modem, which is based on the innovative DVB-S2X standard and customised to our requirements, allows us to access much larger blocks of frequency and better support high bandwidth platforms across all of our vertical markets."
Serge Van Herck said on behalf of the Newtec board: "Newtec has a proven track-record in delivering high-quality and reliable satcom solutions. Our partnership with Panasonic will combine next-generation ground segment and satellite technology to deliver the most efficient high-throughput solution to customers across the world."
Dave Bruner, Panasonic Avionics' VP global communication services, added: "The modem's three receivers allow us to dynamically allocate them according to requirements. It also means we can handle satellite and beam hand-offs more efficiently for high-speed data connections, with a 'make before break' arrangement.
"Because of its high spectral efficiency, the technology can also handle much lower signal-to-noise ratios."
According to Bruner, the company will start rolling out the new modem technology in mid 2017, although it is not backwards compatible with Panasonic's existing modems.
"We will add the new modem technology to satellite transponders, but ensure that both the new and old technologies are available. Then, as the roll-out gathers pace, we can scale our capacity to match demand around the world," he explained.
"Airlines would like to install equipment that will last for 20 years, but technology isn't like that. The new modem has a field-programmable gate array (FPGA) that will allow us to perform real-time software upgrades when it is in service, so we can handle mid-cycle updates."
Panasonic says its global communications network now covers 99.6% of all aeronautical traffic routes.
Cedric Rhoads, executive director, corporate sales and product management, Panasonic Avionics, said at the Apex Expo in Singapore that the company's Global Communications Services (GCS) business now has a 47% market share with 77 airlines.
Around 3,500 aircraft are committed to installing the system with more than 1,350 delivered.
In terms of its eXTV product, it says 770 aircraft are committed with 419 already equipped.

Stay up to date
Subscribe to the free Times Aerospace newsletter and receive the latest content every week. We'll never share your email address.