Company with a budding taste for success
With more Middle East clients visiting the UK than ever before, On Air Dining is already taking over London as the number one 'culinary concierge service'. Now founder, Daniel Hulme, has set his sights on international expansion in the future.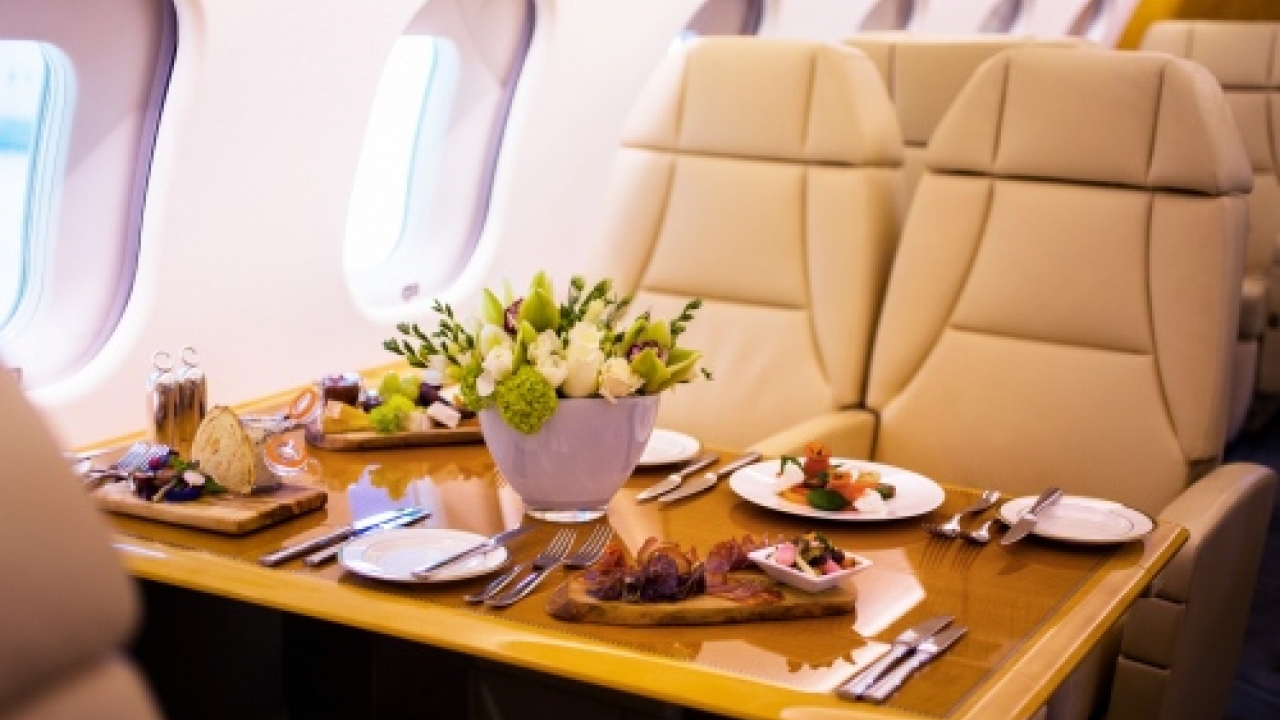 When it comes to good food and taste in the air, Daniel Hulme knows his stuff.
After spending his formative years as a chef in some of London's famous Michelin-starred restaurants, he then travelled the world offering his culinary skills on board luxury yachts and to private houses.
It was during this time that one thought came to him – what is the food like on business jets?
"So I looked into it and was quite shocked at what people were being served," said Hulme. "What I realised was that there was no reason that the discerning palates of the world's wealthiest people could not have the quality of food they are used to in the air.
"I also looked at how food was being packaged and delivered to the aircraft, and I just thought that people who pay to travel by business jet deserved better and more for their money."
Once back in the UK, Hulme spent four years building up his expertise in the in-flight cuisine arena in partnership with On Air before, in 2014, launching his own private aviation catering company – On Air Dining – with the help of two major investors.
Today, the company dominates the private catering aviation services at Stansted Airport in the UK, and last November it acquired Emily's Inflight Food Services, a catering company for private and business aviation, at Farnborough International Airport.
"We want to take over private aviation catering in London and we are very close to doing that. Then we can expand," said Hulme. "We were actually approached by Dubai's DWC a few years ago, but the timing just wasn't right."
Hulme said the company offers a 'bespoke' service. "I designed a system that is simply unique," he said. "It allows the flight attendant to deliver to the end-user at the same level of Michelin-starred food being served in a top restaurant.
"That is from our special menus, which can be tailored to the customer's need, to the packaging, making sure the heat and freshness is retained, to the swift service on one of our many loaders to the aircraft, which can operate on aircraft up to a B747.
"We also offer a full concierge service. We are not a catering service, we are a culinary concierge service."
Hulme has 30 chefs and a team of 50 working at his the two facilities. Many of the chefs come from Michelin-starred backgrounds around the world.
He and his team are constantly trying to create the perfect menu, which can take two to three months.
"Besides being down to the perfect produce, it is all about keeping creative," said Hulme. "We have one of the most advanced kitchens in the world, able to create any dish – even the chocolate covered crickets that were once requested."
As we know, flying at altitude changes our taste buds by reducing flavour, particularly with salt, where we lose 50% of its taste in the sky.
However, Hulme and his team have a secret ingredient that he is prepared to tell all about – umami.
"It is like a salty effect on the mouth and generates saliva," Hulme explained. "Umami basically keeps the flavour of the food as if you were eating on the ground. So we use techniques to extract it from certain products. It is particularly great with sushi and our miso cod dish, which took us months to develop."
The company is also proud of its high-end halal credentials.
"A huge number of our clients are from the Middle East, so it is paramount to have our halal certification," said Hulme. "There is one other company with the certificate but we are actually now starting to pick up a lot of their clients – as we are simply the preferred culinary servicer."
The company also provides free culinary training courses for flight attendants and anyone else with an interest.
"We have engineers and FBO people coming in for the course," said Hulme. "I want to put my money where my mouth is and show everyone just how different we are."

Stay up to date
Subscribe to the free Times Aerospace newsletter and receive the latest content every week. We'll never share your email address.