Smart Bom
Ibom Air is setting a new flightpath for Nigeria's chronically under-performing civil aviation sector.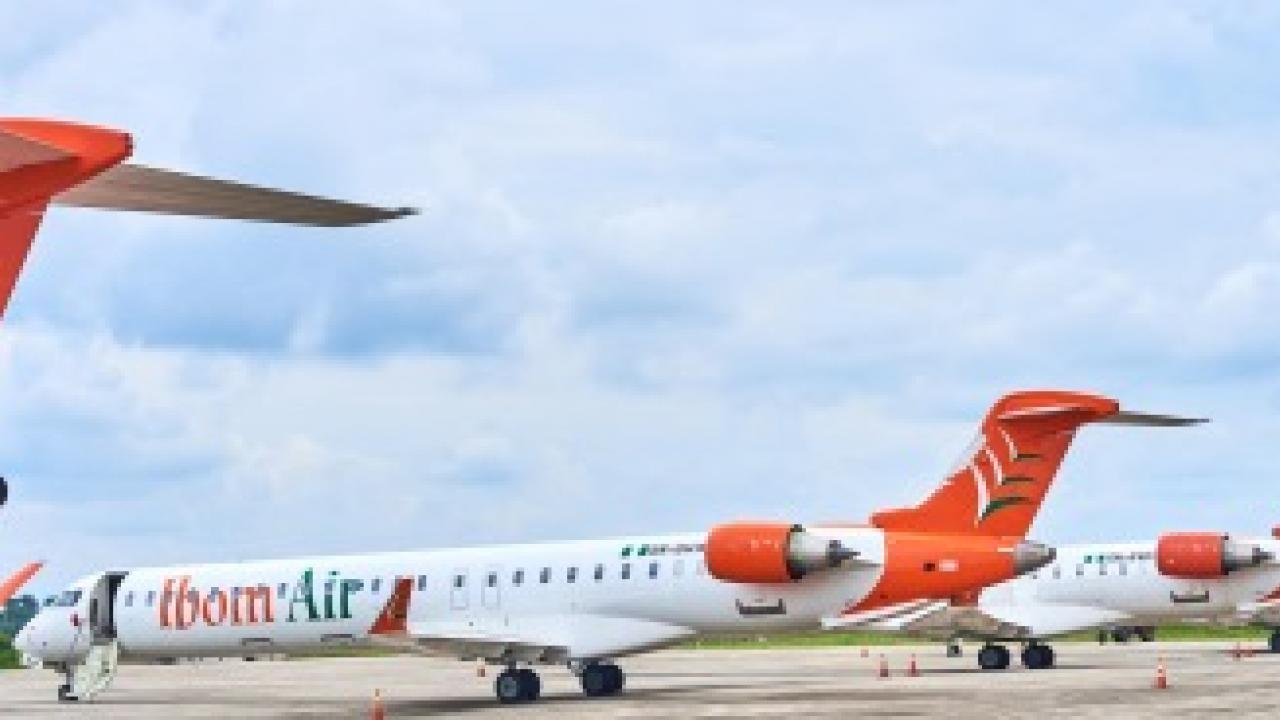 Winning over customers: The 90-seat Bombardier CRJ900s.
Before Covid-19 reared its ugly head, the International Air Transport Association (IATA) predicted that air passenger numbers in Nigeria would rise by 174% over the next two decades. Martin Rivers reports.
Its forecast came as no surprise to anyone familiar with the country's runaway demographics.
Nigeria already has the largest headcount of any African nation – 206 million citizens as of last year. With annual growth rates of 2.5%, The Lancet expects it to become the second most populated country in the world by the end of this century.
That will mean overtaking China, whose own population is set to nearly halve during the same period.
Yet, despite its rising fortunes, Nigeria is ill-prepared for the coming boom in aviation. There are currently no domestic airlines strong enough to compete on long-haul routes from the country, meaning the spoils of its growth are disproportionately accruing to foreign operators.
Blame for this missed opportunity is spread widely across Nigerian society.
In the public sector, successive governments have failed in their efforts to create a viable flag-carrier. Virgin Nigeria Airways operated for just seven years after launching in 2005, while Nigeria Air was abandoned as a project within weeks of its 2018 unveiling.
Nor has the private sector fared much better, with market leaders, Air Peace and Arik Air, facing endless financial scandals and accusations of poor governance.
Still, among Nigeria's smaller players, there is one company giving cause for optimism.
Ibom Air launched in June 2019 with funding from the Government of Akwa Ibom, the country's largest oil and gas producing state.
It already deploys five Bombardier CRJ900s – a notable upgrade on the Boeing 737 Classics and McDonnell Douglas MD-80s flown elsewhere in Nigeria – and its bosses are determined to put the country on a new flightpath.
"For some reason, we haven't been able to establish a world-class, successful carrier in Nigeria," admits George Uriesi, the airline's chief operating officer and the former chief executive of the Federal Airports Authority of Nigeria (FAAN).
"It's [been caused by] a combination of factors. But I think the biggest one has been the management. These airlines are usually a one-man show. The people who own them, I think, sometimes struggle to differentiate between the company and themselves.
"We have chosen to go a different route. We are determined to put corporate governance up-front. Everything is for the airline, and everything is done in the interests of the airline."
Publishing financial statements that are audited to international standards is a crucial first step for the start-up carrier.
But transparency, alone, will not appease Nigeria's weary travellers, who have grown accustomed to poor on-board service, high ticket prices, and frequent delays and cancellations – at least, when flying with a domestic airline.
Management are, therefore, building the brand strategy on two key foundations: high on-time performance (OTP) rates and convenient departure times. And on both fronts, it is the 90-seater Bombardiers that are winning over customers.
"So far, these CRJ900s have proven to be excellent aeroplanes," Uriesi said, noting the airline's 99% schedule reliability.
"Our gameplan now is to bring in more frequencies. Our competitors come in once a day – so they'll come in with a 130- or 140-seater – while we would do three frequencies a day. We are very comfortable carrying 60 people [on the CRJs]. If you have 60 people on a 737 on these routes, you'll be out of business."
Ibom Air currently operates a small domestic network linking four points in the country: capital city Abuja; financial hub Lagos; Uyo, the capital of Akwa Ibom State; and Calabar, the capital of Cross River State.
A fifth destination was due to be announced at the time of writing, with local media reports suggesting it could be Asaba International Airport, which is named after the capital of Delta State but also serves the much larger metropolis of Onitsha.
Asked why Akwa Ibom's governor, Udom Gabriel Emmanuel, decided to launch an airline, Uriesi said it was a natural next step for an administration that has always focused on transport and infrastructure investment.
Uyo's Victor Attah International Airport was opened by the state in 2009 and quickly attracted interest from local operators Arik Air, Air Peace, Aero Contractors and Dana Air.
To date, however, these airlines have only connected Uyo with their respective hubs in Abuja and Lagos.
"So one of the things the governor thought is, 'Well, we can't rely on anyone else'," Uriesi recalled.
"The state built an airport. We might as well have an airline – but have it run in a professional, private sector-like way. That's how the airline came about. And it is run independently. The government doesn't interfere at all. They know not to come near the operation."
Prior to the outbreak of Covid-19, management had expected to grow the fleet to 10 CRJ900s within three years – including another two units by the end of 2020.
Those timeframes are now in doubt, but the overall shape of the business plan is not changing.
"We're expanding organically. We're not getting too excited," Uriesi said, drawing a contrast with another Nigerian start-up, Green Africa Airways, which has a tentative commitment for 50 Airbus A220s, despite never having operated a single flight.
He identified Accra (Ghana), Libreville (Gabon) and Douala (Cameroon) as candidates for the first international routes from Lagos and Uyo. Overseas markets may also be served from Abuja – management are considering Niger, Chad and Burkina Faso – but probably not before the introduction of a mixed fleet.
"We anticipate having two [aircraft] types for a while," Uriesi confirmed.
"We will have the CRJ900s, and then we would take on a very efficient, bigger aeroplane to do regional flying around west Africa and central Africa – maybe up to east Africa eventually."
Praising the "flexible" design of the new terminal being built at Victor Attah International Airport, he said there is an opportunity for Uyo to become a "semi-hub" linking coastal central African states with Lagos, Abuja and other points in west Africa.
Equatorial Guinea, Gabon, Cameroon and São Tomé and Príncipe are considered the primary targets for inbound transfer traffic.
There is no denying that Akwa Ibom State officials will have lobbied in favour of the semi-hub strategy. By developing transfer flows, Ibom Air will be adding routes from Uyo that would not otherwise be viable on a point-to-point basis.
However, Uriesi insisted that his team have the authority to make tough commercial decisions – even when it means turning their focus away from Uyo.
"We have two bases. The main base is in Uyo – that's where our maintenance is carried out. But, as we expand, a lot more aircraft will be based in Lagos, because that's the place that has the capacity to throw around the country," he noted.
"Our footprint is definitely national, even if we are branded as a state-owned airline."
Within a decade, he believes that Ibom Air can become the "most established regional carrier in west and central Africa", unseating market leaders Asky Airlines, Air Côte d'Ivoire and Air Senegal.
Despite this grand vision, though, there is one segment the airline will not be pursuing – no matter how tempting it may be.
"We don't have any long-haul ambitions at all – at least, not for the foreseeable future and not with this management," Uriesi stressed. "Long-haul is where airlines go to die!
"We want a sustainable business model – an airline that's built under the role modelship of Comair South Africa. They are a regional airline, but they are a world-class regional airline. They don't have any long-haul ambitions. They're just happy and comfortable to operate efficiently in southern Africa.
"And they have been profitable for 75 straight years. So that's the model."
Stay up to date
Subscribe to the free Times Aerospace newsletter and receive the latest content every week. We'll never share your email address.