Propping up a challenging market
Turboprops own the niche of short, low-density sectors into small or challenging airfields – a common enough description of domestic air travel in Africa. But is it a viable market?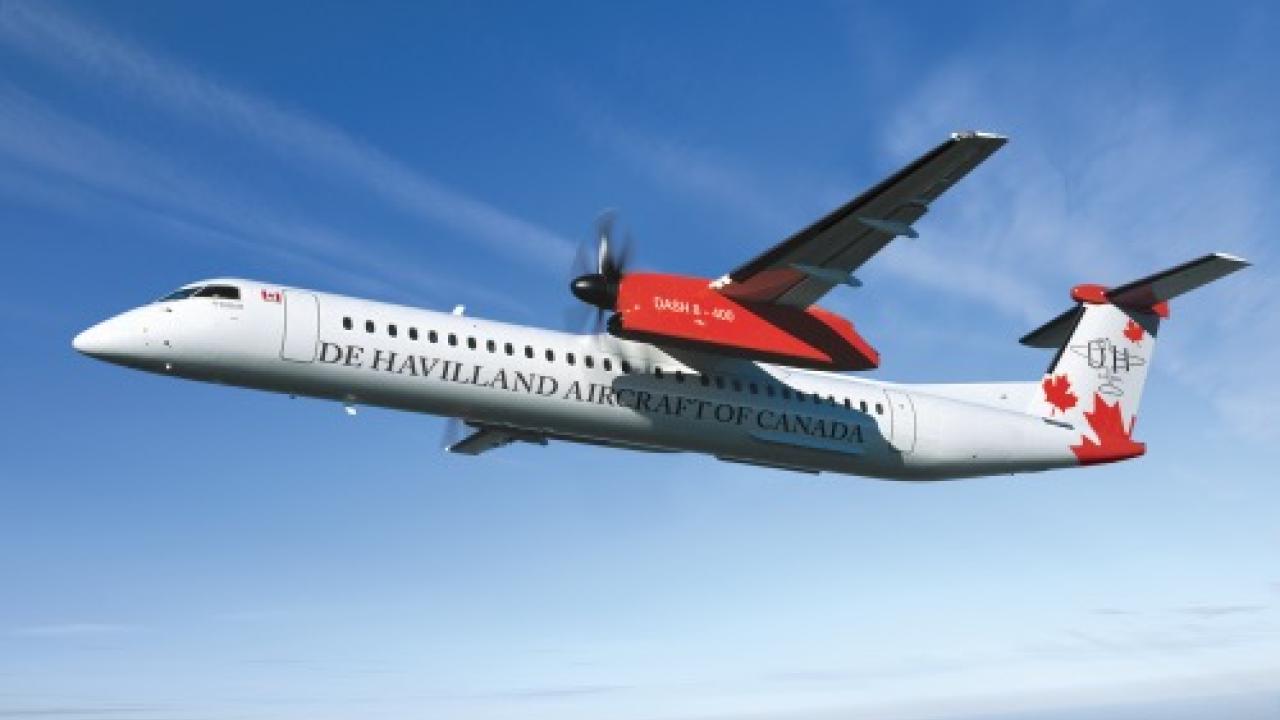 Optimistic: De Havilland Canada is hoping that the pause in its Dash 8-400 programme is temporary. Photo: DHC
Right-sized aircraft are what Africa needs for the expected post-pandemic proliferation of domestic services.
If the chatter is correct, that means De Havilland Canada (DHC) and ATR duking it out in a market they both view as important.
Both OEMs are bullish about their prospects in a post-Covid operating environment, and both are bringing new ideas to the table in search of orders.
Latest figures show the DHC Dash 8 currently dominates, boasting more than 160 examples with about 40 operators; DHC said 82% of the fleet is currently in service.
This compares with more than 120 ATR 42s and 72s in service across Africa and the Middle East. The Franco-Italian company's most recent market forecast flagged up a potential market for 350 more turboprops in the joint region.
ATR chief executive, Stefano Bortoli, outlining his company's recovery plans, said turboprops "remain the best choice" for underserved regions such as Africa.
As part of its plans to strengthen its presence in the next decade, the OEM has introduced a purpose-built freighter, the ATR 72-600F, and a short take-off and landing (STOL) variant, the ATR 42-600S.
The first -600F was delivered to FedEx last December, while first flight of the -600S is expected in 2023, its design having been frozen in May.
Ethiopian Airlines and Air Madagascar are among customers of Elix Aviation Capital, the Dublin-based turboprop lessor, which accounts for 10 of the 20 firm orders for the -600S.
ATR is targeting the regional air cargo market with its newly launched purpose-built freighter. Picture: ATR.
ATR's Mark Dunnachie, head of commercial for EMEA, said: "More right-sized aircraft will be needed to satisfy the demand – evident before the crisis – for increased regional connectivity across all of Africa."
Already this year, Nigerian start-up, Green Africa, has opted for the 78-seat ATR 72-600.
Dunnachie said the outlook for ATR is strong: "We see many promising new markets, particularly across central Africa. This will, in turn, drive our expanding support network."
Not to be outdone, DHC is positioning itself for a strong recovery based on the hot-and-high performance characteristics, high payload, and operational efficiency of the Dash 8, which address market gaps where little to no air connectivity exists.
David Curtis, executive chairman of DHC owner, Longview Aviation Capital, said: "We fully expect worldwide demand for the Dash 8 to return. While industry conditions remain challenging, we are looking to the future by enhancing our ability to support Dash 8 operators."
These enhancements include accelerating planned business improvements plus the development of DHC's own online customer portal and global spare parts distribution network.
DHC expects to see a greater portion of the future fleet in specialised roles, such as firefighting, freight, maritime patrol, and intelligence surveillance and reconnaissance (ISR) missions.
DHC supports operators with field service representatives (FSRs) in Ethiopia, Kenya, Angola, and South Africa, and authorised service facilities (ASFs) concentrated in the north and east of the continent at Ethiopian Airlines (Africa's biggest Dash 8 operator), Mediterranean Aviation (Medavia) in Malta, and Abu Dhabi's Falcon Aviation Services.
Longview completed its acquisition of the entire Dash 8 programme, including all -100/200/300/400 variants, in June 2019. However, the transition from Bombardier's ownership has not been without its challenges, compounded by Covid-19 and the collapse of aviation.
A combination of circumstances forced DHC to announce a "pause" in production of the -400, the only variant still being built. No date has been given for restarting, the airframer saying only that production will resume "at the earliest possible time, subject to market demand".

Market demand is complicated. As if competition from ATR wasn't enough, the used aircraft market for Dash 8s has been bloated by the grounding of several regional operators put out of business by the pandemic.
Fortunately for DHC, the glut – estimated by Leeham News at more than 180 examples – is slowly easing. A DHC spokesman said: "We are starting to see the grounded fleet re-introduced into established markets and into new regions to restore or develop new domestic and regional services."
DHC is well aware of the state of the used aircraft market and, while the company would "prefer not to have to buy used aircraft", it might consider a deal involving trade-ins if a new order hinged on it.
Chuck Grieve reports.
Stay up to date
Subscribe to the free Times Aerospace newsletter and receive the latest content every week. We'll never share your email address.