Miles ahead
Looking over the 'bloodbath' of domestic competition, South African carrier, CemAir, is preparing to add its first narrow-body aircraft and branch out into regional flights. Victoria Moores talks to CEO, Miles van der Molen, about the opportunities.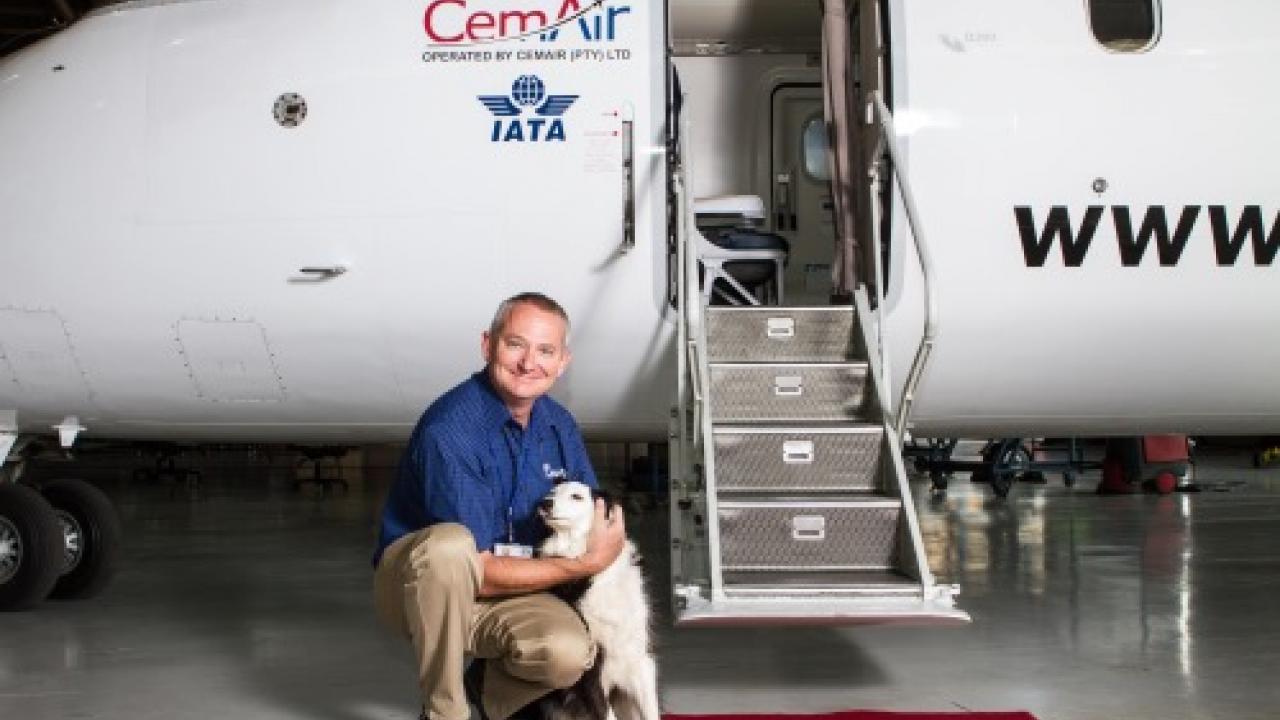 Miles van der Molen: "We like to return loyalty where we've received it." Picture: CemAir.
Plucky Johannesburg-based domestic carrier, CemAir, is coming back fighting, despite the Covid-19 downturn and a bitter dispute with the South African Civil Aviation Authority (SACAA), which grounded the airline for nine months in 2019.
For a man who has just been through two years of solid stress, CemAir CEO, Miles van der Molen, sounds surprisingly feisty.
"Just when we were coming out on the far side of the ridiculous grounding saga, hello Covid! So, yeah, what a miserable two years we've had. I'm pretty much punch-drunk. I just wake up in the morning, go and keep trying – just like yesterday. It's been beyond brutal," he admitted.
SACAA imposed two groundings on privately owned CemAir in late 2018 and early 2019. The carrier ultimately took the SACAA to court and overturned the rulings, but then had to renew its expired aircraft operator's certificate (AOC). CemAir finally returned to the skies in late 2019, just before Covid struck.
A year on and the airline has emerged from these back-to-back crises, only to find the domestic market overloaded with capacity. CemAir's January 2021 traffic was 80% down year-on-year.
Van der Molen said he is seeing a brutal "bloodbath" of price wars, which are completely unsustainable. "We're just waiting for the first one to blink. I don't know who's got the deepest pockets, but somebody's got to go," he predicted.
However, there is a silver lining. The South African market has been reshaped, with state-owned carriers South African Airways (SAA) and South African Express (SA Express) halting flights. This has created an opportunity for CemAir to seize route rights and branch out into scheduled regional services, where competition is less fierce.
"When things do start normalising, [regional] capacity will be down – because of all the people that left the market – and we'll have access to markets that we didn't really have before. The regional network that SAA had was their stronghold; the regional stuff had a lot of protection."
Van der Molen is eyeing opportunities in Angola, Botswana, the Democratic Republic of the Congo (DRC), Mozambique, Namibia, Nigeria, Tanzania and Zambia. These markets are not new to CemAir, because the company has a long history of contract flying and, more recently, repatriation flights.
"The DRC and Tanzania are the main ones we'd pitch at," he said, referring to the SA Express rights. "Our next step is to fill in that space. A lot of those passengers are essential travel – people don't travel to Kinshasa for a holiday – so they still need to go, even in difficult times."
CemAir's scheduled network is currently all-domestic and is served by seven Beechcraft 1900s, a De Havilland Dash 8-100, two Dash 8-Q300s, two Dash 8-400s, eight Mitsubishi CRJ200s and one CRJ900 – with another CRJ900 coming soon.
"With our intended expansion into the regional market, the CRJ900 is not going to have enough legs to fly to some of the further destinations, like Lagos. We need to upscale a notch," van der Molen said.
CemAir is, therefore, looking to lease up to three Airbus A319s, or lower-capacity 737NGs, from one of its existing partners, marking its narrow-body debut.
Relationships are important to van der Molen. Looking back at the turmoil of the past two years, he wants to reward the suppliers that stood by CemAir.
"That's really what's pulled us through," he said. "We like to return loyalty where we've received it. During the grounding we had a very tough time, at a point when the world was having a particularly good time, airline-wise. And people who stood by us have first dibs at any [aircraft] deals that we do."
CemAir will initially lease the new variant, but will look to buy further down the line. "We're getting into, not only a type of aircraft that we don't know, but also a class of aircraft that we don't know. Leasing is a useful way to learn the lessons – not cheaply – but 'less worse' than when you own it."
Timings for the regional launch have already slipped a bit – van der Molen was originally looking at December 2020 – but the opportunity is also still evolving. The new variant should now enter service at the end of the second quarter.
"It's unlikely to start with three [of the new variant]. We'll probably grow like we have with every other fleet – start with one or two, and then build from there incrementally. Practically speaking, you can't operate an aircraft like that as a single-aircraft fleet. Our view is, over time, to expand that to a substantial fleet, but that's the long-term view."
Any new routes are likely to start with twice-weekly frequencies, building to daily. Van der Molen is particularly keen to start flying to Lagos and Luanda as soon as possible, but the regional expansion has also brought regulatory hurdles.
CemAir has been allocated various traffic rights under existing bilateral agreements, including Angola, Botswana, Zambia, Mozambique and Nigeria, but some of these are yet to be confirmed by the other country.
"We've found it quite challenging. As much as everybody in Africa beats the drum of open skies and the single African air transport market (SAATM), we've found that they really do drag their feet when it comes time to just acknowledging that we've been granted the frequencies by the government, under the terms of an existing agreement.
"We've been chasing frequencies that we were allocated three-and-a-half years ago for Botswana; we still haven't actually got the rest of the [regulatory] admin done," he revealed.
CemAir's regional flying will mainly focus on west Africa, steering away from stronger incumbent players in the east, such as Ethiopian Airlines and Kenya Airways. Instead, CemAir has formed new interline agreements with Ethiopian Airlines (January 2021) and Africa-focused Qatar Airlines (February 2021), to boost feed into its new network.
"Before, those options weren't really available to us, because the existing [South African] carriers had the market pretty much sewn up," van der Molen said. "But now, those [foreign] carriers are looking for new friends."
CemAir will be looking to add further airline partnerships, particularly in west Africa, and van der Molen would love to team up with other South African players. "We've taken the view that, at times like this, collectively we can do better than individually," he said, before pointing out that South African airlines tended to be "very insular".
After a brutal two years, CemAir has emerged to fight its next battle. "If anything, we've proven our resilience," said van der Molen. "We certainly see ourselves as standing on the far side of it. We're going to take some battle damage, but we have very limited debt exposure and strong relationships. Of course, one can always take a shot to the chest. For now, we don't see ourselves as clinging on to the edge, but it is time to be very, very careful."
Stay up to date
Subscribe to the free Times Aerospace newsletter and receive the latest content every week. We'll never share your email address.