Mendis confident in the post-virus World
Ghanaian carrier, Africa World Airlines, is looking to consolidate Accra as a regional hub for west Africa once the Covid-19 crisis has abated.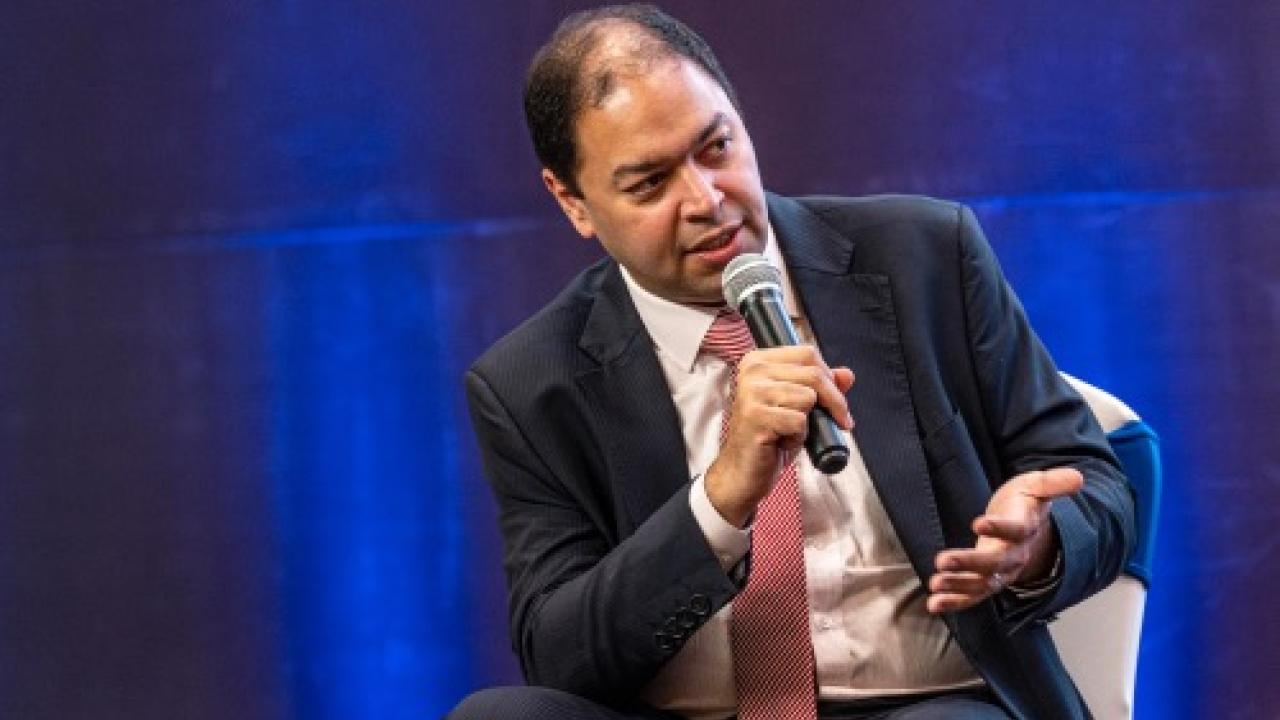 Africa World Airlines (AWA) has always pursued a strategy of slow and cautious growth. Victoria Moores reports.

In fact, COO Sean Mendis describes the company as one of the most conservative airlines in Africa. But he sees this as a strength for the Covid-19 recovery.

"We've had experience of dealing with this kind of crisis due to the Ebola issues that we faced some years ago. Most of the places we fly to in the region have a fairly robust screening, quarantine, and action plans to be able to react to contagious disease situations," he said.

Ghana closed its borders at midnight of March 22, triggering AWA to temporarily suspend international flights from March 23. Domestic flights were also halted on March 30.

"All we are doing right now is special charters for humanitarian/cargo," Mendis said on April 10. "Our strong base in the domestic market is likely to recover quicker than the international flying. The financial impact will be significant, but we are confident we will come through it stronger than most African airlines due to our conservative strategy so far."

Privately owned AWA launched in 2012, with the support of Chinese shareholder HNA Group. While Hainan Airlines could be renationalised because of Covid-19, Mendis said this has not affected HNA's relationship with AWA. "At this point, it's business as usual," he said.

Mendis was part of AWA's founding team. He left at a planned exit point, once AWA secured its air operator's certificate (AOC), but was asked to return in 2018 to help oversee the next stage of the airline's development.

"AWA is now eight years old, so we're past the initial start-up survival stage," he said. "We're now the largest international carrier by frequencies into Nigeria – we are flying there up to 200 times a month – so that's 34 times a week to Lagos and 11 times a week to Abuja. And those flights are, in turn, feeding our hub in Accra with onward connections to Freetown, Monrovia and, our new route, Abidjan."

This regional expansion was made possible by AWA's slow, but steady, approach.

Back in 2012, AWA's founders decided to hire young Ghanaian pilots straight out of flying school, with 200-250 hours, and type rate them in-house. Today, AWA has three type-rating instructors (TRIs) and those 'youngster' first officers are now becoming captains.

"We developed a sustainable structure. It's not your typical start-up," Mendis said. "Plenty of African airlines go out and hire expats. However, our decision was that we wanted to focus on bringing in Ghanaians with international experience and developing them, rather than relying extensively on expats for the long term."

"I was away for six years and I came back. And I'm very proud about the fact that about 80% of our start-up team is still here."

Before Covid-19 took hold, AWA was carrying around 600,000 passengers annually on its fleet of eight Embraer ERJ145s, with two more scheduled to arrive by the end of 2020. These aircraft are LI variants, manufactured by Harbin Embraer in China, and previously operated by HNA Group's Tianjin Airlines.

AWA is now looking to transition to a new larger aircraft type, to fly alongside and ultimately replace the ERJ145LIs. It has a good relationship with Embraer, so E190/195s could be a possibility, but other 100-seat options are on the table.

"There is no decision made at this time. We're examining options from all the various manufacturers with products in this range that fit our strategic needs," said Mendis.

"We have limited opportunities to increase utilisation because of the infrastructure in west Africa. Therefore, the ownership cost is something that we have to keep in mind."

Before the pandemic, strong aircraft demand was pushing up asset prices. However, the post-Covid downturn could create an opportunity for AWA to secure 100-seaters at the right price.

Over the next five years, AWA plans to consolidate as an Accra hub-based regional carrier for the west African region. "That's always been the business plan," Mendis said. "But, as any start-up will tell you, the first few years are largely a case of survival. While you're working towards that goal, you don't necessarily have the resources or the ability to focus on the things we are doing now."

Strengthening the Accra hub will involve AWA building up further interlines and codeshares. Mendis believes the post-coronavirus world could boost this partnership strategy because African and non-African airlines will be forced to choose between flying head-to-head, or feeding local hubs and leaving "last-mile delivery" to regional carriers.

AWA, which has the International Air Transport Association (IATA) operational safety audit (IOSA) certification, already has business cooperations with several carriers, including Asky Airlines, Brussels Airlines, Emirates, and Ethiopian Airlines. One of its closest relationships, however, is a strategic partnership with South African Airways (SAA).

Mendis said SAA's entry into business rescue in December 2019 has not affected relations. In fact, before Covid-19, SAA increased its Washington service, via Accra, from four times weekly to daily. "We remain in very close contact with them. It's business as usual for now. It has not affected our commitment to the partnership and having a west African hub is very important for them."

Domestically, AWA has a majority market share. Its main rivals are bus companies and smaller airlines like PassionAir and Unity Air.

However, the local market could soon be disrupted, as Ghana is looking to create a new national carrier.

"We are ready to partner with the Ghanaian Government on a home-based carrier project. We continue to evaluate the proposals from the government," Mendis said.

AWA interline partner, Ethiopian Airlines, is also in the frame for the project. Mendis declined to comment in detail, but said: "In general, we believe Ethiopian is a good thing for African aviation."

As a privately owned airline, AWA does not publish its financial results. But, in an April 2020 press release, HNA said AWA turned a profit just two years after its launch.

"If you made it to year eight, you are obviously sustainable," Mendis said. "We're not here as a three-year flash in the pan; we're in it for the long term. We believe that our strategy and where we stand right now financially is positive for the future."
Stay up to date
Subscribe to the free Times Aerospace newsletter and receive the latest content every week. We'll never share your email address.