Gambia launch is no gamble
The Covid-19 pandemic could prove to be an opportunity for aviation entrepreneurs and one company in The Gambia has firm plans in place.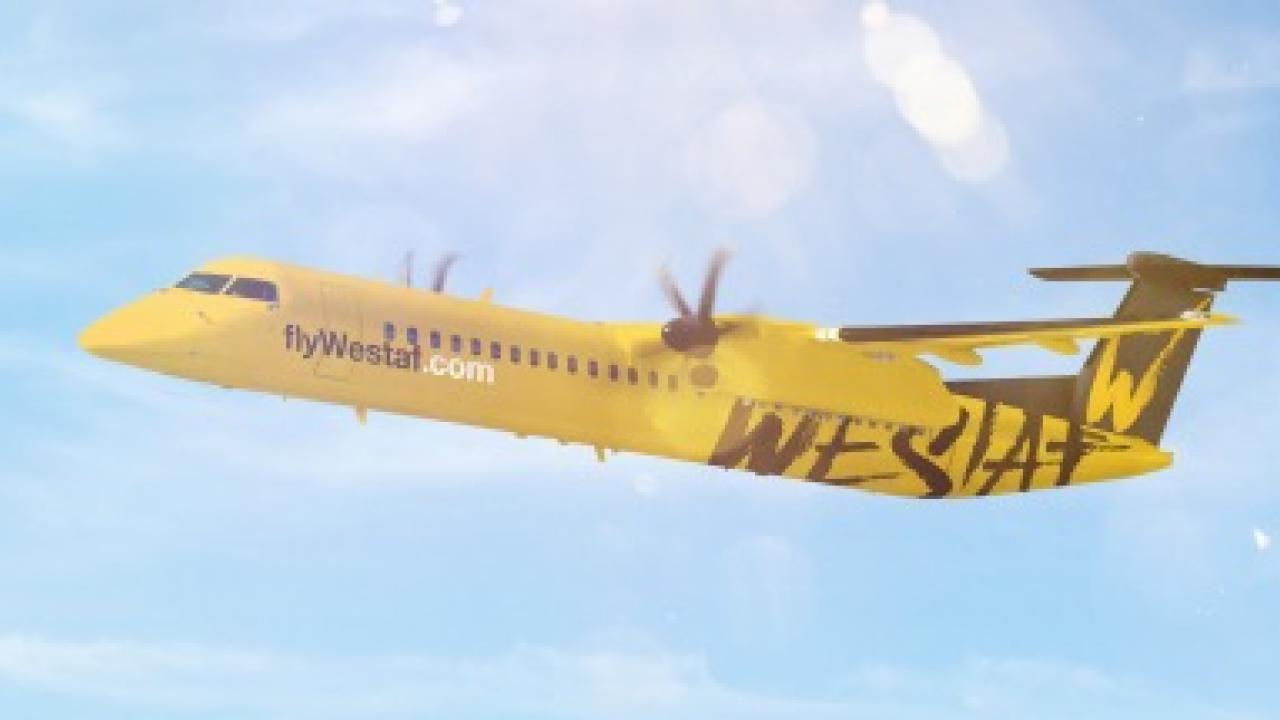 An artistic impression of a FlyWestaf Dash 8 Q400.
New west African regional low-cost airline, FlyWestaf, plans to launch in Banjul, The Gambia, next May, according to co-founder and managing director, Richard Powell. Hilka Birns reports.
After several years fine-tuning its plans, the start-up is negotiating with potential investors for $20 million launch capital. Once the funding is secured, it will apply for an air operator's certificate (AOC) from The Gambia Civil Aviation Authority.
FlyWestaf intends operating five leased or bought turboprops – De Havilland Dash-8 Q400s being the most likely choice – from its main base at Banjul.
Its envisaged network includes Bamako (Mali); Dakar (Senegal); Bissau (Guinea Bissau); Conakry (Guinea); Freetown (Sierra Leone); Monrovia (Liberia); Abidjan (Ivory Coast); and Praia (Cape Verde).
To reduce reliance on passenger revenue post Covid-19, talks are under way with DHL for combined passenger and freight operations, revealed Powell.
"Because of the coronavirus, we are now in a very good position; we're not in debt, the costs of acquiring aircraft have reduced significantly as there are a lot more on the market; and the competition is in a very difficult position."
"In a few months' time, when we have our airline up and running, the aviation market will have started recovering and the regional market will be quicker to pick up," he explained.
Powell says the start-up has done its homework, including meeting The Gambia President, Adamo Barrow, as well as tourism and trade stakeholders in the country.
Although it will be independent and privately owned, with no government shareholding, FlyWestaf will act as The Gambia's official airline, said Powell. The country's flag-carrier, Gambia International Airlines, folded in 2007.
He says FlyWestaf plans to start slowly, expecting lower than 60% load factors in the first two years as aviation recovers from Covid-19.
Nonetheless, he believes the plan is viable and cites Emirati low-cost carrier, Air Arabia, as a model. "If we use the right aircraft, the right business model and data to manage the airline's performance; and if we have a good strategy, remain flexible and have the right experts involved, we can adapt out plans strategically as things move along."

Plans towards the end of 2022 include possible charters to London and feeding air links to southern Africa (South African Airways' new business plan includes services to Accra, Lagos and Gabon).
"The Gambia lost 50% of its tourism when Thomas Cook went bust and we would want to be in partnership with a tour operator eventually to serve that market," said Powell.
FlyWestaf will target a growing market of young west Africans under the tagline that 'everything is connected'. "We want to be funky. Africa has a young population and we want to support events that will help move young people around the continent, with links to media, music and film," Powell explained.
Using a dynamic pricing model, ticket distribution will happen through a mobile app, the airline's website and the travel industry.
While some progress has been made under the African Union's single African air transport market (SAATM) programme, protectionism and regulatory constraints remain a reality in Africa. However, Powell believes the African Continental Free Trade Area (AfCFTA) will come together, despite Covid-19 having temporarily delayed the implementation of free trade.
Powell's partners are start-up and turnaround consultant, Hamish Davidson, and airline pilot and operations manager, Chakib Ziani-Cherif.
Stay up to date
Subscribe to the free Times Aerospace newsletter and receive the latest content every week. We'll never share your email address.