Flight of the Navigator
Sky Navigator, South Sudan's newest airline, is helping to open a new chapter in the country's short but troubled history.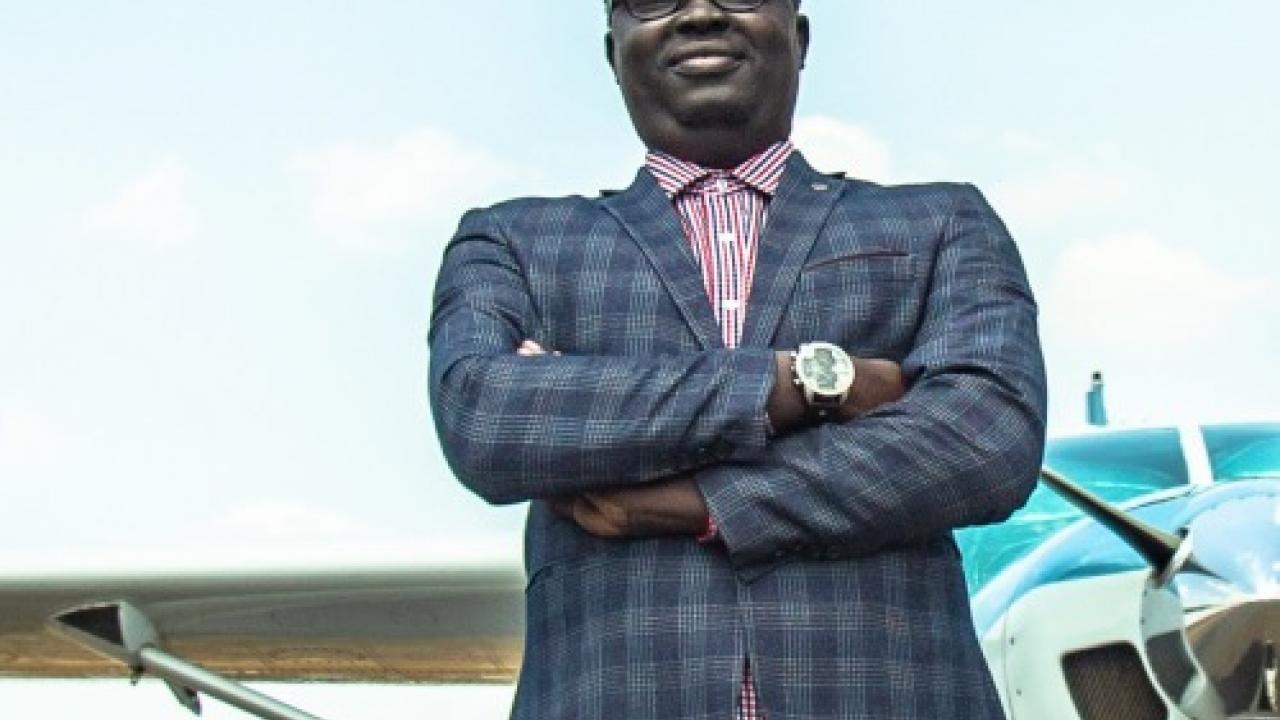 Last year, Cosmos Gombura, the managing director of Sky Navigator, a new South Sudanese airline, drove to neighbouring Uganda to attend a friend's wedding. Martin Rivers reports.

His group made the journey via the Nimule Highway, the only tarmacked highway in South Sudan, which stretches from capital city, Juba, across the Ugandan border to the northern town of Gulu.

Shootings, bombings and sexual assaults are a common occurrence on the notorious road. So, when Gombura's party became stranded, he inevitably feared the worst.

"On our way back to South Sudan the car that we were using broke down on the road," the airline boss recalled.
"We had an incident that almost saw a lady being raped. And that convinced me, personally, to find a solution – an alternative way to get to the northern part of Uganda without using this highway."

That October, Sky Navigator, operating under its original name of Sky Travel and Aviation, inaugurated twice-weekly flights between Juba and Gulu.

In doing so, it became the first airline to link the city and town since 2013, when evacuation flights were laid on following the outbreak of civil war in South Sudan.

The lack of connectivity since then is notable, given that Gulu's airfield is the second biggest in Uganda, behind only Entebbe International Airport.

Strong cultural ties strengthen the case for an air link, with Gulu's Acholi people tracing their roots directly back to South Sudan.

But, as is so often the case with intra-African traffic, commercial viability is an issue.

Few ordinary South Sudanese and Ugandan citizens can afford to fly, so Sky Navigator deploys a modest fleet of just two 12-seat Cessna Caravans. Although small aircraft, such as these, are easy to fill, their high per-capita costs have a dampening effect on demand. One-way tickets on the Juba-Gulu route are priced at $170.

"We have been operating it with a lot of challenges and difficulties," Gombura admitted. "But it has given us a lot of lessons that we are learning and working on."

Despite reducing frequencies to one per week shortly after launch, he believes the route will eventually become a daily service.
Leveraging Juba as a transfer hub for smaller South Sudanese airfields is key to the strategy.

Sky Navigator first entered the domestic market in March 2019, offering charter flights from Juba to the nearby cities of Yei and Torit. Management now want to regularise these services, while also adding longer routes to destinations such as Bor, Yambio and Rumbek.

"We have been flying domestically within a radius of about 30 minutes from Juba," Gombura explained. "We are working on an expansion plan to include more routes in South Sudan.

"Every quarter, according to our plan, we want to add two routes. And as that happens, we are making a hub… We will try to connect two cities with Juba, so that people can come from northern Uganda to South Sudan and connect domestically."

Commercial aviation in the country is currently dominated by foreign airlines. Most of the capacity exists on scheduled international services operated by large carriers from Ethiopia, Egypt, Kenya, Rwanda, Sudan, Uganda and the UAE. Some of the Sudanese carriers also operate eighth-freedom cabotage flights between Juba and Wau.

Thinner domestic routes are generally served on a charter basis by regional airlines that have placed their aircraft in South Sudan on short-term leases.

Sky Navigator flies under the latter type of arrangement, sub-contracting Kenya's Horn Aviation for one of its Caravans (registration ET-AVW) and Tanzania's Fly Zanzibar for the other (registration 5H-MZA).

Gombura admits that his dependence on foreign partnerships means that Sky Navigator is not yet a "fully fledged airline".

But that is a handicap shared by all South Sudanese carriers, owing to the limited capabilities of the South Sudan Civil Aviation Authority, which has ceded control of its airspace to Sudan and lacks the ability to issue air operator's certificates (AOCs).

"There's quite a number of operators [within South Sudan], but I wouldn't call them airlines," Gombura explained. "I wouldn't say, also, that I am 100% up to the level of being given airline status. We are all under a category of aviation operators and operating divisions."
One of the country's most developed carriers – Golden Wings Aviation South Sudan, an affiliate of its South African namesake – ceased operations last year after the US Government imposed sanctions on its owner.

South Supreme Airlines also tried to capitalise on the country's secession from Sudan in 2011, but succumbed to the instability that followed.

Although other operators are still active, Gombura said that lax oversight is holding back standards.

"Tomorrow [someone can] just open another aviation company and do the routes they want to do, and people will come," he complained. "We are hoping that the authorities can put regulations in place, so that we can have a regulated system for the serious players."

The airline boss described Sky Navigator's Gulu route as a "breakthrough" for the credibility of the sector.

"It's a symbol, a South Sudanese company doing what we are doing," he said.

"One of the things we take pride in is that as soon as we launched into Gulu, each one of the regional players – KQ (Kenya Airways), Uganda Airlines, Ethiopian Airlines – personally came to my office to see how they could strike a partnership. We are trying to leverage that."

Sky Navigator has now hired experts from Israel, Dubai and India to develop a booking platform that will pave the way for interline agreements.

Sharing traffic with foreign airlines in Juba makes sense, as Gombura has no plans to compete on high-volume regional routes. Instead, he wants to grow the Caravan fleet to five units while focusing solely on domestic expansion.

Three of the aircraft will be operated under long-term leases – replacing the existing contracts with Horn Aviation and Fly Zanzibar – while the other two may be purchased outright. The first unit was due to be delivered by Airworks Kenya at the time of writing.

Management are also considering switching one or two of the Caravans to Let L-410 Turbolets.

Gombura added that he is hopeful the fleet upgrade will coincide with the issuance of Sky Navigator's own AOC by the South Sudan Civil Aviation Authority. He credited China and Sudan with providing assistance to the regulator, but admitted that attaining international standards takes time.

Although security is an ever-present concern in South Sudan, the new transitional government is working hard to revive the peace process.

If it succeeds, civil aviation is likely to play a crucial role in the development of a country that is larger than Ukraine, yet has hardly any paved roads.

"About 70% of South Sudan is not accessible by road, so you have to fly," Gombura emphasised. "That is a very big contribution to the economy.

"Another very big contributor could be the tourism sector; we are a nation that has the biggest animal migration in the world."

Sky Navigator already flies to an airfield in Uganda's Kidepo Valley National Park, as well as using Torit as an entry point for the game reserve on the South Sudanese side of the border.

Asked about the government's plans to launch a state-owned flag-carrier, Gombura was quick to urge caution.

"Unless they want to do what we are doing in terms of [flying] domestically, I don't think it's a wise investment," he said, noting the financial burden of competing with larger, more experienced national airlines. "This would be much better handled from a private-sector point of view."

He also complained about sky-high taxation: the airline pays departure taxes of $57 for each international passenger in Gulu, and $30 in Juba.

That said, it is not only government policy that needs reforming if South Sudan's aviation sector is to take off.

"The South Sudanese are family oriented. So, if tomorrow I was appointed to run an industry in this country, most likely you will find that, management-wise, there will be a problem," Gombura explained. "I will have to help my entire family due to the culture that we have.
"Before we go further, we need to take a step back and look at our behaviour, our way of doing things. That culture has to change."
Stay up to date
Subscribe to the free Times Aerospace newsletter and receive the latest content every week. We'll never share your email address.