Diplomatic breakthrough paves way for Etihad-Israeli MRO deal
Etihad's expanding engineering division could notch up a new customer in Israeli carrier El Al?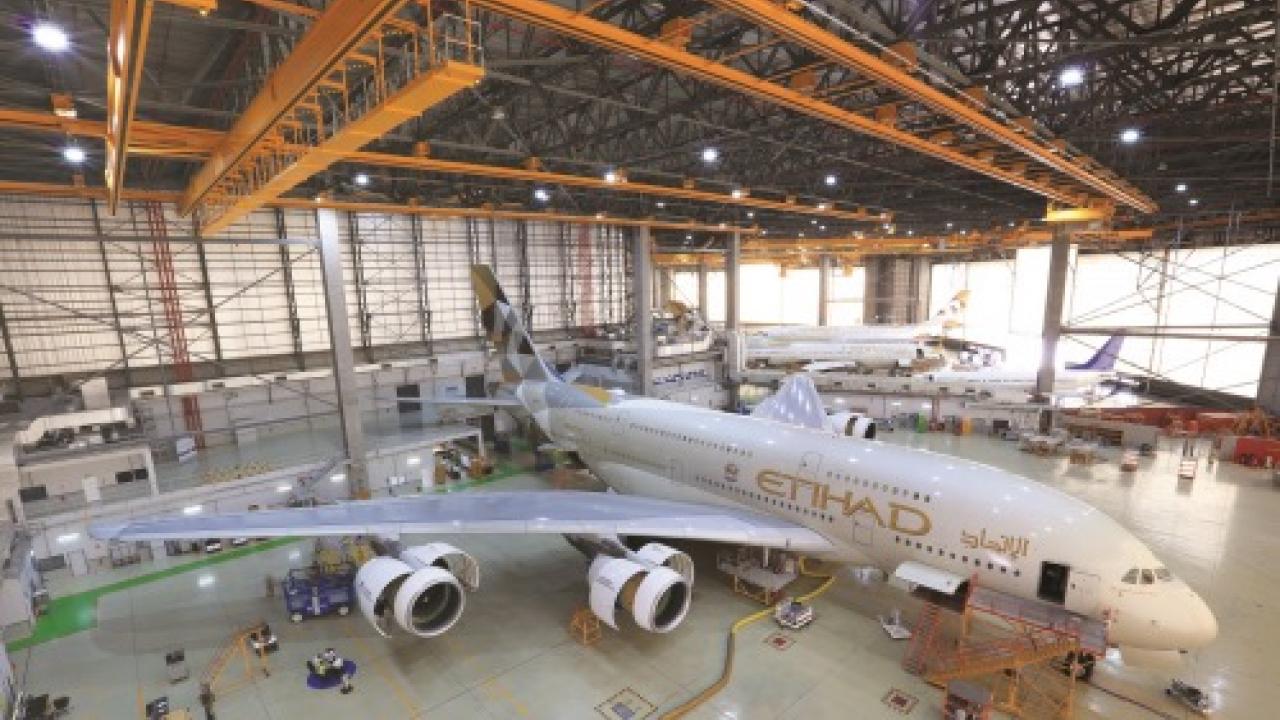 New possibilities: Etihad Engineering's Abu Dhabi maintenance facility could be handling El Al aircraft if a deal between the two airlines goes ahead. Picture: Etihad Engineering.
Etihad Airways Group and El Al are in discussions over the Abu Dhabi-based airline taking on maintenance, repair and overhaul (MRO) duties for the Israeli carrier. Alan Dron looks at the possibilities.
The move follows last autumn's sudden breakthrough in restoring diplomatic relations between Israel, on the one hand, and the UAE, Bahrain and Sudan on the other.
Etihad is scheduled to start daily flights to Tel Aviv in March 2021, although the Israeli carrier has not, as yet, announced services to the UAE's federal capital.
El Al and Emirates Airline will start flights between Dubai and Israel's main commercial hub.
As part of a memorandum of understanding (MoU) signed in November, both carriers said that their engineering divisions would begin talks about greater cooperation. These discussions will include optimising MRO opportunities.
The MoU also promised cooperation on code-sharing, reciprocal opportunities for members of their respective frequent flyer schemes, plus ways to increase volumes of freighter traffic flowing into and out of Abu Dhabi and Tel Aviv, and across the carriers' combined networks.
Cooperation in training for flightdeck and cabin crews is also being discussed.
Talks on the engineering part of the MoU were still at the exploratory stage at the time of writing, but all aspects of maintenance were being explored.
"Staff are looking at how and what they can do together," said El Al's acting director of international affairs, Stanley Morais. "What the issue is, how we can work together in partnership and from a logistics point of view. We can do things for them, perhaps, in a more efficient way, or vice versa."
No timescale for any deal had been agreed, he added.
El Al has said it does not intend to establish its own line maintenance stations in the UAE. "Our approach will be to see who is there and who can provide services for us," said an El Al spokesman.
Any cooperation on the maintenance front will be made easier by the fact that the two airlines operate the same type of equipment.
Etihad's fleet contains Boeing 787-9s and -10s, plus the 777-300ER, while El Al flies the 787-8 and -9 and the smaller version of the 777, the -200ER.
With each airline having the appropriate stocks of parts for the different aircraft types, that gives possibilities for the two companies being able to coordinate maintenance activities – perhaps, for example, if one company finds itself with a lack of capacity due to unforeseen demand in its maintenance workshops.
Costs, inevitably, will play a part. It may be that one company can undertake certain types of work more cost-effectively than the other.

• Meanwhile, Etihad Aviation Training (EAT) is to provide full-flight simulator (FFS) training for Israir Airlines' Airbus A320 pilots. Israir will dry-lease EAT's FFSs in Abu Dhabi, with the training being conducted by Israir instructors.
Israir CEO, Uri Sirkis, said that a meeting with Etihad Aviation Group CEO, Tony Douglas, and EAT managing director, Captain Paolo La Cava, "revealed to me a rare opportunity to use the EAT simulator facility, just a three-hour flight away from Israel.
"Beyond the economic and professional benefits, I believe that the more meeting points we find between the countries, the stronger the tourism movement will be. This is the true peace."
Stay up to date
Subscribe to the free Times Aerospace newsletter and receive the latest content every week. We'll never share your email address.