Dawn of a revival ...or more clouds on the horizon?
Two major studies predict that the Middle East airline industry will rebound from Covid-19, but their tone is cautious and some passenger habits are likely to change permanently. Alan Dron reports.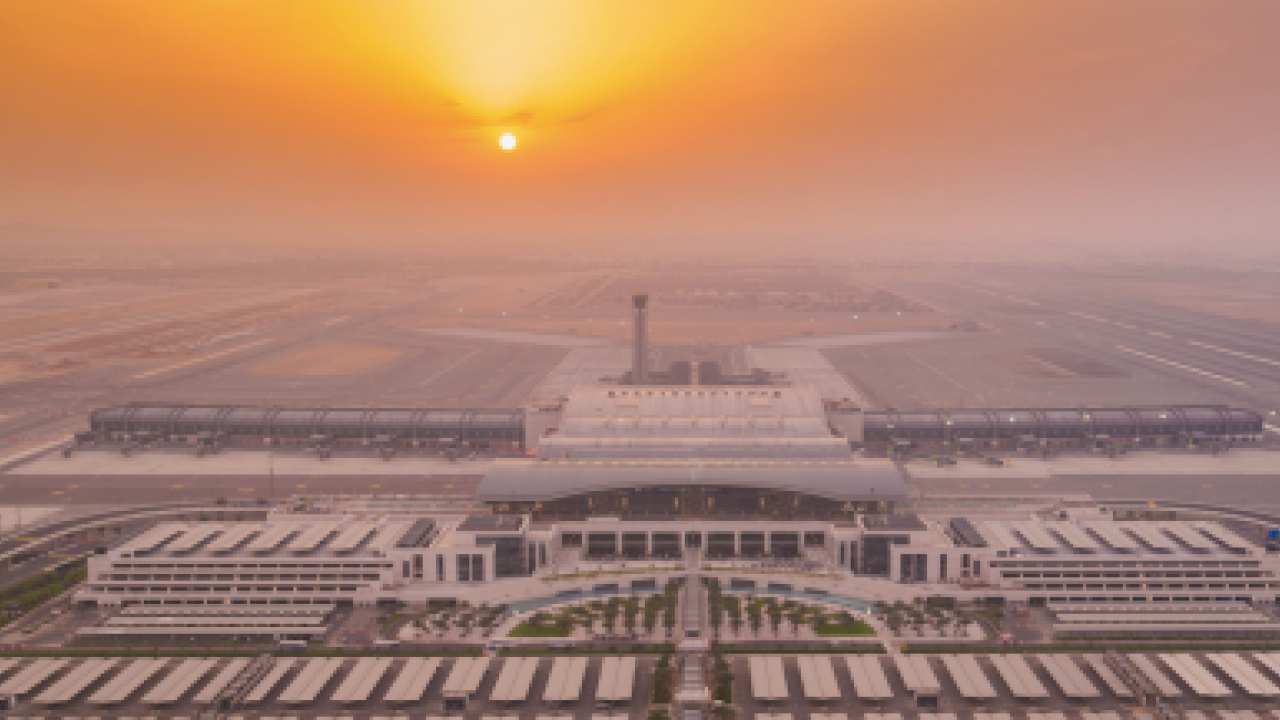 Hope on the horizon: Surveys from both Boeing and IATA predict that the sun will rise again on the aviation sector post-pandemic, but warn that growth has taken a knock. Picture: Thales.
Will airlines ever fully recover from the global pandemic? The answer in the Middle East is almost certainly 'yes', but with lower growth rates over the next decade.
That was the prediction from Boeing in its 2020 commercial market outlook (CMO), issued late last year.
But, whereas previous CMOs have been almost uniformly positive, the most recent edition strikes a more careful note.
Similarly, a major survey of almost 10,000 airline passengers from across the globe found that most will change their flying habits in the aftermath of the crisis.
The Inmarsat passenger confidence tracker found that, while most travellers wanted to get back into the air, they expressed concerns about the risk of infection at certain 'touch points', such as aircraft toilets. Almost one-third (31%) of respondents said they intended to travel less in future.
Those sentiments may change as vaccines are rolled out across the world, but in the short term, at least, they indicate that airlines' recovery from the slump in travel is likely to be slow and stuttering.
There is now little doubt that the pandemic has caused not just a major blip in the airline industry, but a full-scale reset, with analysts predicting that the airlines of the 2020s will be smaller, serve fewer routes, and may charge more for tickets as they start to rebuild their balance sheets.
As Willie Walsh, former CEO of International Airlines Group and incoming head of the International Air Transport Association (IATA) said last year: "Anyone who believes that this is just a temporary downturn and, therefore, can be fixed with temporary measures, I'm afraid seriously misjudges what the industry is going through. This will represent a structurally changed industry."
In the short to medium term, IATA said late last year that 2020 passenger numbers to, from and within the Middle East would reach only 30% of 2019 levels. That was a further, significant, drop on the figure of 45% it had projected in July last year.
In absolute numbers, the Middle East would see 60 million travellers in 2020, compared to 203 million in 2019, it said.
In 2021, IATA predicts that demand in the Middle East will strengthen to 45% of 2019 levels, reaching 90 million travellers to/from/within the region. It adds that a full return to 2019 levels is not expected until late 2024.
Boeing's projected global demand for 18,350 commercial aircraft in the next decade is 11% lower than the 2019 forecast and an indicator of the shock to the industry.
In the longer term, however, Boeing predicts that key industry drivers will remain stable and that the world's commercial fleet will return to its growth trend.
In the Middle East, the manufacturer forecasts that passenger growth over the next 20 years will average 4.3%, compared to a 4% figure globally, an indicator that the region will continue to be a significant player in the sector.
Indeed, Boeing forecasts that the Middle East commercial fleet will reach 3,500 aircraft, more than double the 2020 figure of 1,510 airliners.
That growth will be led by narrow-body aircraft, whose numbers in the region are predicted to almost triple by 2039. That underscores analysts' beliefs that smaller, more economical aircraft will lead the recovery as airlines downsize their fleets. It may also be an indicator that the low-cost carrier market in the region will continue to grow steadily.
The prediction for 1,280 wide-body purchases, meanwhile, "reflects challenges to long-haul markets that are both typical to air-travel shocks and specifically due to the pandemic's impact on international travel".
Growth will return in the medium to long term, the CMO suggests and, in a sign of the Middle East's continuing economic strength, the region's demand for replacement wide-bodies will actually account for a growing share of global demand for twin-aisle types.
Saj Ahmad, chief analyst of UK-based StrategicAero Research, who follows Middle East airlines closely, believes that Boeing's figures for future purchases are "realistic".
He said he believed that budget carriers, such as Air Arabia and Flydubai, will continue to make inroads into the younger market sector and, while he did not foresee a surge of returning travellers as the pandemic slowly recedes, he believed it would be "more pronounced than many sceptics have suggested".
Ahmed added that airlines will have to "be really careful about how they price their fares" in the near future. While Middle East carriers are obviously keen to get travellers back on board: "If airlines are pricing tickets just to put bums on seats, nobody will make any profit."
On the other hand: "They can't price them too high to force yields up when everyone else will potentially be lowering fares to entice people back on board." A careful balancing act will be required, he suggested.
Elsewhere in the Middle East, he said, airlines will continue to struggle. Many north African carriers fell victim to corruption and red tape, even in good years, and would face particularly hard times in the near future. Even some of the better carriers, such as Royal Air Maroc and Air Algérie, that have invested in modern equipment such as the Boeing 787 and 737 MAX, would find the going tough, he suggested.
On the passenger side, meanwhile, Inmarsat's survey, which questioned 9,500 passengers from 12 countries, found that flying habits are set to change drastically for the long-term, with eight in 10 airline passengers (83%) not expecting to return to their previous travel routines once the pandemic is over.
The global mobile satellite communications provider found that, while 60% of passengers were satisfied with the aviation industry's response to Covid-19, airlines would have to work hard to encourage passengers back into the skies.
"With safety and reputation becoming even more important to today's flyers, there is a clear need for airlines to differentiate themselves in order to encourage passengers back on to their flights," said Philip Balaam, president of Inmarsat Aviation.
Minimising critical touchpoints in passengers' journeys will be vital in improving confidence, he said. Perhaps unsurprisingly, given Inmarsat's role in providing on-board connectivity, he added that keeping passengers connected and entertained would also be crucial.
Only one-third (34%) of passengers surveyed had taken a commercial flight since the pandemic began, the survey found, and this appeared to have sparked a shift in attitudes to flying. Four in 10 passengers (41%) expected to travel less by any means and one-third (31%) planned to fly less.
Despite this however, the survey found that there were early signs that travellers were beginning to feel confident about flying again; almost half (47%) of those surveyed said they expected to feel ready to fly within six months.
Part of the reason for this reappearance of confidence is because passengers are apparently more scared of catching the virus abroad than on an aircraft. Many of those surveyed thought they were at a greater health risk in other environments, such as the gym and public transport.
One of the countries surveyed by Inmarsat was the UAE, with more than 90% of the 500 Emirati respondents telling the interviewers that they would change their flying habits post-pandemic. Slightly more than half (52%) said that reputation would now be a more significant factor when choosing an airline and more than 25% said they would only fly with an airline they trusted.
If these sentiments persist, it will put a premium on visible, confidence-building measures, such as cleanliness on board aircraft, and on features that reduce interaction with staff, such as pre-ordered catering and contactless payments. These measures are likely to increase costs for airlines, but it may be a price – at least in the near term – that they have to pay.
Stay up to date
Subscribe to the free Times Aerospace newsletter and receive the latest content every week. We'll never share your email address.