Congo Airways poised to go up, up and away…
Democratic Republic of Congo (DRC) national carrier Congo Airways is progressing with its expansion plans and is seeking an equity investor, despite hitting challenges with its regional expansion. Victoria Moores reports.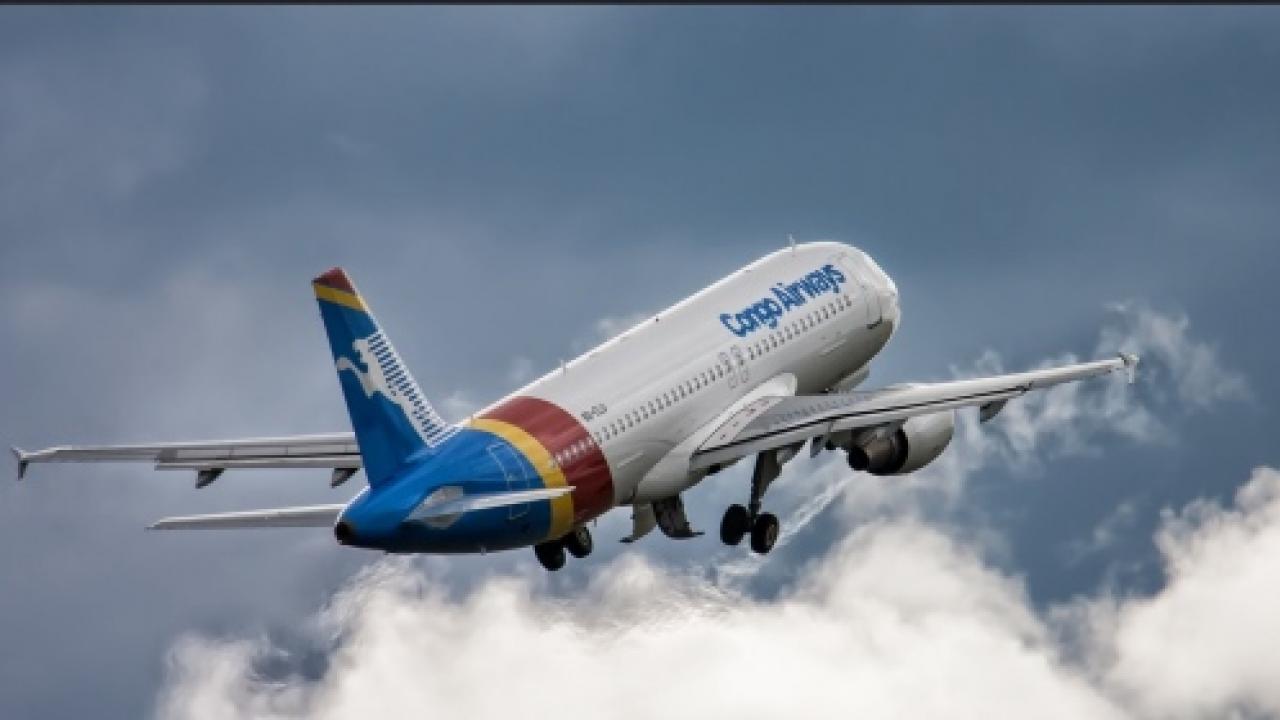 Kinshasa-based Congo Airways launched operations in October 2015, filling a gap left after the liquidation of Lignes Aériennes Congolaises (LAC) in September 2014.
The airline, which is directly and indirectly state-owned, started operations with two ex-Alitalia Airbus A320s manufactured in 2007 and 2008. These aircraft were initially deployed on domestic routes from Kinshasa to Goma, Lubumbashi, Kindu and Kisangani within the DRC.
In May 2016, a pair of six-year-old ex-Air Nuigini Bombardier Q400s joined the fleet. They both entered service in June 2016, but within just a few days one of the two aircraft was struck by a third-party ground-handling vehicle overnight.
"It suffered very severe structural damage, right next to the cockpit," Congo Airways deputy CEO, Jerome Maillet, said, speaking at Aviation Africa in Kigali, Rwanda. He added that the incident was totally beyond the airline's control. "It took four-and-a-half months to get it back and close to $1 million to repair."
Despite the setback, Congo Airways exceeded its targets for 2016 and now serves 10 domestic destinations, after adding – in sequential order – Kananga, Mbuji Mayi, Mbandaka, Bunia and Kalemie. At the time of going to print, Congo Airways was about to launch services to Gemena and Bukavu.
By early 2017, A320 load factors were up around 80%, despite the airline adding 15% more capacity after local rival FlyCAA cut back some of its services and switched from narrow-body to all-Fokker 50 operations.
"On our trunk routes, on the A320, we are definitely breaking even," Maillet said. "On the Q400, we need to build synergies and hours, so we are still losing a bit of money. Our network is generating cash and we are cash-positive at operating level."
In 2016, the start-up carried 210,000 passengers, which was more than forecast. This figure is expected to grow to 360,000 in 2017, increasing to one million within five years of launch.
Congo Airways' turnover hit $40 million in 2016 and will nearly double this year to $70 million – $3 million more than its initial projections, which were revised just two months into the year.
By year five, turnover is expected to swell to $350 million, based on a fleet of six to eight narrow-bodies and two to three wide-bodies – which will be used to start intercontinental services by summer 2020. "We have started discussions with Airbus and Boeing to get new aircraft for these routes," Maillet said.
Congo Airways has set ambitious targets and is aiming for a compound annual growth rate of 75%, a 12-15% return on equity and profitability by year four. However, during its first year, Congo Airways has had its fair share of setbacks beyond the Q400 damage, including delays to its regional launch and a change of CEO.
"Initially, we wanted to start regional operations by the fourth quarter of 2016," Maillet said. However, the International Civil Aviation Organization (ICAO) needs to audit the local civil aviation authority (CAA) before Congo Airways can launch regional operations. This audit has been postponed since July 2016 and is now not expected to happen before May 2017.
"We have had to delay and delay and delay our regional flights and I want to grow," Maillet said, showing his frustration at yet another external setback. "We now hope to start regional flights by the second quarter of 2017, by summer, but I am reluctant to give timelines because it may not happen. Our five-year plan is about two quarters behind schedule because of the delay in authorisation to fly outside our country. It was meant to happen last December, but now it won't happen before June or July."
Once it finally gets the green light, Congo Airways is planning to expand its network to include Bujumbura in Burundi, Johannesburg in South Africa, Luanda in Angola, Douala in Cameroon, Entebbe in Uganda, Libreville in Gabon and Nairobi in Kenya.
However, even with the regional delay, Congo Airways is accelerating its fleet plan. The airline wanted to take a third A320 on dry lease from the fourth quarter of 2017, but instead a wet-leased A320 will join the fleet in mid-April, several months ahead of schedule.
"We have now been operating 16-17 months and we are experiencing high demand and heavy loads. We are taking the wet lease to cope with demand, because we can't secure a dry lease that rapidly. We would need to organise a dry lease nine to 12 months in advance, so, unless someone defaults on their lease, we can't get hold of an aircraft."
In May 2016, Congo Airways hired a new CEO, who performed a detailed review of the company's cost structures. This led to an 8% reduction in headcount, although this mainly affected lower-paid support staff, such as drivers, and, therefore, only delivered a 1.5% cost saving.
A more substantial $1.5 million dollar saving came from a pay scale review, which was led by the new CEO personally taking a 17% pay cut. Board salaries were also substantially reduced and there was a company-wide pay restructure.
"There are no small savings; every decimal counts. If we want to grow, we couldn't take the former pay scales," Maillet said. "We are managed like a privately owned company. I think we are one of the best-managed airlines in the region. We don't have any government interference whatsoever. We have copied the Ethiopian Airlines model."
Ethiopian Airlines has been active in seeking out partnership with regional airlines and it has expressed interest in investing in an airline in either Congo Brazzaville – where local airline ECAir is currently grounded – or the DRC, which could present an opportunity for Congo Airways.
"Our five-year plan calls for growing our equity," Maillet said. "In the period to year three, we still need several tranches of funding. We are on track, but we need to make sure that the next part of that financing comes in due time. We could slow down our plans to lower our investment requirements, but quicker growth will require more funding."
At Congo Airways' launch, the government said it would be willing to open the airline's capital after one year. Maillet confirmed that there was potential for a long-term minority strategic investor to come into the business, with a stake of 15-20% on offer. The exact minority shareholding could be flexible, but the partner must share the DRC's vision to create a large airline and major player in central Africa.
"It's not just the money, although that's part of it. If we attract someone like Ethiopian Airlines, they would do their due diligence, which would give us recognition. They would be looking for good governance; they don't want a company that wastes money. It would also give us networking opportunities, for lobbying and suppliers, and access to knowledge – when it comes to speaking with lessors and manufacturers, these guys have done it more than 100 times.
"The finance is a small fraction in the equation. It would unlock debt financing and lower our cost of capital. So, there are five major benefits beyond cash. It would be truly game-changing to have a sophisticated investor. We need to bring in an investor mind-set, focussed on return on investment and profitability."
With this future in mind, Congo Airways is planning to create several 100% owned subsidiary companies, specialising in areas such as ground-handling, security and maintenance. These companies will perform third-party work and the structure will give clear accountability and visibility over the performance of these divisions.
If the strategic partner takes longer than expected to secure, Congo Airways can always tap funding from its $75 million fleet, which it owns outright with no debt. "At the moment, they [the aircraft] are not giving us a good return on equity invested; we need to leverage them to boost our return. That is a reserve of money that we will need either later this year, or next year. We could also go to our existing shareholders, or open up to a strategic investor during the course of this year," said Maillet.
Beyond this, Congo Airways is hoping to set up potential interline or codeshare talks with Asky, Ethiopian Airlines, Kenya Airways and South African Airways (SAA). The fledgling carrier is also planning on branching out into cargo operations from 2018.
Ahead of this, Congo Airways is in talks with Kenyan freight operator, Astral Aviation, and Ethiopian Airlines over possible joint cargo flights from 2017.
On the maintenance side, Congo Airways is planning to do its own technical work, but this is still "two-and-a-half years, maybe more" down the line.
For the time being, Maillet is happy with the airline's progress. Congo Airways is an advanced operation, he said, with e-payments, a mobile app, payment agreements with several banks and a frequent flyer programme set to go live later in 2017.
On the operational side, Congo Airways has benefitted from free International Air Transport Association (IATA)-backed training and has recently introduced iPad-based electronic flight bags, although the local CAA lacks the capability to certify the technology.
The airline's operational credentials are also supported by it securing contracts to fly western embassy staff, when no local operator was previously approved to do so. Several fuel companies are also flying with the airline, after performing their own stringent audits.
In the short term, the airline's immediate future expansion rests in the hands of the DRC CAA and ICAO.
External knocks were the theme for Congo Airways in 2016; maybe 2017 will be a year of external boosts.

Stay up to date
Subscribe to the free Times Aerospace newsletter and receive the latest content every week. We'll never share your email address.