Combi unlocks Texel's loads of potential...
As lead operator of the new Boeing 737-700 FlexCombi freighter conversion, Bahrain-based Texel Air is looking towards more distant horizons, as Alan Dron reports.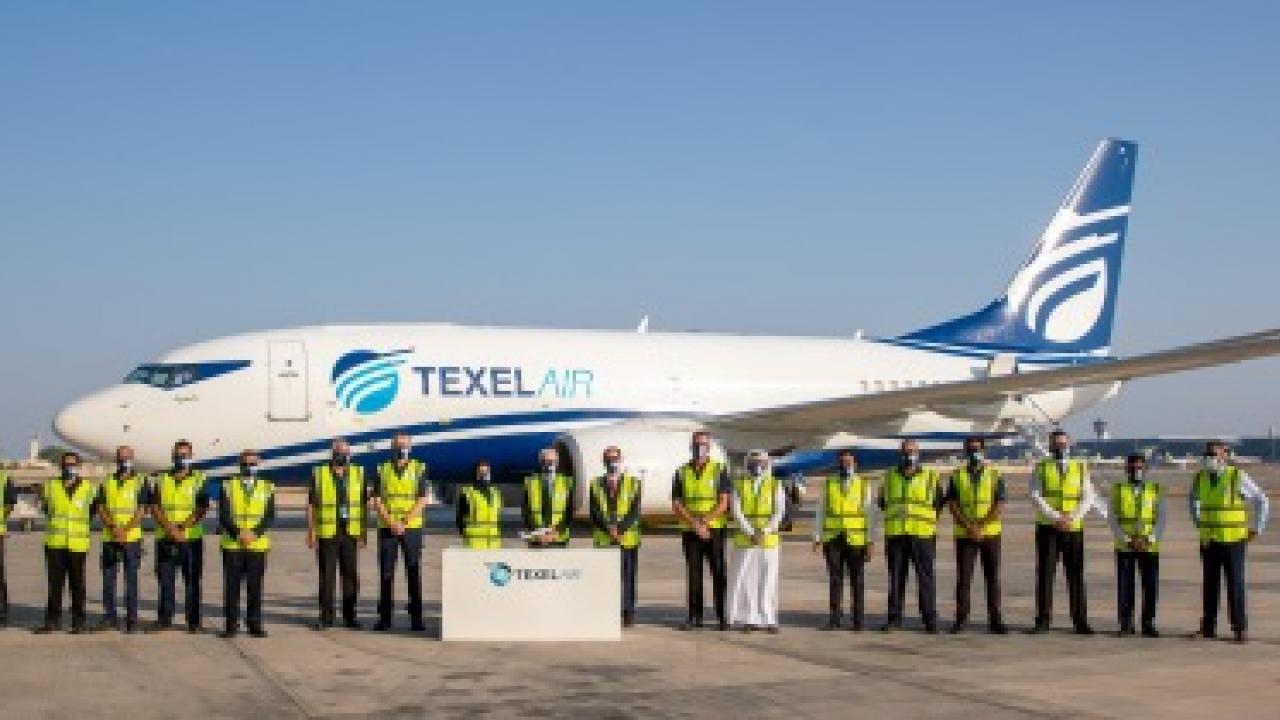 Texel Air personnel celebrate the arrival of the first 737-700 FlexCombi to the company's base at Bahrain International Airport. Picture: Texel Air.
It was a not infrequent, but always frustrating, experience for Texel Air. A potential customer would contact the small freight airline's Bahrain International Airport base seeking a quote to move a cargo between the Gulf and Europe. "No problem," Texel Air would reply… "but we'll have to make a technical stop en route to refuel because of the range."
That would add both time and cost to the service. At which point, the client would look elsewhere.
That situation is now much less likely to occur, as Texel Air beds in the first of two Boeing 737-700 FlexCombi freighters, fresh from its makeover by Florida-based specialists Pemco Conversions.
The FlexCombi is based on the 737-700, a generation newer than the two 737-300F 'Classics' that Texel has used until now.
That immediately gives the airline a much-improved range/payload capability – typically, the ability to haul a 10- to 12-tonne payload for 6.3 hours against headwinds. The 737-300 would only be able to carry nine tonnes and have to make a refuelling stop in order to complete the same trip.
Apart from its improved performance, however, the FlexCombi – as its name suggests – is a more flexible aircraft than the older pure freighters. A movable bulkhead means that the aircraft can be used either as a straightforward cargo-hauler or carry 12 or 24 passengers on the main deck in addition to freight.
In addition, it has a batch of other features not previously found on 737 cargo-carrying variants. These include a head-up display for the pilots, linked to a second-generation enhanced flight-vision system (EFVS) that gives the pilots visibility through cloud, fog or darkness, and which is particularly useful when the aircraft operates into small secondary or tertiary airports that do not have an instrument landing system.
"The decision behind that is connected with the longer range of this aircraft," explained George Chisholm, CEO of Texel's parent company, Chisholm Enterprises. "With the Classics, we were only three hours or less airport-to-airport, so it was pretty easy to judge the weather. But, once you start going on these longer routes, the weather can change while you're in the air."
The FlexCombi also has a flexible, retractable airstair at the rear fuselage door, for when the aircraft flies into small airports lacking stairs to roll up to the aircraft.
The US Federal Aviation Administration (FAA) granted the modified aircraft supplemental type certification last summer.
"The FlexCombi has been a great addition," Chisholm said. "The Classic is still a good aircraft, but they need a lot more care and attention.
"Pilots love the new aeroplane. They tell me they love sitting at 41,000 feet, which the Classics can't do. It takes them out of the weather."
Texel has always received a lot of requests for high-priority, high-value charters. "Now we can win a lot more of these charters because of the FlexCombi's extended range," enthused Chisholm.
"Between the Middle East and Europe, we would normally have to make a technical stop, usually in Cairo, due to prevailing headwinds. With that requirement now gone, it changes the dynamic of our operations. We can look at more charters that, historically, we would just not have bothered to bid for."
"For example, we had a request for a flight direct from southern Europe to the Middle East for a six-tonne cargo together with 10 people to escort the load. It was equipment for a show and the engineers who were going to operate it."
"We're slowly rolling out what we can achieve – new airports, new destinations. It all sounds easy, but there's a lot to consider when flying into a new airport."
The aircraft's capability was also demonstrated on its delivery flight from Florida, when its routing included a 6.5-hour sector from Bangor, Maine, in the US to London Stansted, while carrying around six tonnes of cargo.
The demand to move freight during the global pandemic means the FlexCombi has, so far, been used in a pure freighter role. However, Chisholm anticipates that the aircraft's versatility will be a considerable bonus. One duty for which the airline receives requests, for example, is to move racehorses either around the Gulf or between the region and Europe. The expensive animals have to be accompanied by several grooms, who can now be accommodated in airline-standard comfort.
The new aircraft also has a 180-minute extended range twin operations (ETOPS) rating, meaning that it can tackle much longer overwater sectors. "We've had a lot of charter requests from the Maldives, for example," said Chisholm. "As the bird flies from here, the Maldives actually aren't that far, but with the Classics we had to go via Pakistan and India, as we had to stay within 60 minutes of an airfield."
Texel is now awaiting delivery of its second FlexCombi. The 2005-vintage aircraft, formerly used by Dutch low-cost carrier, Transavia, was ferried to Pemco's facility for conversion in November 2020. "The Pemco guys sent me a note saying it's one of the cleanest aircraft they've ever seen come in for conversion," said Chisholm.
It is expected to enter service in summer 2021 and the two FlexCombis are likely to replace Texel's existing two 737-300s, which are undergoing some heavy maintenance now that the first new arrival can take up the slack.
So promising has the first new conversion been that the Bahraini company is already looking at the possibility of a third example.
Stay up to date
Subscribe to the free Times Aerospace newsletter and receive the latest content every week. We'll never share your email address.