Carreira's path...
Former Angolan Air Force fighter pilot, Rui Carreira, became CEO of TAAG Angola in autumn 2018. No stranger to fast-paced mission-critical decisions, he is now reformulating the 80-year-old airline's strategy as it battles against Covid-19.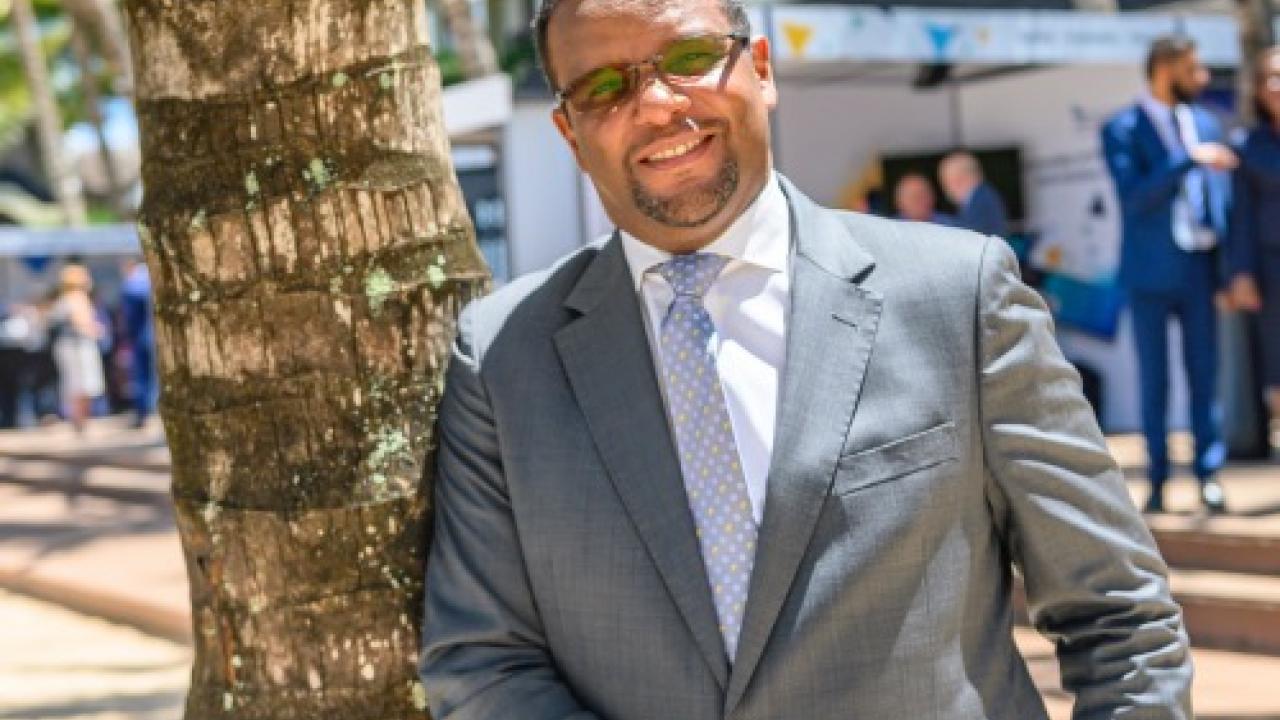 Rui Carreira: "Since the Covid-19 outbreak, we have been working under a lot of pressure."
"I miss flying, but outside the cockpit there are many challenges as well," TAAG Angola CEO Rui Carreira said, smiling at the recollection of his pilot days. Victoria Moores reports.
"Running an airline is also very exciting; it's high-pressure and stressful every day. This is my environment."
Carreira's aviation career began when he was just a teenager. At 18, he was called up for military service. After training in Russia, he became a Sukhoi Su-22 fighter pilot in the Angolan Air Force.
"Every child dreams about becoming a pilot. I had lots of dreams; being a pilot was one of them. The others were to become a doctor, or a construction engineer. But at that time Angola was at war, so I was obliged to go into the military. I choose to go to the air force and then became a pilot. It was simply like that."
After eight years flying military jets, 26-year-old Carreira left the air force in 1992 to become a civilian pilot with Luanda-based TAAG. He also flew Dassault Falcon 10s and 20s for Angolan business aviation company, SonAir.
"In 2008, I stopped flying and became a member of the TAAG board, as COO. In 2013, I went to the Civil Aviation Authority as deputy director general and then, in 2017, I became DG of the CAA. That was a very exciting job as well."
Carreira ultimately returned to TAAG and became CEO in autumn 2018. By late 2019, he and his team were making headway with the airline's strategy, despite the backdrop of an economic crisis in Angola. The country was already battling high inflation and adverse exchange rates. Then the coronavirus hit.
Pre-Covid, the Angolan Government had started work on TAAG's privatisation, with hopes of completing the process by 2021.
The state originally planned to keep 51% of the airline but, by late 2019, this thinking was evolving and a majority stake could have been on the table. Qatar Airways was tipped to be among the potential buyers, but Carreira dismissed this as a rumour.
Meanwhile, Carreira and his team had been tasked with optimising TAAG's fleet and network.
The carrier used to serve both Sao Paulo and Rio in Brazil, but Carreira replaced the heavily seasonal and loss-making Rio service with an extra Sao Paulo frequency and a new route to Havana in Cuba.
The airline was also eyeing further long-haul routes in Europe, to join its existing services to Lisbon and Porto in Portugal, following its complete removal from the 'EU blacklist' in April 2019.
TAAG had been on the EU air safety list since 2008, but was allowed to perform limited operations during some of that time.
While the EU operating ban did not affect intra-African flights, Carreira said it had an impact on passenger confidence and also hindered TAAG's network strategy, because some African destinations only made sense if they connect to Europe.
"After we were blacklisted, the first release was to choose one destination in Europe. We choose Portugal," Carreira said. TAAG resumed flights to Lisbon and Porto.
With those restrictions now fully lifted, TAAG was hoping to add frequencies on its two Portuguese routes and launch new services to Paris and London, joining its codeshare flights to Amsterdam, Frankfurt and Paris, which are operated by KLM, Lufthansa and Air France respectively.
Even before the Covid downturn threw TAAG's plans into disarray, this network expansion would have required new long-haul aircraft. "Without new jets we cannot open new routes in Europe," Carreira explained.
TAAG has a long-haul fleet of three 777-200ERs and five 777-300ERs. Carreira was hoping to retain the latter and, from 2021, replace the 12-year-old 777-200ERs with eight new 787s – comprising five 787-9s and three 787-10s.
Originally, the main barrier to that aircraft order was financing – "states like to own aircraft", Carreira explained – but the pandemic means the carrier is now revisiting its overall strategy.
However, another part of TAAG's fleet plan remains intact. The airline's short-haul fleet was made up of four 737-700s and one 737-700QC, which were sometimes used to operate sectors under an hour, with low load factors.
"This is not an efficient operation," Carreira said. "We'll replace the 737s and we'll use them for longer regional routes, up to four hours."
In August, the airline took possession of two 737-700s from SonAir. "Despite it being a private company, all SonAir shares belong to Sonangol, a state-owned company," explained Carreira. "As SonAir is terminating its fixed-wing operations, those aircraft were purchased by TAAG, exercising its preferential right."
TAAG also announced an order for six De Havilland Dash 8-400s at the 2019 Paris Air Show and took delivery of the first aircraft on June 26, 2020, in the midst of the Covid crisis.
De Havilland Canada COO, Todd Young, said a 'delegated delivery process' was used to get the aircraft to TAAG. "Amidst the current health restrictions facing many countries and the need for efficient regional aircraft to restart air services, we have developed a remote delivery process to support our customers' recovery efforts. Regional aircraft are proving to be the most important tools to support market recovery," he said.
These aircraft will be used to operate shorter sectors previously served by TAAG's 737s, providing feed for the carrier's regional and international flights.
"The Q400s wouldn't necessarily be used to start a new kind of business, but more to right-size the business," Carreira said. "We'll use them on our existing domestic network. We [normally] have 14 distributions within Angola, but that could grow with this aircraft, because it's suitable for shorter runways."
Before the crisis, TAAG had recently opened a new route to Sal in Cape Verde, and the Angolan carrier was planning to strengthen regional flights to destinations like Lagos (Nigeria), Accra (Ghana) and Abidjan (Côte d'Ivoire).
Through this network strategy, Carreira had hoped to narrow TAAG's $135 million prior-year net loss to $80-85 million and then return the airline to profit within three years. Likewise, passenger numbers were climbing from 1.3 million to 1.5 million year-on-year – but that was before the pandemic.
"Since the Covid-19 outbreak, we have been working under a lot of pressure," Carreira admitted. "We're obliged to make some changes to our strategy because the commercial environment has altered dramatically."
"Now, TAAG does not have the conditions to open new routes as planned. More than that, it must close some routes and reduce frequencies, even on very financially positive routes."
However, the Q400s purchase will still go ahead. "This will strengthen TAAG domestic and regional capacity, giving passengers more flexibility and opportunity to buy tickets at reduced prices, because this aircraft has lower operational costs," Carreira said.
Stay up to date
Subscribe to the free Times Aerospace newsletter and receive the latest content every week. We'll never share your email address.