2021: year of the real Deal?
It's been a long time coming, but 2021 should be the year in which Saudi low-cost carrier, Flyadeal, finally begins international services. Alan Dron reports.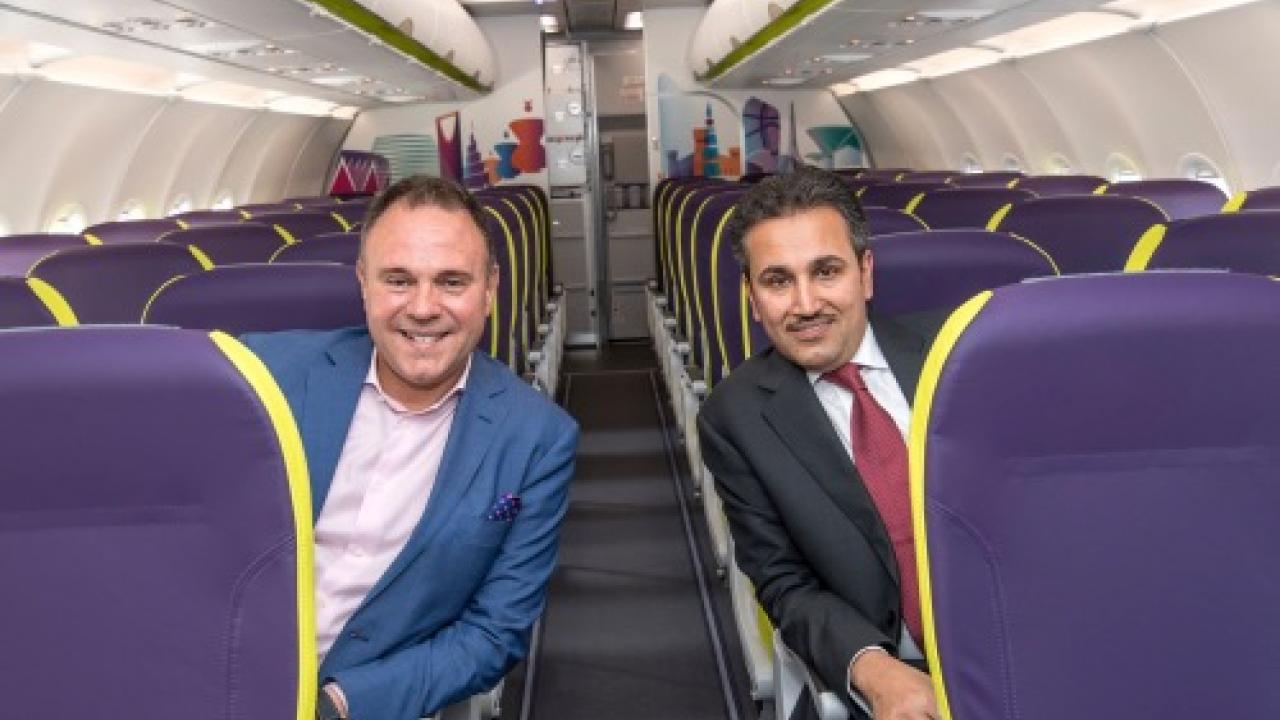 Breakthrough moment: Con Korfiatis (left), seen here with the then Saudi Airlines Group director-general, Saleh bin Nasser Al-Jasser, during the handover of the carrier's first Airbus A320. Picture: Airbus.
Originally, it was coping with the sheer scale of domestic demand in 2018 that persuaded Flyadeal's management to postpone the airline's international expansion plans.
Then, the grounding of Boeing's 737 MAX, for which the Jeddah-based low-cost carrier (LCC) had placed an order of 50 aircraft, forced a change of direction to the Airbus A320neo and cost the airline another year.
Finally, the Covid-19 pandemic threw every airline's plans for 2020 out of the window.
Now, however, "International is definitely on the agenda for 2021", according to Flyadeal CEO, Con Korfiatis. "We have significant international aspirations."
Destinations are not yet being revealed, but there have been previous suggestions that Dubai will be an early target.
Helping to underpin the LCC's expansion into the international sector will be a major fleet expansion.
There was a slight contraction of aircraft numbers as the pandemic struck, with a decision to relinquish a small number of wet leased, older aircraft, which had boosted the fleet to 14 at one point.
At present, Flyadeal has a 12-strong fleet, consisting of 11 Airbus A320s, plus the first of its batch of new A320neos.
That newcomer is scheduled to be joined by no fewer than seven more this year and what Korfiatis described as "a big chunk" of new arrivals in 2022. The airline is due to receive 30 A320neos, part of a 100-aircraft order (65 firm and 35 options) placed by parent Saudia Group at the 2019 Paris Airshow.
As well as its incoming 30 A320neos, Flyadeal has options for more, and this latter tranche has the flexibility to allow the carrier to trade up to the larger A321neo.
"Some of the domestic routes we've been flying are very thick and could quite easily take an A321 – even at the moment. And the seat economics improve, which is good news for an LCC like us," said Korfiatis.
"We do see the A321neo featuring in our fleet at some stage, but no decisions have yet been made."
Saudia's 2019 order with Airbus included 15 of the A321XLR model, whose significantly greater range (8,700km / 4,700nm) would open up considerably the number of possible destinations available to Flyadeal.
For the moment, however, demand for domestic flights has been strong, ever since the Saudi Government ended a March 2020 shutdown of all services at the end of May. The government allowed 10-15% of pre-Covid flights to restart initially, and Flyadeal had "no problems" filling those services.
Indeed, added Korfiatis: "We've been progressively able to bring more flights back and demand has stepped up every time we've increased frequencies. The government has done a great job in managing the pandemic and people have been able to move around domestically.
"In January this year we were close to 90% in frequency terms; in capacity terms we still have 30% that we can't sell because we have to keep middle seats free to allow for social distancing on board."
The market has revived quickly, he said. One of the revelations over the past year has been the strength of the domestic tourism market. This has flourished, with many people flying around the country for leisure breaks.
The domestic network has been very largely restored, with all airports now reopened.
"What has happened to the industry is beyond sad and we're not through this completely yet," said Korfiatis. However, both Saudia and competing low-cost carrier, Flynas, have been flying with healthy load factors, at least in terms of seats that are sellable.
Korfiatis hopes there will not be too much more economic carnage. Flyadeal was not yet making money, he said, but the airline was not in dire straits. And it had been able to keep all its staff – just under 600 – in work throughout the pandemic.
This year, at last, flightcrews should start to see some new airports.
Stay up to date
Subscribe to the free Times Aerospace newsletter and receive the latest content every week. We'll never share your email address.