Training Qatar's Eagle Drivers
When the US State Department made a determination approving a possible Foreign Military Sale of 72 F-15QA aircraft to the Government of Qatar on November 17, 2016 – it included provision for continental United States based Lead-in-Fighter-Training for F-15QA aircrew, training materials, personnel training, simulators and other training equipment.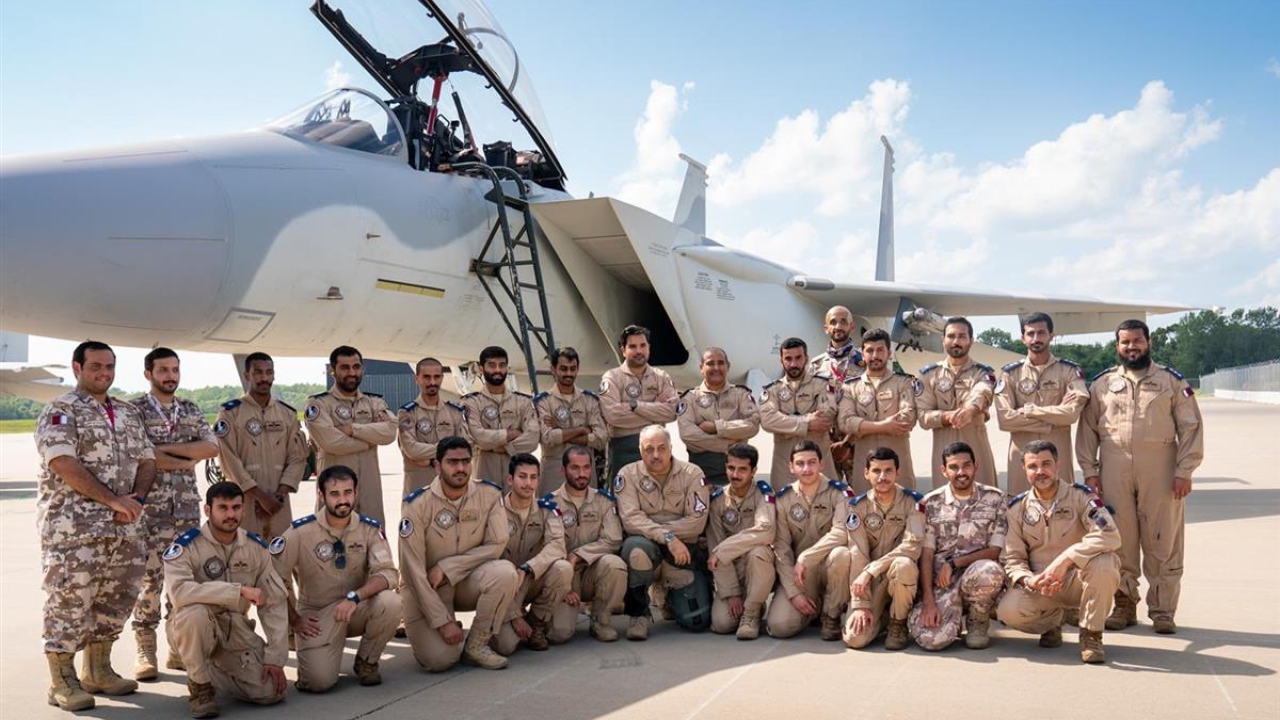 It was stated that implementation of this sale would require the assignment of approximately 24 additional US Government personnel and approximately 150 contractor representatives to Qatar.
Boeing was awarded an $800 million foreign military sales contract by the US Air Force in 2019. This covered the provision of training services and support to the Qatar Emiri Air Force (QEAF) with F-15QA program management, maintenance and aircrew training valued at $240 million over a five-year contract period.
Boeing also received a separate not-to-exceed $68 million contract to provide maintenance and logistics support for the QEAF during pre-delivery training of aircrew for the F-15QA aircraft, including in-person instruction, simulation events and flying operations. It was stated that this training would be undertaken near Boeing's F-15 production facility through to mid-2021.
Following this, Boeing would establish and operate an aircrew and maintenance training centre for the QEAF at Al Udeid Air Base, Qatar, until at least 2024.
A programme timetable was laid out by Brigadier General Issa al-Mahannadi in November 2018, under which six Boeing F-15QAs were to be delivered to the QEAF by March 2021, with a further six F-15s being dispatched three months after the initial batch, and with four more expected every three months thereafter.
New facilities were to be provided at Al Udeid, which hosts the largest US military facility in the Middle East, to accommodate the F-15QAs, with construction of the F-15QA facilities starting in 2020. Completion was scheduled by 2021, in time to receive the first delivery.
Brigadier General al-Mahannadi told reporters that Qatar would transition some of its experienced Qatari pilots to fly the F-15QA and would also begin sending eight pilots per year to the United States for training, with the aim of establishing a 53-person aircrew cadre for the new aircraft by 2023.
Even before any F-15QAs could be delivered, Qatari pilots began to gain familiarity with the Eagle – not least through operating alongside USAF F-15s deployed to the region.
The Commander of the Qatar Emiri Air Force, Staff MG Pilot Salem Bin Hamad Al-Nabet, was one of a number of Qatari pilots given familiarization flights in the F-15E on 24 August 2020 as part of a two-day US-Qatar Friendship event at Al Udeid.
Stateside training of Qatari aircrew began in February 2021, when Boeing dispatched six F-15QAs to Scott AFB/MidAmerica Airport, because Boeing's home of St.Louis Lambert International Airport was not able to handle the multiple fighter aircraft sorties required. Scott AFB is due east of the Boeing facilities at (MO), across the Mississippi River.
US Air Force flying instructors undertook the training and during the one year mission, around 1,027 sorties were planned. On most sorties, it was expected that pilots would fly multiple instrument approaches before landing. In May 2021, an incident resulted in two US aircrew ejecting from an F-15QA on the runway.
The in-country F15QA Aircrew and Maintenance Training Centre was established at Al Udeid following the delivery of the first F-15QAs. It now has 12 aircraft on charge, and is busy training further crews for the Qatari Eagles.
Stay up to date
Subscribe to the free Times Aerospace newsletter and receive the latest content every week. We'll never share your email address.