How Horizon's vision helps students see clearly at night
In an ever-evolving, complex operational environment, industries and military utilising rotary flight seek exemplary pilots who ensure reliable aviation performance and low incident rates.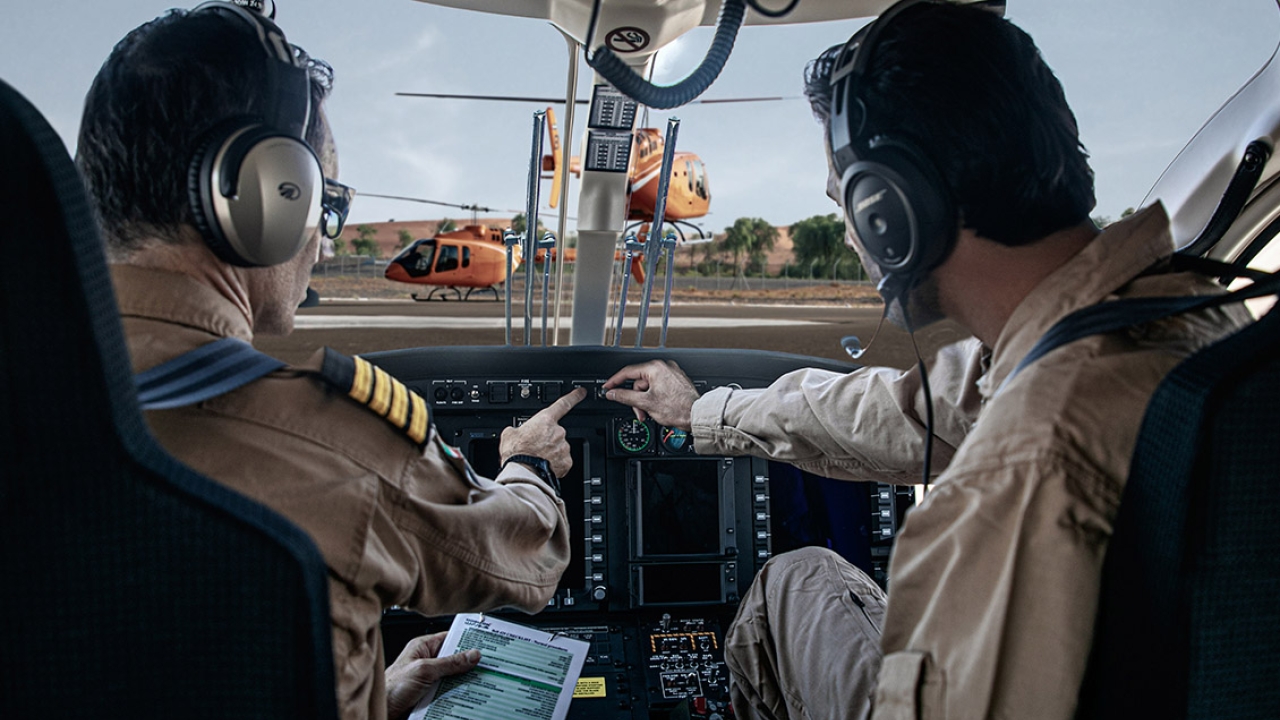 This means rotary flight courses today must include instruction tackling every technological advancement available to a pilot.
Beyond the basic knowhow of takeoff, flying and landing a helicopter, students today must thoroughly understand the aircraft and its technology to become proficient, as well as technology that improves on skills such as guidance and vision. The Horizon academy in Abu Dhabi now features a night vision goggles (NVG) curriculum to train pilots to operate a helicopter safely at night using night vision goggles), an optoelectronic device that allows images to be produced in levels of light approaching total darkness.
The syllabus directs students to use NVGs while flying both twin and single engine helicopters, and is a full-time comprehensive and bespoke training programme. Beginning with the basics, new and experienced Horizon pilots alike will receive an introduction to NVG, instruction regarding NVG components, adjustment and operation, and obtaining optimal NVG adjustment points.
Further, more exhaustive instruction is based on tactical and strategic planning essentials, such as NVG mission planning or navigation procedures, operational considerations, such as depth perception and distance estimation, color discrimination and vehicle recognition, as well as emergencies and hazards when using NVG. Understanding risks is crucial when vision is compromised while in the air.
Vision is undoubtedly one of the most important information sources for pilots during flight. Flying at night poses a particular challenge, as the human eye adapts to the dark to a limited extent. NVGs are capable of eliminating or reducing human shortcomings, but still often result in an optical degradation of the generated image.
Night operations, whether performed with or without appropriate night vison devices, always pose particular challenges to the pilot. NVG operators must be acutely aware of the advantages these devices offer in improving a pilot's ability to see in darkness and enhancing safety during night flight. They may be less cognizant, however, of some of the limitations that NVGs impose on night visual performance.
Designed to enhance operation effectiveness during flight, the Horizon curriculum adeptly brings cutting-edge knowledge transfer to the aviation industry. Disciplines like NVG circuits and traffic pattern, night departure, arrival procedures, NVG brief items, cockpit familiarization and mission safety brief all contribute to peak night-time operational readiness. This training is aimed to support the industry's most demanding mission scenarios.
Properly learning to fly with night vision goggles is a process, one which requires extensive study and an understanding of both human and goggle limitations and capabilities. The use of NVG in the rotary environment clearly enhances operational capability; however, pilots and operators must understand the constraints and limits of NVG imagery on visual perception degraded by varying levels of moon illumination.
The Night Vision Goggle course delves into these effects, ensuring pilots understand where their limitations lie and how they can use both their natural vision and the NVG tools to their advantage. Topics include unaided and night vision orientation during night operations, the limitation of the eye, dark adaptation & scanning technique, spatial disorientation, as well as NVG defects and visibility restrictions. The course's comprehensive approach and bespoke nature enables not only military to benefit, but any sector of the aviation industry.
The Edge group's Horizon is largest independent academy in the region and has demonstrated lower incident rates among combat-tested Horizon pilot graduates. The academy, with its state of the art facilities, meets European Union Aviation Safety Agency (EASA) standards, earning them UAE General Civil Aviation Authority approval.
Stay up to date
Subscribe to the free Times Aerospace newsletter and receive the latest content every week. We'll never share your email address.