L3Harris delivers insight to importance of flight data
L3Harris said it takes a holistic approach to capture the most data possible.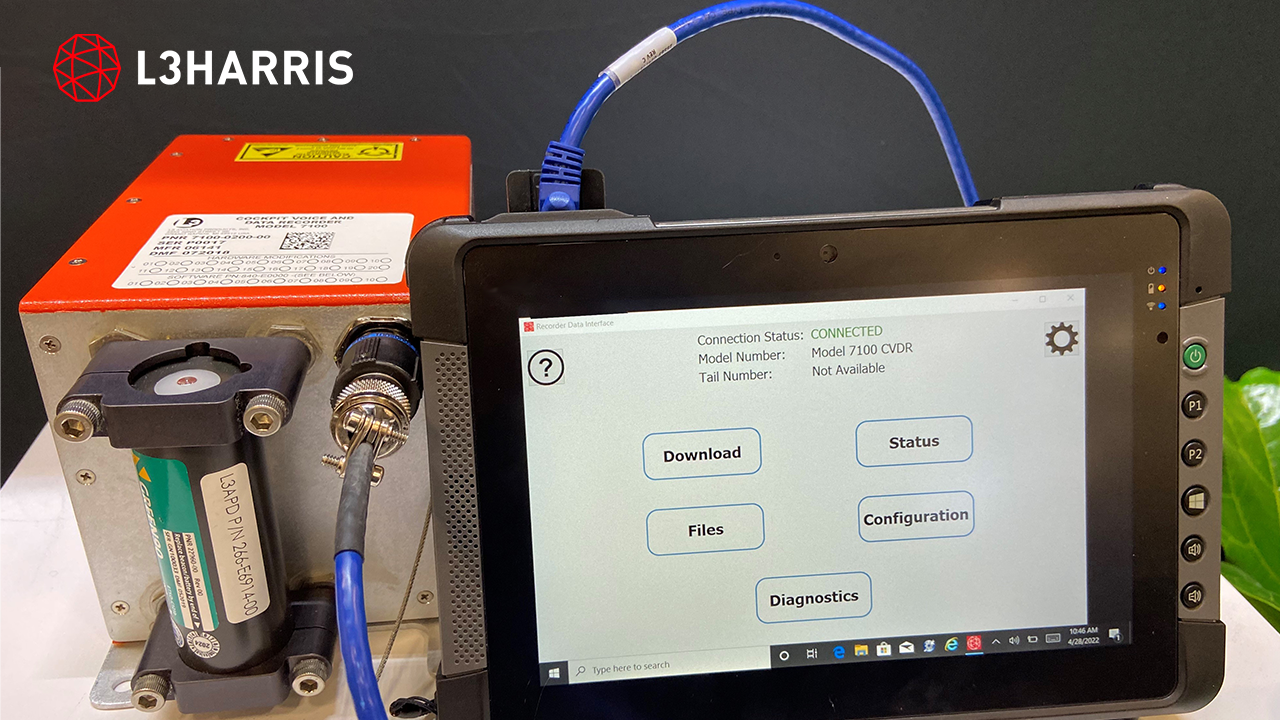 The company explained: Advanced recording technology allows cockpit voice (CVR) and flight data recorders (FDR) to capture gigabytes of continuous voice transmissions and data from engines, data acquisition, and avionics.
Flight recorders are essential tools to ensure all voice and flight data are stored in crash-protected memory. The data leading up to the impact provides investigators with the necessary insights to evaluate the causes in the subsequent investigation.
For passenger and military aircraft CVRs and FDRs, the SRVIVR25 family is L3Harris' newest introduction. SRVIVR25 provides the most data available, delivering over 50 hours of audio and datalink recording and over 140 hours of flight data. This solution exceeds the current and forthcoming global mandates and is line-fit on Airbus platforms and selectable on Boeing platforms.
Given the capabilities of the SRVIVR25 series, some airlines are choosing to upgrade their current fleet because it is an economical direct replacement for ARINC 747 and 757-based recorders with minimal downtime. Additionally, the series offers an integrated CVR Recorder Independent Power (RIPS), meeting mandates while reducing space and weight.
Frequent data retrieval is essential for operators to perform the analysis required to support their safety management systems. L3Harris offers a recorder data interface (RDI) with an intuitive user interface tablet-based designed to download large amounts of data quickly while maintaining data security and privacy for the voice and data files.
Expert analysis harnesses the data intelligently to drive measurable results. L3Harris offers verification and intelligibility reporting with Express Readout; and flight data management (FDM) and flight operations quality assurance (FOQA) with Flight Data Connect for all industry recorders. The capability exists to download the files using an RDI, a QAR, or other compatible device and directly upload them to the analytics platform.
Express Readout verifies functionality and generates the global civil aviation authority's documentation, including assistance with the EASA's datalink verification. Reports are produced in a few days without removing the recorder from the aircraft, saving the maintenance departments significant time and costs.
L3Harris' Flight Data Connect (FDC) provides FDM and FOQA analysis by providing automatic and reviewed levels of data processing. FDC automatically processes the data and populates the customised dashboard after uploading the raw data into the L3Harris secure, cloud-based server. Data, including accurate recreation of flights in graphical and 3D format, is often available to view and analyse in just a few minutes. A report of any triggered event, such as low speed after take-off, low-power approaches, late gear retraction, or any of the thousand's standard or customised FDM events, can be automatically emailed to the appropriate safety or operations manager.
An L3Harris data scientist review process includes safety, maintenance, and fuel-related trends or events with specific, actionable insights aligned to the customer's standard operating procedures.
Insights from these tools can be invaluable. For example, a recent flight crew received indications of the left thrust reverser unlocked in flight. When they uploaded the data to FDC, the flight operations analyst was able to see the parameters showing an electrical indication problem rather than a mechanical problem, which saved maintenance time and unnecessary expense.
The L3Harris FDC enables more effective decision-making and specific maintenance needs. Customers can also work with their assigned L3Harris analyst to identify trends and propose corrective actions to solve particular safety events.
The L3Harris 360 approach to recorders and data analytics delivers timely and valuable insights for operators to save time, reduce maintenance costs, and increase safety and pilot training immediately.
Stay up to date
Subscribe to the free Times Aerospace newsletter and receive the latest content every week. We'll never share your email address.