Bauer Aviation Advisory launches matchmaking platform
Bauer Aviation Advisory (BAA), a Dubai-based boutique consultancy for the aviation industry, has launched a matchmaking platform for top-tier management consultancies and the Big 4 firms.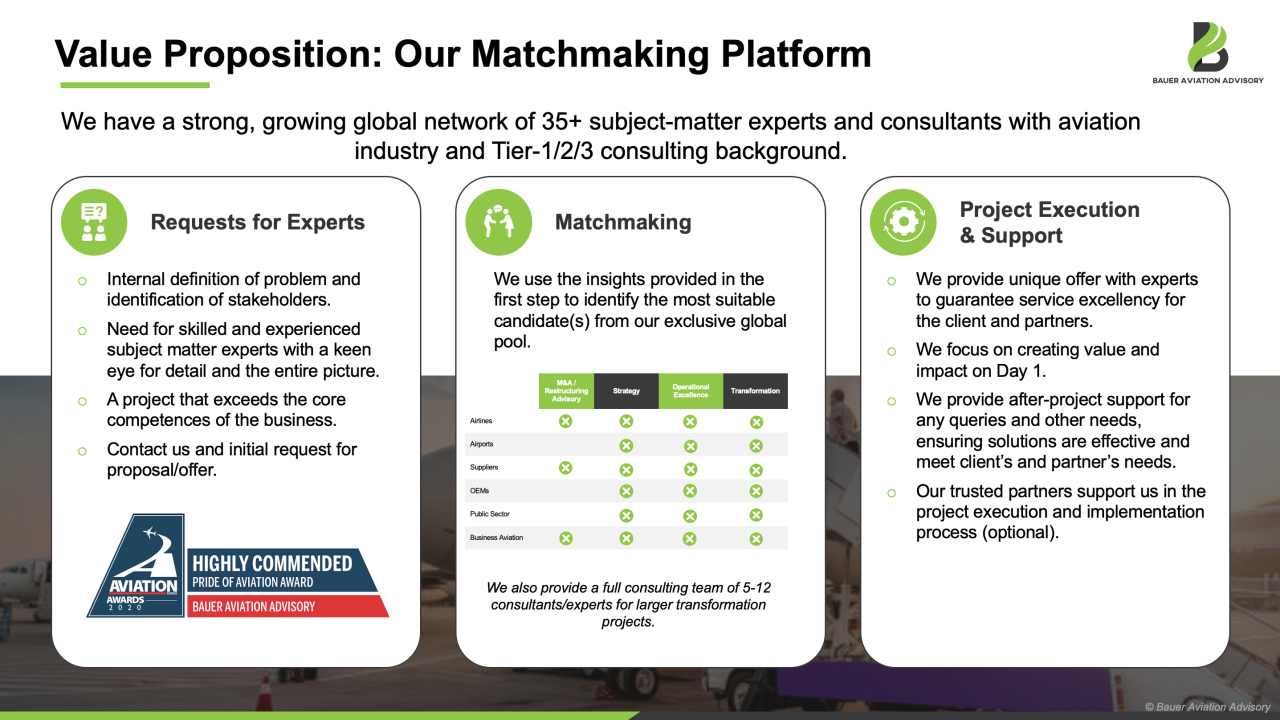 This is in addition to the launch of its new website.
Through BAA's newly launched matchmaking platform, top-tier management consultancies and Big 4 firms would have on-demand access to BAA's strong, growing global network of 35+ subject-matter experts and consultants with deep aviation expertise upon request for their consulting projects.
Linus Benjamin Bauer, founder and managing director at Bauer Aviation Advisory, said: "Our recent involvement in several aviation-related projects with top-tier consultancies have clearly shown that, in times of shifting client demands and expectations, our tailor-made solutions for a very dynamic and competitive sector with higher complexity, coupled with our deep aviation expertise, add enormous value to existing projects of top-tier consultancies with their clients from the aviation sector."
With the recent addition of its matchmaking platform to BAA's portfolio of services, BAA maintains its focus on providing complete engagement solutions from high-level strategy services to implementation support at competitive rates and with a proven track record.
Throughout the pandemic, BAA has developed tailor-made health check packages with various themes for aviation companies to drive substantial operational and cost efficiencies, enhancing cost optimisation and revenue generation to increase profits among businesses. BAA's health check activities with airlines to date have opened doors to various project initiatives in collaboration with top- tier consultancies and Big 4 firms.
He further added: "Using off-the-shelve solutions, which have been tried and tested before, are not explicitly tailored to the needs of the clients in the aviation industry. They increasingly fail to meet the requirements. Hence, the so-called one-size-fits-all model can be described as a diminishing business model for everyone out there in the post-pandemic era."
Launching a new boutique consulting firm at the height of the pandemic did not faze the founder Linus Benjamin Bauer despite strong headwinds. He added: "With the COVID-19 pandemic in mind, the entire consulting landscape is ultimately no more immune to the forces of disruption than any other industry. Industries with higher complexity, like aviation, need new trusted partners during these challenging times. Hence, the current crisis has laid the foundation for boutique consulting firms like BAA to become the new trusted and sparring partners in the post-pandemic era."
BAA has grown its global pool of more than 35 subject-matter experts and consultants in the past year, including former consultants from EY, Roland Berger, and Bain & Company. The firm's combination of specialist aviation experts and professional consultants from top-tier firms offers clients first-hand consulting experience, leading to BAA establishing talks with top-tier consulting firms to partner in their ecosystems. The first partnership deal is expected to be officially announced next month.
As the new kid on the block, BAA established its presence at the pandemic's peak and has been well perceived as a game-changer and industry disruptor to date. In December 2020, BAA gained recognition for its services to the region's aviation sector at the Aviation Business Awards 2020, receiving the 'Highly Commended award in the Pride of Aviation category, alongside Etihad Airways. One year later, In December 2021, the Founder and managing director, Linus Benjamin Bauer, was nominated and shortlisted for the 'Unsung Hero of the Year' award at the Aviation Business Awards 2021.
Bauer commented: "At a time when our beloved aviation industry is facing its deepest crisis in history, we continue to be fully committed to helping our clients and partners overcome the associated challenges of the current pandemic. Underlying our capabilities and services is to secure a sustainable and profitable future for the industry by forging sustainable business with a transformed position for a better future."
Stay up to date
Subscribe to the free Times Aerospace newsletter and receive the latest content every week. We'll never share your email address.