Kenya Airways operates sustainable long haul commercial flight
Kenya Airways has become the first African airline to fly possibly the most sustainable commercial long-haul flight from Africa to Europe.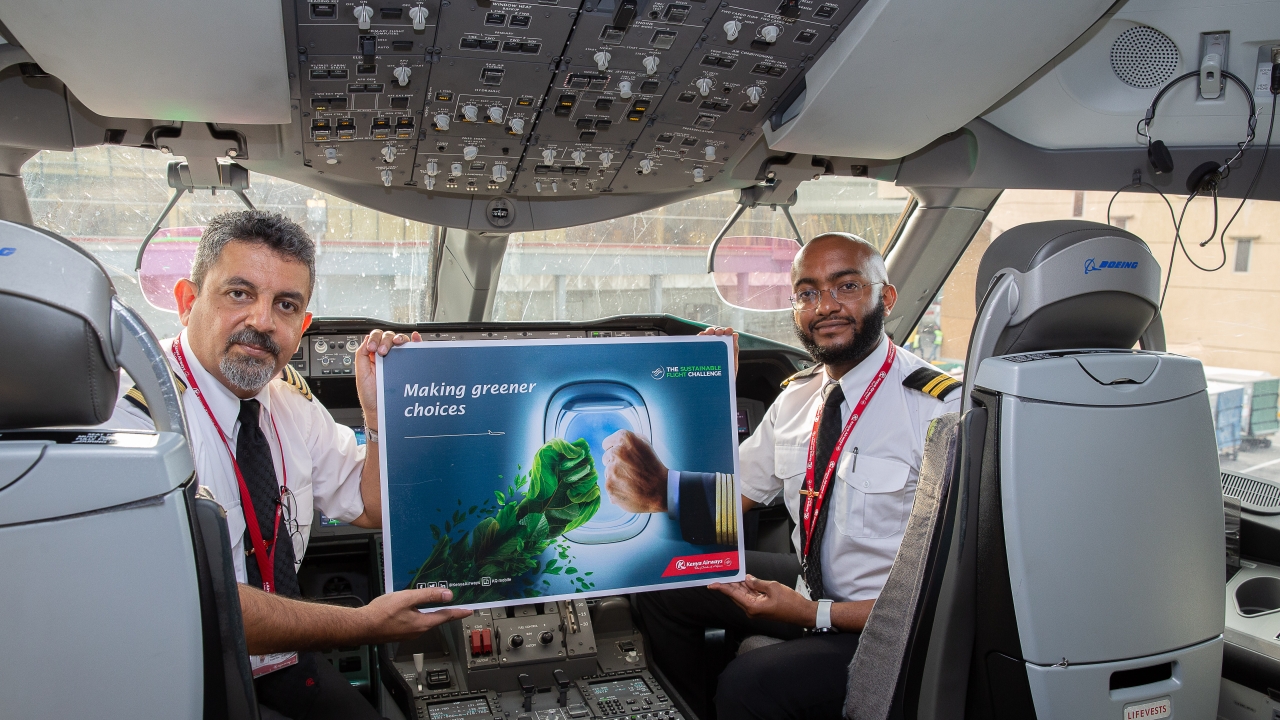 The flight that is part of the Sustainable Flight Challenge (TSFC), between SkyTeam member airlines brings together 22 airlines for a friendly competition to achieve the most sustainable flight possible.
For this sustainable flight, KQ is operating a Boeing B787-8 Dreamliner for the return flight between Nairobi and Amsterdam. KQ has partnered with Eni Sustainable Mobility, a leading SAF producer, to obtain SAF for this flight and locally with Flamex Petroleum Ltd in the blending of the fuel. KQ becomes the first African airline to use Sustainable Aviation Fuel (SAF) from Eni Sustainable Fuel for a long-haul commercial flight from Africa to Europe.
Apart from the use of SAF, the preparations for the flight were done to ensure that it was as sustainable as possible. A number of initiatives, covering light travel for guests on the flight, route planning, onboard meals and its packaging, transportation of guests and crew, and gifts were all sustainably prepared as part of the flight KQ116 and KQ117.
Speaking during the departure of the flight at Jomo Kenyatta International Airport (JKIA), Group MD and CEO Allan Kilavuka, said that such moments are a testament to the airline as Africa's flag bearer in championing Africa and the African aviation industry to generate the most significant innovations to reduce aviation's impact on the environment.
"As we reconnect and rediscover our world, we are committed to living our purpose - for our people and planet. On the planet sustainability we are focusing on helping to decarbonise the aerospace through fleet types that have the least amount of carbon emission, reducing our fuel burn through routing, managing our waste through recycling, and deploying the use of solar and SAF as alternative energy," said Kilavuka.
"The piloting of Sustainable Aviation Fuel (SAF) for the first time on a KQ long-haul commercial flight will generate valuable data and insights that can inform policy decisions, regulatory frameworks, and industry best practices related to SAF."
Kilavuka further notes that the success of the sustainable flight is not just about the airline, but it is about the aviation ecosystem, and everybody involved working together to drive sustainable approaches in the aviation industry.
"As part of the aviation industry, it is our duty to take proactive measures and actively contribute to finding sustainable solutions and adopting best practices. We recognise the importance of collective learning and collaboration to drive positive change in our industry. For this flight, sustainable approaches have been implemented on flight operations, ground operations, in-flight menu, a carbon offsetting programme for customers, e-mobility options for guests, and implementation of a travel light policy, and waste management initiatives," said Kilavuka.
Some of the areas KQ will submit for consideration include:
• Sustainable flight and ground operations initiatives.
• A sustainably curated in-flight menu.
• A carbon offsetting program for customers.
• E-mobility for guests.
• Travel light policy.
• Eco-friendly blankets make of recycled R-Pet Polyester
• Eco-conscious packaging for the onboard meals
• Waste management initiatives, amongst others.
The winners of the 2023 Sustainable Flight Challenge will be honoured at an awards ceremony scheduled for October 2023.
Stay up to date
Subscribe to the free Times Aerospace newsletter and receive the latest content every week. We'll never share your email address.