Emirates completes landmark SAF test flight
Emirates has successfully completed the first flight demonstration of 100% sustainable aviation fuel (SAF) use in the Middle East with a Boeing 777-300ER powered by GE90 engines.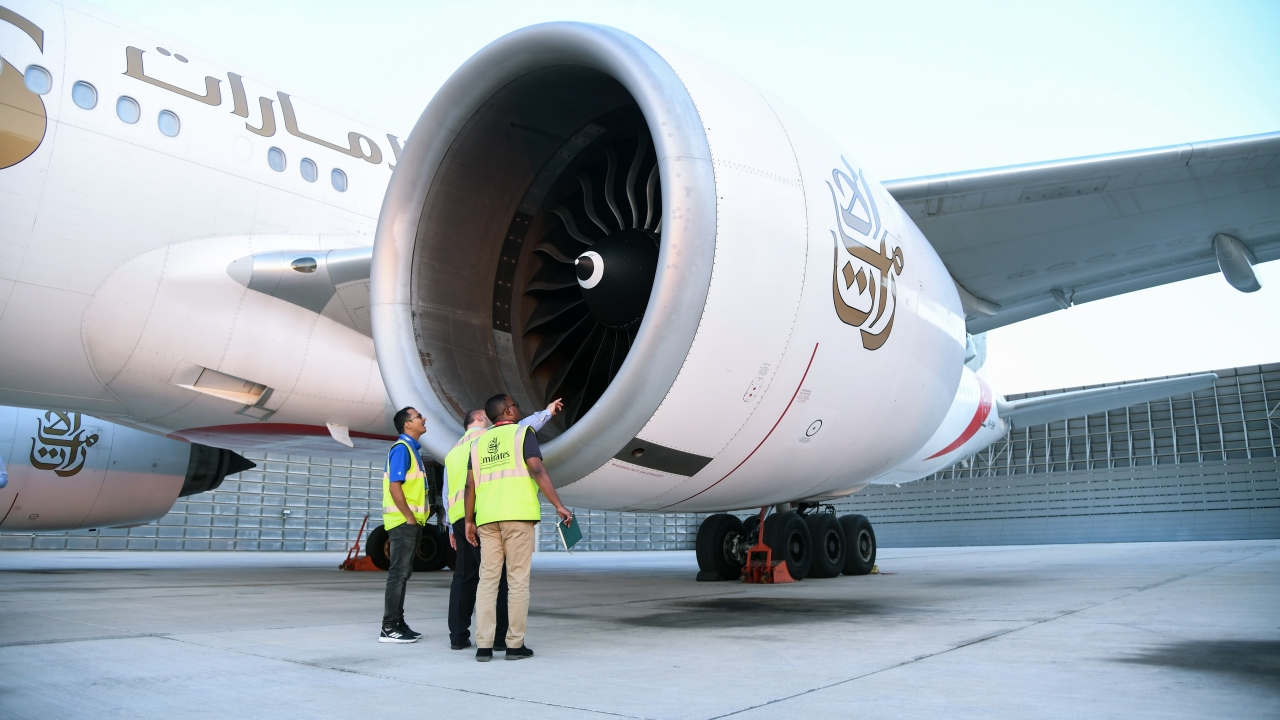 The one-hour test flight, which concluded with touchdown at Dubai International airport at midday today (30 January), mirrored the successful ground engine testing on 23 January at the Emirates Engineering Centre in Dubai.
The tests are designed to demonstrate the capacity of the GE90 engine to run on a 100% SAF blend without affecting its performance. No modifications to engines or aircraft systems are needed to use this so-called 'drop-in' SAF blend. Research indicates the use of SAF reduces carbon emissions by up to 80% over the fuel's life cycle; this could be improved further with advancements in technology.
"For the manufacturers and for us at GE, it's extremely important to help ensure that the new fuel technologies introduced are safe," said Dr Gurhan Andac, GE Aerospace's engineering technical leader for aviation fuels and fuel additives.
"Certainly, there's more [testing] work to be done," he told Arabian Aerospace in an exclusive interview. "I can't speculate on specific activities – more will be needed, and desired."
The Emirates demonstration flight was historic and significant in several ways, said Andac. "It was the first flight in the Middle East to use 100% SAF, and it adds to the body of data around SAF blends in high proportions.
"Apart from the flight itself, there are learnings for the region's aviation industry regarding logistics in bringing in SAF and using it in flight operations.
"It was not just a technical demonstration but also a public demonstration to the world that we can bring sustainable fuels to aviation."
For the flight test, a blend of two SAF types was used: synthetic paraffinic kerosene (HEFA-SPK) produced by Neste of Finland, and synthetic aromatic kerosene (HDO-SAK) from Virent Inc of Wisconsin, USA. The blend results in a fully synthetic fuel that is equivalent to Jet A/A-1
Andac, who also chairs the international committee of the ASTM International that maintains the global standard specification for synthetic aviation turbine fuels, said GE is proud of its involvement with numerous airlines in advancing SAF use as part of the decarbonisation of aviation toward the industry goal of carbon neutrality by 2050.
GE's advances in new, more fuel-efficient flight technologies, such as hybrid electric aircraft engines and advanced engine core and combustion designs, "will not replace the need for SAF," said Andac, "and they will not be in service until the mid-2030s. SAF, on the other hand, is fleet-wide and infrastructure-wide applicable solution that is available now, at least from a technology perspective."
Stay up to date
Subscribe to the free Times Aerospace newsletter and receive the latest content every week. We'll never share your email address.