dnata cuts CO2 emissions with Biofuel switch in UAE
dnata is continuing to take initiatives to reduce its environmental footprint across its operations in the UAE.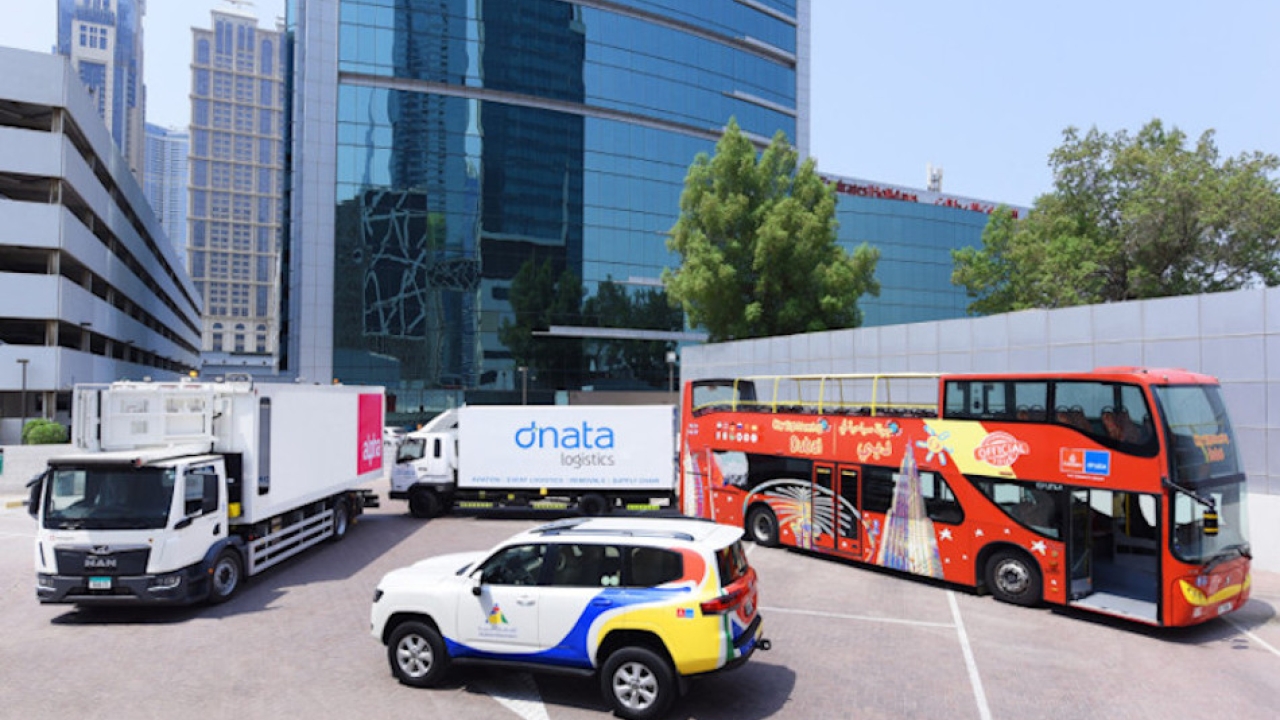 Most recently, dnata's group brands dnata Logistics, Arabian Adventures, Alpha Flight Services and City Sightseeing have switched their vehicles to run on a biofuel blend. The strategic move saves 80 tonnes of Carbon Dioxide (CO2) emissions per year, equivalent to over 320,000 kilometres driven by an average petrol-powered car.
dnata's latest initiative is part of its efforts to reduce its carbon footprint and waste to landfill by 20% by 2024 in line with its two-year green operations strategy. In June 2022, dnata announced that it would invest US$100 million in green operations in two years to further enhance its environmental efficiency globally.
Steve Allen, CEO of dnata Group, said: "We constantly explore and implement emission reduction methods across our fleet and infrastructure to reduce our carbon footprint. The introduction of biofuel to a diverse range of our UAE businesses is an important step in our ongoing journey. It offers a simple and effective method of cutting emissions throughout the fuel lifecycle, without requiring any changes to equipment.
"We will continue to invest in our operations, including large-scale infrastructure solutions, to further enhance our sustainability performance and achieve our green operations targets."
dnata's group brands cutting fossil fuel dependence
dnata Logistics has switched 31 of its trucks to be run on a biofuel blend at its Dubai-based hub. Providing multimodal freight forwarding, logistics, supply chain and road transport services, its trucks cover up to a total 217,000 kilometres per month. The move saves almost 35 tonnes of CO2 emissions per year, the equivalent of eight petrol-powered cars driven for one whole year.
City Sightseeing Dubai, a joint venture with dnata Travel Group, operates three tour routes, providing elevated viewing of Dubai's top attractions, through the use of 21 open-top, biofueled buses. These cover an average 76,000 kilometres per month, removing over 32 tonnes of CO2 emissions each year: the equivalent of the electricity use of four average homes for 12 months.
Alpha Flight Services (Alpha), dnata's inflight catering joint venture, has already switched five landside vehicles to biofuel blend, and is also in the process of transitioning all of its Sharjah-based airside catering trucks. Alpha now sends its used cooking oil to the biofuel manufacturer and once recycled, it is then re-used within its vehicles. Research shows that one litre of oil recycled into biofuel avoids the emissions of 3kg of CO2, a reduction of 92% compared to diesel fuel use. Alpha's vehicles cover over 27,000 kilometres per month, supporting the company's extensive catering operations that create over 25,000 meals a day. As a result of the initiative, Alpha will save seven tonnes of CO2 emissions per year, the equivalent of charging over 850,000 smartphones.
Arabian Adventures has also switched the generators at its desert safari camps to a biofuel mix. The most experienced tour and safaris operator in the UAE, offering true Arabian hospitality, desert safaris, experiences and dune buggies, is saving almost five tonnes of CO2 emissions per year as a result of the initiative. This equates to 1987 litres of diesel.
Besides its recent investment in landside operations, dnata has significantly invested in the electrification of its ground handling fleet across its global airport operations to reduce emissions, with more than 15% of the company's global fleet now electrified. However, dnata understands that electrification is not the only solution for all vehicles throughout its group, and invests in a mix of equipment types and renewable fuel sources to maximise environmental and operational efficiency globally. It already operates biodiesel, electric and hybrid vehicles as well as actively exploring the use of hydrogen-powered equipment in its operations.
dnata's other recent key initiatives include continued significant investment in renewable infrastructure, low-emissions ground support solutions and process improvements to optimise fuel efficiency. dnata continues to make significant investments in renewable energy including the installation of rooftop solar panels across its existing facilities, and capture and recycling of grey water or rainwater for conservation.
Waste to landfill focus
In order to reduce its environmental footprint in ways other than emissions, dnata is determined to reduce waste to landfill, and is collaborating with industry leaders and policymakers on the treatment of international catering waste. In addition, dnata is investing in sustainable solutions to recycle cargo waste materials, such as transport belts and nets. In close co-ordination with the airport community to enhance the segregation and retrieval of recyclables airside, dnata is targeting a 20% diversion of waste from landfill by 2024.
dnata is a leading global air and travel services provider. Established in 1959, the company offers quality and safe ground handling, cargo, travel, catering and retail services in over 30 countries across six continents. In the financial year 2022-23, dnata's customer-oriented teams handled over 710,000 aircraft turns, moved over 2.7 million tonnes of cargo, uplifted 111.4 million meals, and recorded a total transaction value (TTV) of travel services of US$ 1.9 billion.
Stay up to date
Subscribe to the free Times Aerospace newsletter and receive the latest content every week. We'll never share your email address.