UAE satellite to study red tide algae in Arabian Gulf
Students from the American University of Ras Al Khaimah (AURAK) have successfully launched their MeznSat satellite, which will be used to collect data on greenhouse gas concentrations and monitor the occurrence of red tide algae in the Arabian Gulf.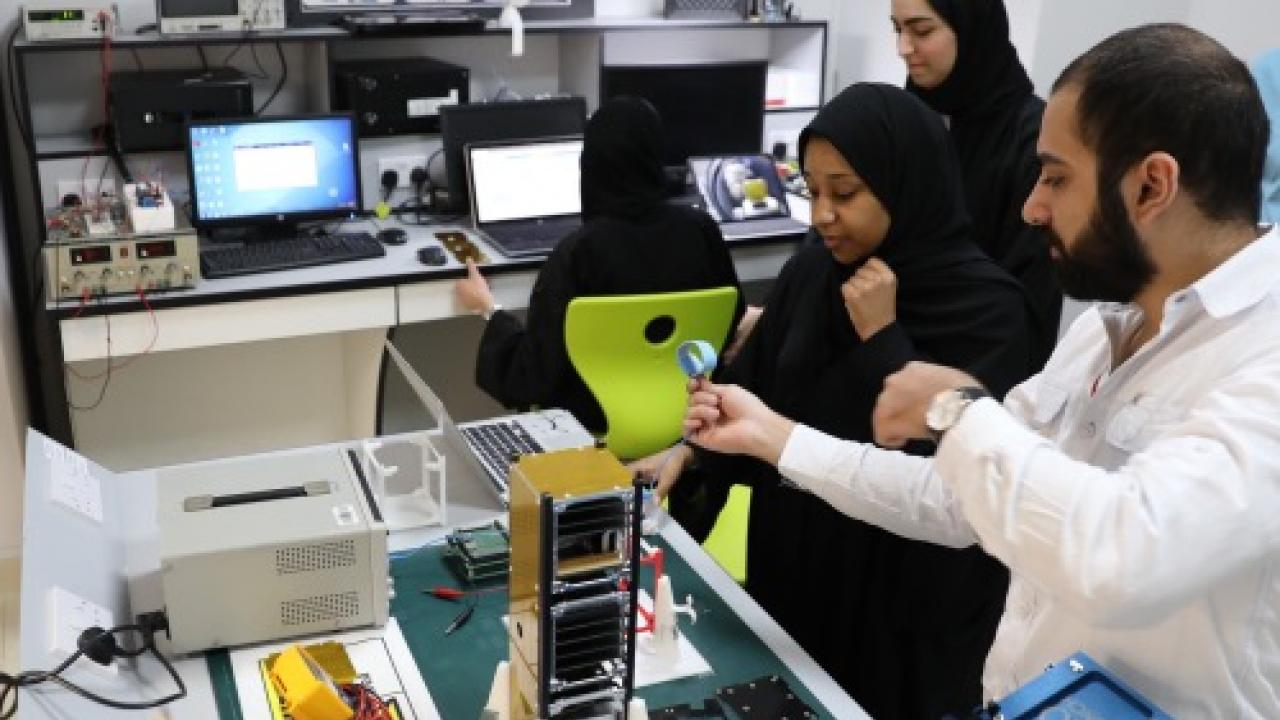 Developing capabilities: The project has been a major learning experience for the students involved. Picture: AURAK
MeznSat was launched on a Soyuz-2 rocket from the Plesetsk Cosmodrome in Russia on September 28 and will orbit Earth at an altitude of 565km on a mission expected to last three years. Steve Nichols reports.
The 2.7kg nanosat is carrying a shortwave infrared (SWIR) micro-spectrometer as its primary payload, with the aim of deriving greenhouse gas concentrations in the atmosphere. Its secondary payload is a high-definition (HD) camera.
This is the first three-unit nanosat to be built by the UAE, meaning it features more systems than the previous one-unit versions.
The AURAK students were fully involved in the project. They prepared the ground station, developed a work plan and manufactured all the parts of the satellite, including the special camera and receiving station.
The ground station at AURAK's space lab will monitor its movements and collect data that will be sent to Khalifa University for analysis.
MeznSat is the third cubesat to be launched by the UAE, after Nayif-1 in 2017 and MySat-1 in 2018. It joins the recently-launched Hope space probe to Mars and the earlier DubaiSat missions as examples of the UAE's growing expertise in space.
Sponsored and supervised by the UAE Space Agency, the nanosat was developed by AURAK in collaboration with Khalifa University in Abu Dhabi.
Dr Abdul-Halim Jallad, a faculty member at AURAK's Engineering School, has led the project since its inception. He said: "It has been a journey for the students, both in an educational sense and in terms of their own personal development, and I know that each of them will go on to achieve their career goals, as they are an intelligent and hard-working group."
MeznSat was devised to provide the UAE space industry with well-trained graduates who have practical experience, while also creating opportunities for advanced space research.
Dr Mohammed Al Ahbabi, director-general of the UAE Space Agency (UAESA), said: "These projects seek to develop national capabilities and enhance scientific research in universities, bringing up a new generation of Emirati engineers ready to join in the space sector."
Stay up to date
Subscribe to the free Times Aerospace newsletter and receive the latest content every week. We'll never share your email address.