Historic moments as Uganda Airlines heads out of Africa
It has been more than two decades since the 'flying crane' emblem has been seen on a Uganda Airlines aircraft outside the African continent. But The revived national carrier has taken to the skies with more than 200 passengers on the first step of its international rebirth plan with a maiden flight to Dubai, in the UAE.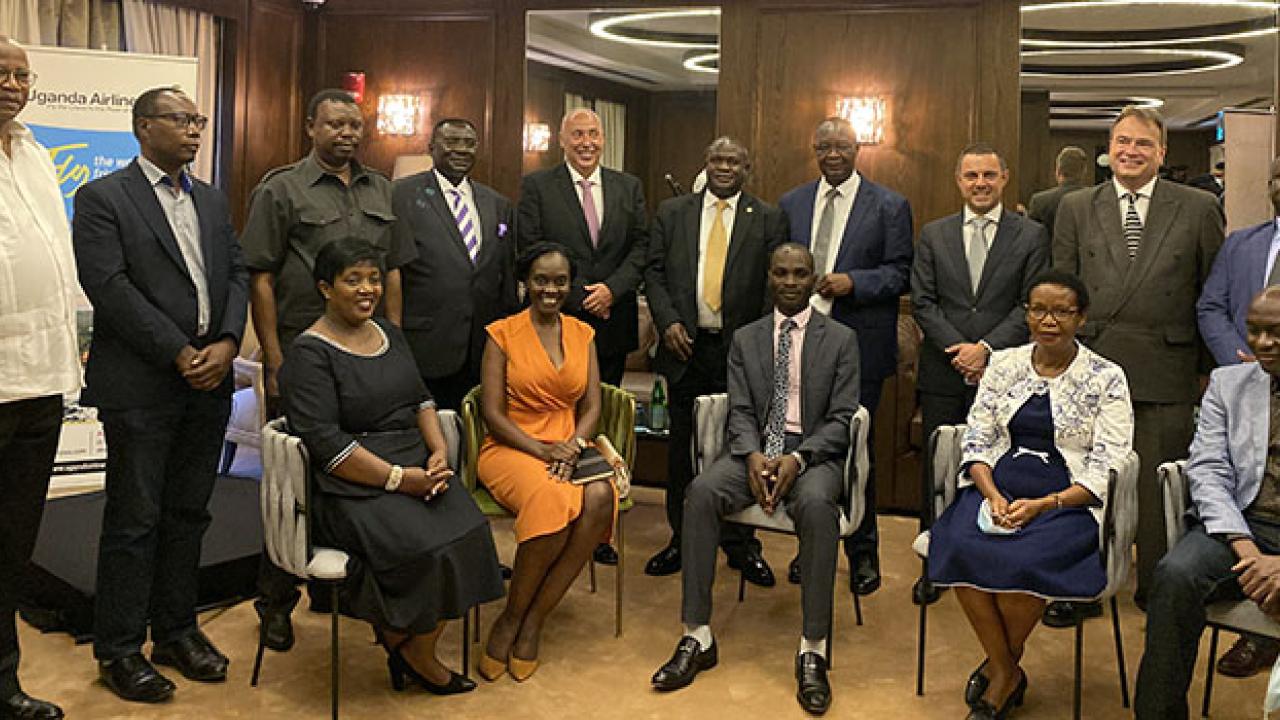 Inaugural flight celebrations with Uganda's Transport Minister Byamukama Fred and Uganda Airlines CEO Jenifer Bamuturaki centre surrounded by VIPs including Uganda's ambassador to the UAE, Zaake Kibedi, Airbus President Middle East & Africa Mikail Houari and government officials from Uganda and the UAE in an event in Dubai last night. (Image: Tom Peaford)
The national carrier ceased operations in 2001 but in 2018 the government announced plans to invest in aviation for the benefit of the country. With support from local banks and the president orders were placed for two new Airbus A330neos and four Bombardier CRJs regional operations.
Although the aircraft have been delivered, the Covid effect delayed plans. The CRJs began intra-African routes from Entebbe to neighbiouring countries and to South Africa but this weekend, the A330neo headed to Dubai, adding to the nation's celebrations of its 59th independence anniversary.
On board were government and airline officials for the first of the three a week flights to the UAE.
"This is a great beginning, and it will create opportunities and develop further cultural exchanges in addition to business and trade," said Uganda's minister of state for transport, Byamukama Fred.
The acting chief executive Jenifer Bamuturaki (pictured right) speaking in Dubai yesterday said: "We have a long standing relationship between Uganda and the UAE. And one of the things that we have in common is trading - we have lots of imports and exports between the two countries. But also, the UAE had the restrictions reduced much faster than the other countries that we had in line."
She explained that there were some 60,000 Ugandans living in the UAE. "there's lots of visiting friends and family, but a lot of business between the two cities between the two nations."
With Air Arabia also announcing this week that it is launching three-flights a week from Sharjah to Entebbe, the market is very competitive with Emirates and Flydubai also already serving the Dubai-Entebbe pairing. It is believed it served 300,000 passengers during 2019. But Bamuturaki is confident Uganda Airlines will succeed.
"The first thing is we are starting an airline that hasn't been around for over 20 years. So there's this feeling among the Ugandans that we have to support something of our own, so something patriotic. And also when you look at our equipment, it's different. It's it's something that everybody wants to try out, some everybody wants to be on it.
"So for my Ugandan point of view, it's about being patriotic,. From an airline point of view. We are known to be hospitable, friendly, and we plan to offer a direct routing. But as well as offer fares that are competitive, both for cargo and passenger. What will we do differently? At the end of the day, it's about the customer experience that we're going to offer? Everyone says to me, but your competition has the best customer experience. And for us as an airline, we were willing to go at it."
During the special event in Dubai the Ugandan officials were keen to praise Airbus for its support and ongoing friendship during the pandemic and ensuring deliveries meant the airline is ready to go further.
Airbus president for Middle East and Africa, Mikail Houari congratulated the airline on its Dubai arrival and said "We went to Uganda and we found friends and partners". He reiterated the green credentials of the A330-neo which he said delivered 25% efficiency improvements over the competition with its Rolls-Royce engines.
He also backed the belief of the Ugandan government's ministry of finance team who supported the rebirth of the airline. "For every one direct job in the airline there are 10 more elsewhere," he said.
Bamuturaki is confident that the airline will grow as more markets open up after the Covid closures.
"We were very excited when Uganda came off the 'red list' for the UK – we did a little victory dance, 'we are coming to London' and it will be our next international route."
Internationally, she said Guangzhou can open up soon, and the airline is looking at Mumbai and Delhi. Within Africa she sees expansion to the west coast. The airline already flies its CRJs to South Africa, Kenya, Tanzania and the DRC.
Uganda Airlines A330-800 neo is promising fuel efficient, comfort and a great customer experience as it reopens inter-continental comnections for the first time in two decades. (Image: Uganda Airlines)
Stay up to date
Subscribe to the free Times Aerospace newsletter and receive the latest content every week. We'll never share your email address.