Emirates celebrates a decade of services to Sialkot
Emirates is celebrating its 10th anniversary of providing customers in Sialkot, Pakistan, with passenger and cargo services.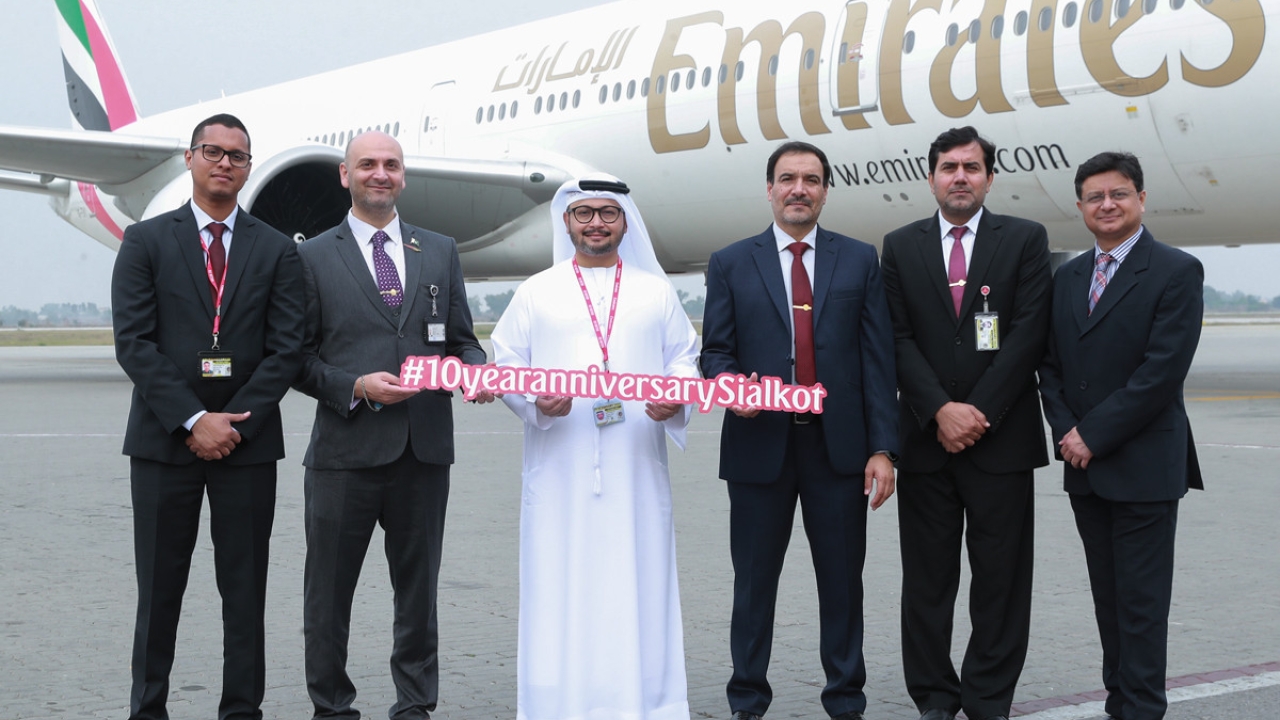 Emirates has had a transformative impact on Sialkot, providing an alternative gateway to the Export Triangle of Pakistan, encompassing Gujrat, Sialkot, and Gujranwala. Sialkot, renowned for its manufacturing excellence in producing sporting goods, clothing, and leather garments, amongst others, has significantly benefited from Emirates' cargo services. Emirates SkyCargo has played a pivotal role in exporting more than 41,000 tonnes of commodities, in addition to imports in excess of 1,400 tonnes.
With seven weekly flights connecting Sialkot to global destinations, Emirates has become an integral part of the city's aviation landscape, carrying more than 1.5 million passengers on routes from and to Sialkot over the ten-year period. During the same period, Emirates operated more than 5,500 flights from and to Sialkot.
The airline offers diverse and robust connections, with the most popular destinations and points of origin for Sialkot including Dubai, Barcelona, Paris, London, Jeddah, Johannesburg, amongst other destinations in the UK and Europe.
Mohammed Alhashmi, Emirates' Vice President for Pakistan said: "Sialkot is an important point in our network in Pakistan and we are pleased to have connected passengers and manufacturers with our global network using our unrivalled services. For ten years, we have gone from strength to strength in Pakistan, establishing ourselves as a reliable airline for a broad segment of travellers, including leisure, business and corporate, students and those visiting family and friends, in addition to exporters of goods. We would also like to thank all our partners and key stakeholders for their contributions to our successful operations over the years.
"Emirates is proud of the journey it has shared with Sialkot over the past decade, and we look forward to many more years of successful partnership, growth, and connectivity. This milestone marks a decade of commitment to the city, its people, and its vibrant industries," continued Alhashmi.
Stay up to date
Subscribe to the free Times Aerospace newsletter and receive the latest content every week. We'll never share your email address.