Spectrum Aeromed's launches cutting-edge LOX solutions
Spectrum Aeromed has partnered with Essex Industries to integrate Liquid Oxygen (LOX) solutions into their medical transport equipment.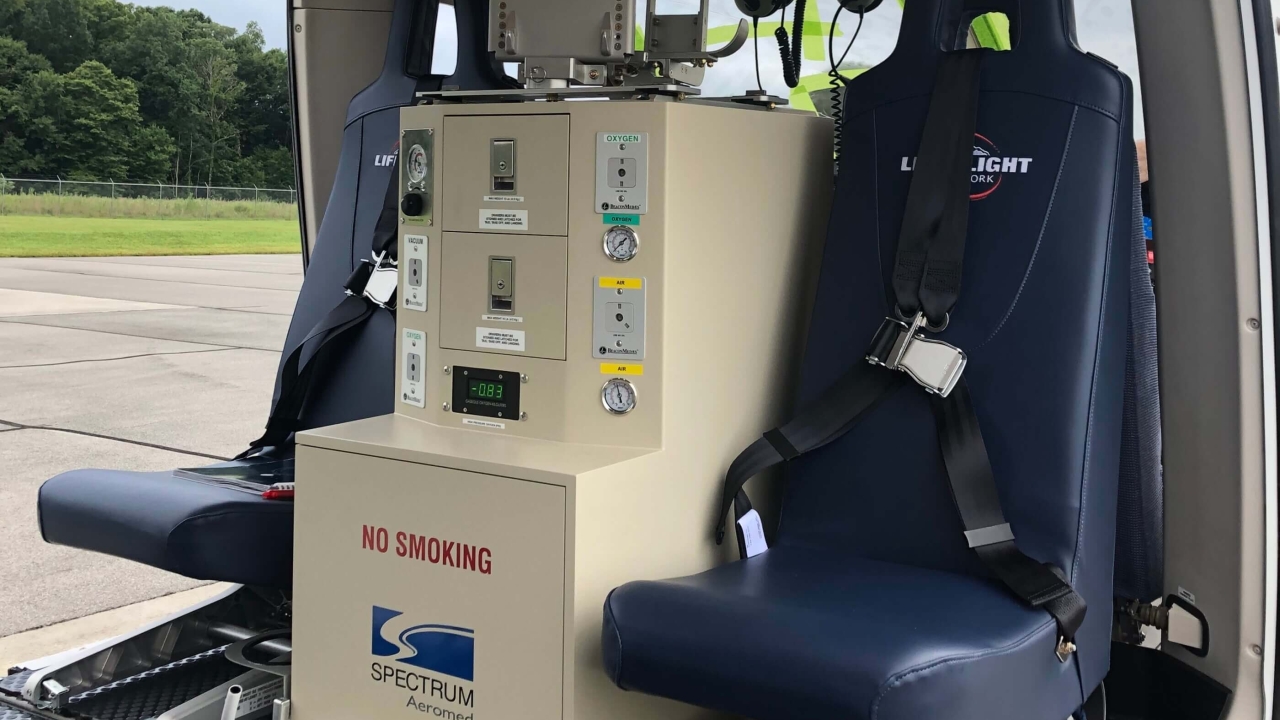 The global designer and manufacturer of custom air medical and air ambulance equipment for fixed and rotor-wing aircraft has been a provider of modular and custom-built air medical equipment for helicopters and fixed-wing aircraft. Notably, the company has recognised a global trend towards the utilization of longer-range fixed-wing aircraft for medical transport, enabling patients to access specialised treatment facilities.
Spectrum Aeromed has responded to industry changes with innovative oxygen storage solutions. LOX technology, provided by Essex Industries, a leader in liquid oxygen equipment, has been seamlessly incorporated into five of its supplemental type certificate (STC) applications: AgustaWestland AW109/119, Bell 407, Bell 429, King Air 300 Series, and Pilatus PC-12 aircraft. LOX technology offers significant size advantages, with a 10,000-liter orb, (size of a basketball) that enables extended missions, versus the standard 3,500-liter compressed tank (8x40 inches).
"Essex Industries values our partnership with Spectrum Aeromed because of their customer-centric approach and unwavering commitment to providing integrated LOX solutions. We have observed a growing demand for these solutions in the aviation industry, both domestically and internationally, due to the benefits they offer in terms of safety, costs, and operational efficiency. We are excited to be a part of Spectrum Aeromed's positive impact on the air ambulance/EMS industry, "said Vicki Pettus, senior contracts administrator at Essex Industries.
The integration of LOX solutions meets the growing demands of air medical teams. In the five years since providing its initial LOX system on a King Air 350, the company has extended LOX technology to various aircraft models, including 3 Pilatus PC-12s, 6 AgustaWestland AW119s, 17 Bell 407s, and 5 Bell 429s.
"We are fortunate to have Spectrum Aeromed LOX solutions in a number of our airframes, including our latest Bell 407 fleet acquisitions. During the last few years, we have experienced patients with increased oxygen demands due to severe respiratory illnesses.  This additional capacity provides flexibility on flight distances and back-to-back missions without the need for refilling. This adds confidence for me as a clinician to meet patients' oxygen demands regardless of the mode of respiratory support they demand," said Brian Rogge, director of clinical services at Life Flight Network.
"We are excited about the work Life Flight Network and Spectrum Aeromed have been doing to finalise the LOX solution to our fixed-wing aircraft.  It is a great partnership that demonstrates the commitment that Spectrum Aeromed has for customer support and product development," Rogge added.
Stay up to date
Subscribe to the free Times Aerospace newsletter and receive the latest content every week. We'll never share your email address.