SkyCargo completes one year of transporting cargo on passenger seats
Emirates SkyCargo is marking the first anniversary of loading urgently required PPE, related supplies and other vital cargo on the seats and inside the overhead bins of its Boeing 777-300ER passenger aircraft.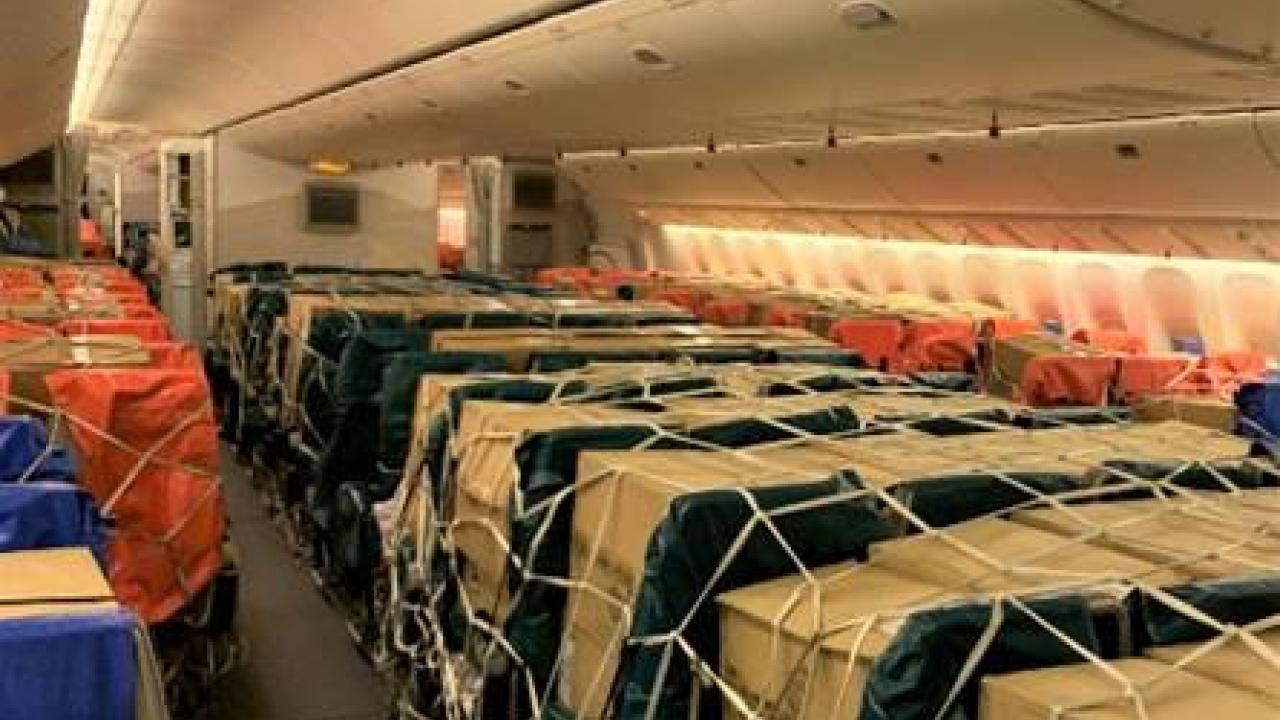 SkyCargo completes one year of transporting cargo on passenger seats and overhead bins. Image: Emirates SkyCargo
Responding to the pressing demand for transporting PPE during the first wave of the COVID-19 pandemic in late April 2020, the freight division of Emirates adjusted its operating model to load select goods inside the aircraft cabin on passenger seats and in overhead bins to make additional room for urgent cargo on its flights.
Over the course of one year, the air cargo carrier has now operated more than 3,100 flights with cargo on seats and in the overhead bins transporting more than 11,000 tonnes of vital cargo, equivalent to cargo transported on 800,000 aircraft seats. Emirates SkyCargo continues to witness a significant demand for the transportation of PPE and other cargo inside the aircraft cabin.
In order to safely load cargo on the seats and inside overhead bins in a passenger aircraft, Emirates SkyCargo had to rapidly conduct a safety risk assessment and develop a set of processes and procedures to instruct both the team in Dubai as well as ground handling partners across Emirates SkyCargo's network outstations on the most efficient and safe way to load and secure cargo inside the passenger cabins. The team also developed a smart calculator application that allowed global teams to calculate optimal loading capacity inside the cabin of the aircraft.
The procedures developed also specified the maximum weight and dimensions of individual packages as well as the types of cargo that could be permitted inside the cabin and additional safety instructions. For example, all perishable cargo packaging for loading on seats and in bins have to include an adequate internal absorbent layer.
Emirates SkyCargo also introduced a special covering for the passenger seats in its Boeing 777-300ER aircraft in order to prevent any accidental damage to the interiors of the aircraft, such as personal entertainment screens.
PPE and other medical supplies tend to be the most common cargo transported on aircraft seats and inside the bins.
Stay up to date
Subscribe to the free Times Aerospace newsletter and receive the latest content every week. We'll never share your email address.