IndiGo becomes official airline for the Indian Football Team
IndiGo has embarked on a partnership with the All-India Football Federation (AIFF).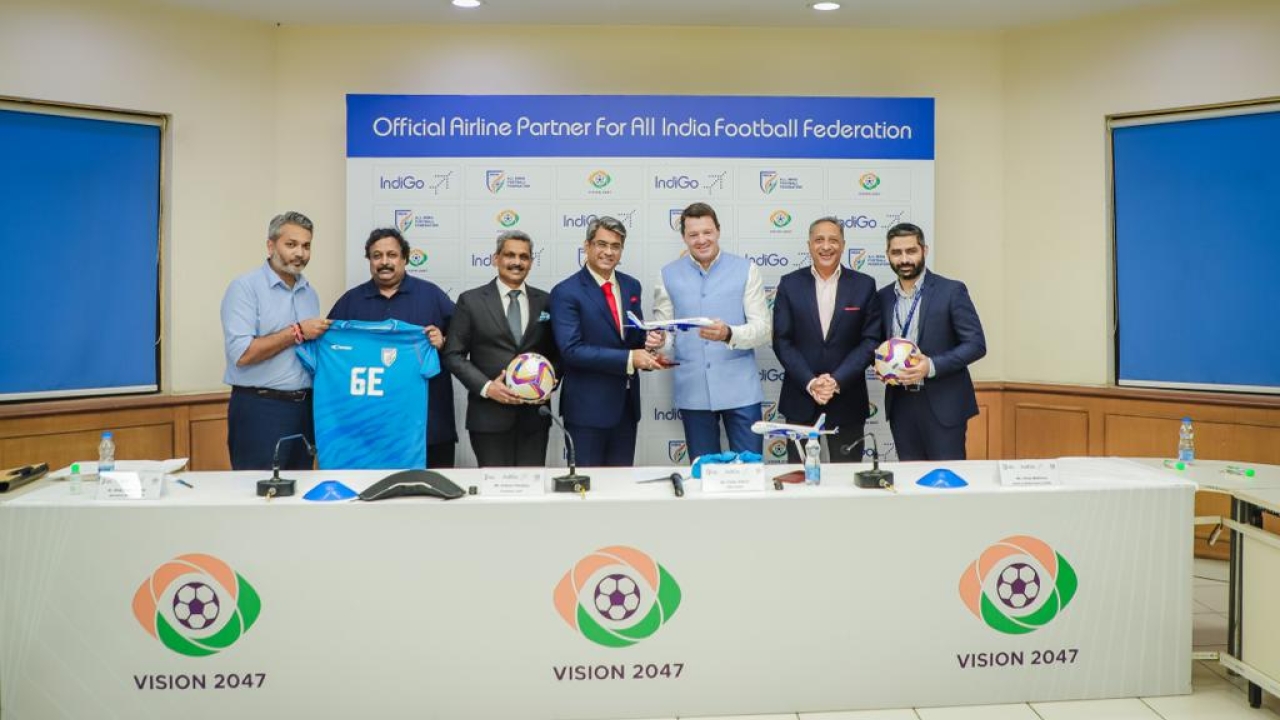 IndiGo now stands as the global partner and official airline for the Indian Football Team - affectionately known as the 'Blue Tigers'.
Football is among the three most popular sports in India, both in terms of player participation and TV viewership, making this partnership between IndiGo and the All-India Football Federation (AIFF) even more significant.
As the official airline for the Indian Football Team, IndiGo's network is designed to cater to the diverse travel requirements of players, officials, and support staff.
Pieter Elbers, CEO, IndiGo, said: "We are thrilled to embark on this journey with the All-India Football Federation, as both organisations share a common vision of advancing Indian football to new heights. This marks the start of an official partnership for AIFF, while for IndiGo, it represents our inaugural foray into the world of sports. Together, we are committed to a long-term collaboration that will not only elevate the sport but also touch the lives of fans across the nation. We aim to provide the Indian Football Team with IndiGo's well-established strengths: on-time performance, hassle-free service at affordable fares across our unparalleled network both domestically and internationally."
Kalyan Chaubey, President, All India Football Federation, said: "It is indeed a pleasure for the All-India Football Federation to partner with IndiGo. During my travels with IndiGo, I was impressed with the service and professionalism of the airline. Being the country's largest airline, we consider this as IndiGo's first sports partnership. We are really honoured and happy. I often say that India, with a population of 1.4 billion, is the fifth largest economy in the world, and people say it's a cricket nation, but I often say it's a cricket watching nation and a football playing nation. It's a mass sport, as every kid, you will find, is playing football. With this young population and this growing economy, we have partnered with IndiGo who can show leadership in the Indian airline market as well as in sports, where leaders from both organisations have also come up with a similar vision. I would request IndiGo to support us in every possible way and take this partnership and football forward together."
Dr. Shaji Prabhakaran, secretary general, All India Football Federation, said: "It's a historic day for Indian football. The airline IndiGo is flying high, and I'm sure with this partnership, we will only fly high and we wish you will always be the market leader. We believe it's a great occasion that has never been seen in Indian football history. We never had a collaboration with any airline; that is truly historic. I'm sure that this partnership will take Indian football to greater heights, and we will work together to take football to a level whereby the world will look at us as we are flying very high with our collaboration. We will be there - be blue, and the Blue Tigers will take us to the skies and paint blue across and we will make India proud with this partnership. The vision is very clear: we want to be at the incredible state of sport in India, get the attention of the world, and be the biggest talent hub in the world. Maybe one day, we will be exporting in big numbers, and we will use your airline to export those talents as we fly high."
Stay up to date
Subscribe to the free Times Aerospace newsletter and receive the latest content every week. We'll never share your email address.