Etihad Airways announces Phase 4 of global education initiative in India
Etihad Airways recently announced Phase 4 of its "Giving Your Dreams Flight" global education initiative in India.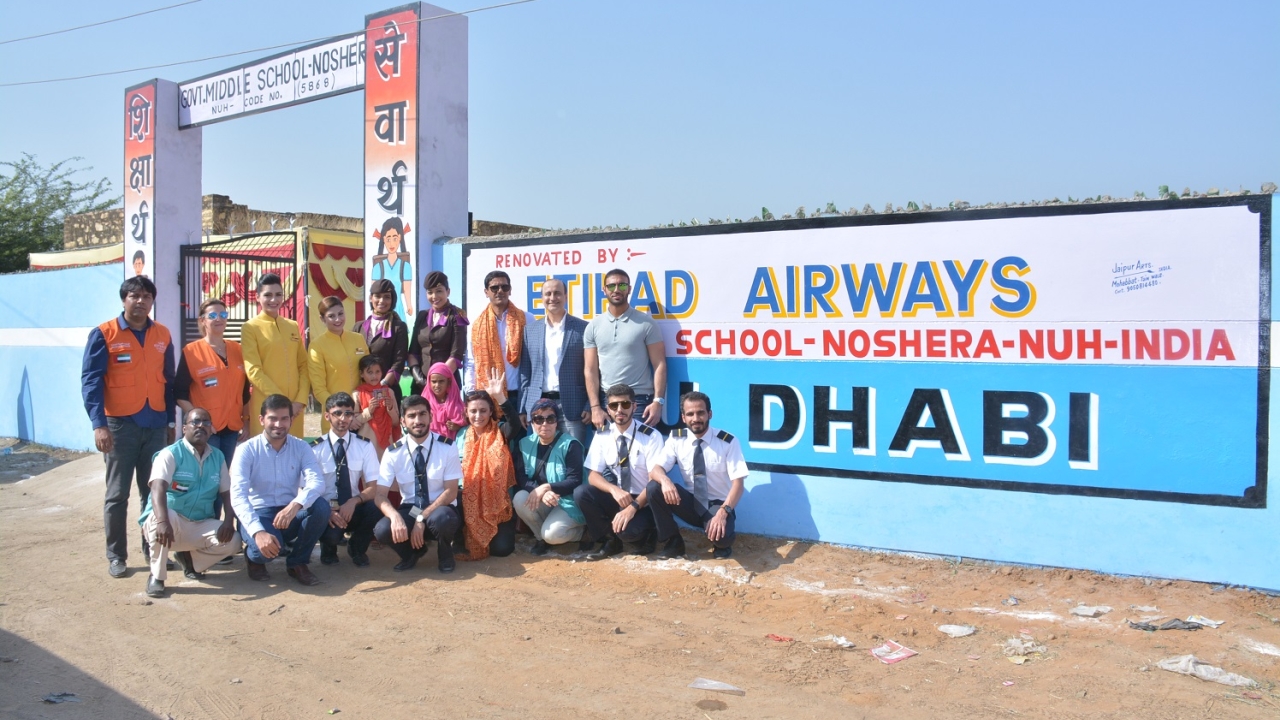 The multi-phased programme is a transformative endeavour by the airline to pave the way for a brighter and more promising future, and is part of Etihad's commitment to supporting underprivileged children and providing access to quality education.
Dr Nadia Bastaki, chief people and corporate affairs officer, Etihad Airways, said: "As part of our CSR efforts, Etihad Airways firmly recognises the importance of empowering children and expanding educational horizons. In line with this vision, we have actively sought out partnerships with like-minded organisations and partners who share our commitment to making a positive impact. By investing in educational programs and opportunities, we aspire to create an environment where children can flourish and excel."
Phase 1 (2016) - A Remarkable Transformation: Noshera Mewat Public Middle School
In partnership with the UAE embassy and SMART, an Indian NGO, Etihad launched a renovation and refurbishment project for Noshera Mewat Public Middle School, located near New Delhi. Through the power of collective action, this endeavour equipped over 1000 students and people of determination with essential school supplies, including bags, stationary, nutritious meals, uniforms, shoes, and various other garments.
Phase 2 (2017) - A Haven for Knowledge: The Spectacular Library Project
Under the patronage of H.H Sheikha Bodour bint Sultan Al Quasimi, and in collaboration with the UAE Board on Books for Young People (UAEBBY), Etihad opened the Phase 2 School Library Project in India. This awe-inspiring educational facility, inaugurated on March 25, now serves as a beacon of knowledge, benefiting over 1000 students annually.
Phase 3 (2019) - Empowering Girls for a Digital Future: The IT Skills Development Centre
Etihad established the IT Skills Development Centre in Mewat, focusing on empowering young girls with essential skills for future employment. With generous donations and steadfast efforts, Etihad aims to equip girls with the cutting-edge tools necessary to excel in the ever-evolving technological landscape.
Phase 4 (2023) - Harnessing the Power of the Digital Realm: The Online Skills Development Programme
In its recent effort to embrace the digital age, Etihad introduced an online skills development programme, dedicated to enhancing English language proficiency and fostering personality development. With the assistance of passionate volunteers, this program has reached approximately 10,000 children, predominantly girls, from remote areas of India. Engaging learning sessions are meticulously recorded and shared across various platforms, including Twitter, Facebook, YouTube, WhatsApp, and the community radio station, Radio Mewat.
In addition to the programme's launch and reinforcing its commitment to making dreams come true, Etihad organised volunteers to play a friendly cricket match with orphans studying in the Noshera school. The four top players among the orphans will then be given an opportunity to attend the upcoming ICC World Cricket Cup.
Stay up to date
Subscribe to the free Times Aerospace newsletter and receive the latest content every week. We'll never share your email address.