MEBAA: Tupan unveils ground-breaking new cargo drone
Brazilian cargo drone developer, Tupan, has used MEBAA to unveil its high-speed, vertical/short take-off and landing (HSVSTOL) aircraft.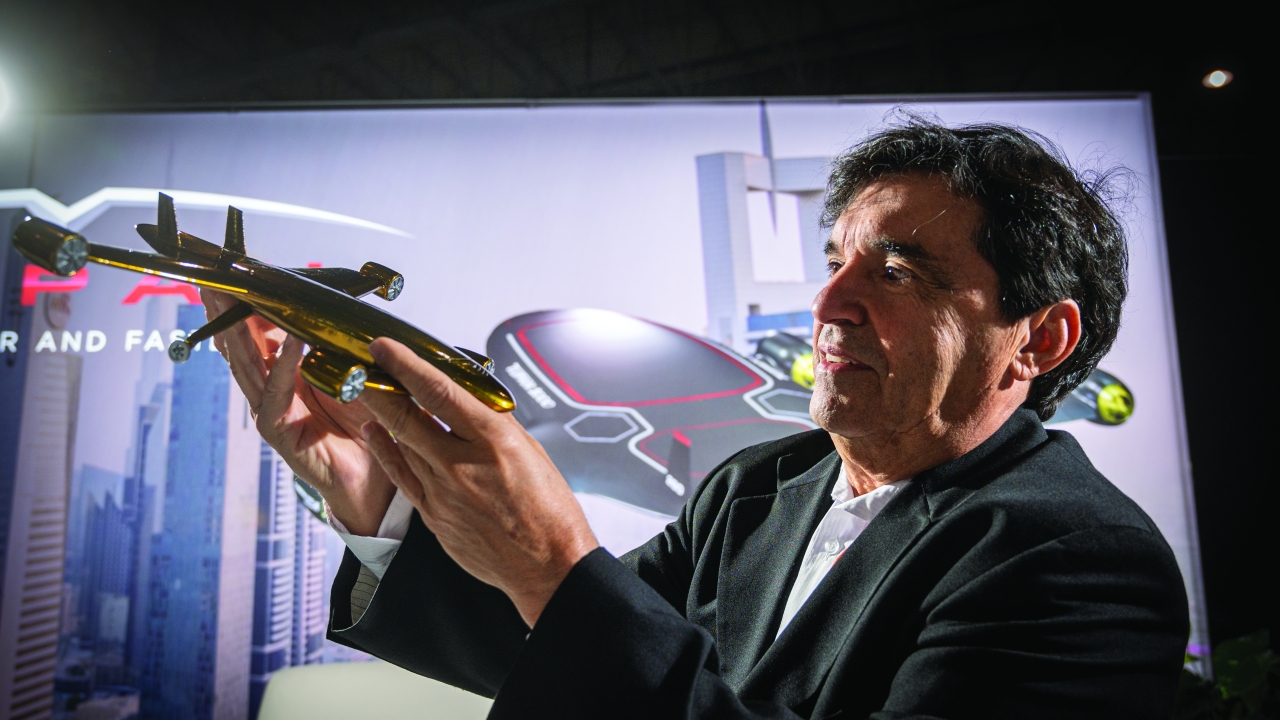 Designed for a range of civil and military missions, the first iteration in the family of drones is the Tupan 300 RC VTOL, a scaled-down model of the larger Tupan-1000 cargo, which is currently undergoing flight-testing in São José dos Campos.
This can be used either as a radio-controlled model aircraft or a training drone for the larger variant.
The all-electric Tupan 300 is powered by four individually adjustable electric blowers and has a flight autonomy of three minutes in VTOL and 20 minutes in cruise, with a maximum take-off weight (MTOW) of 25kg.
Tupan is working on engine testing of the larger -1000 and hopes to bring the drone to market by the middle of 2024.
"We are offering a new kind of cargo delivery, using high-speed, door-to-door aerial transport over long distances," said Alberto Pereira, CEO and partner at Tupan Aircraft. "This is disruptive technology; there is nothing like this in the market today. It goes further and faster than other drones.
"It has not been easy but we have overcome many challenges."
The company, which is backed by undisclosed investors in Brazil, is seeking funding from new investors in the Middle East.
Pereira said this could result in production of the Tupan drone moving from Brazil to the UAE.
The -1000 will have a 140kg payload, while the largest variant, the Tupan -3000 will be configured to carry loads of up to 600kg, with a cruising speed of 850km/h and a range of 1,200km.
Four turbofan engines will power the larger cargo drones, with four more battery-powered electric propulsion systems designed to aid control at low speed during take-off and landing, which will be recharged during the cruise.
"I describe it as a flying squirrel, because it has four arms, a lifting body, and it can fly long distances," said Nehemias Lacerda, head of aerodynamics at Tupan.
Each drone will have a range of uses, from parcel delivery to agriculture and oil platform transportation. Search-and-rescue missions, fire-fighting and military evacuation from a battlefield are also possible uses.
"We are looking forward to the meetings at our MEBAA stand and the many discussions about Tupan cargo and Tupan RC 300, with great excitement," said Marco Minerbo, Tupan CMO and partner.
"At the same time, we are very proud to be able to present our innovative approach in the setting of the large, established providers of business aviation solutions."
Stay up to date
Subscribe to the free Times Aerospace newsletter and receive the latest content every week. We'll never share your email address.