IDEX: An interview with Mansour AlMulla, CEO of Edge
UAE's Edge is undeniably one of the fastest-growing businesses in the UAE, if not the world!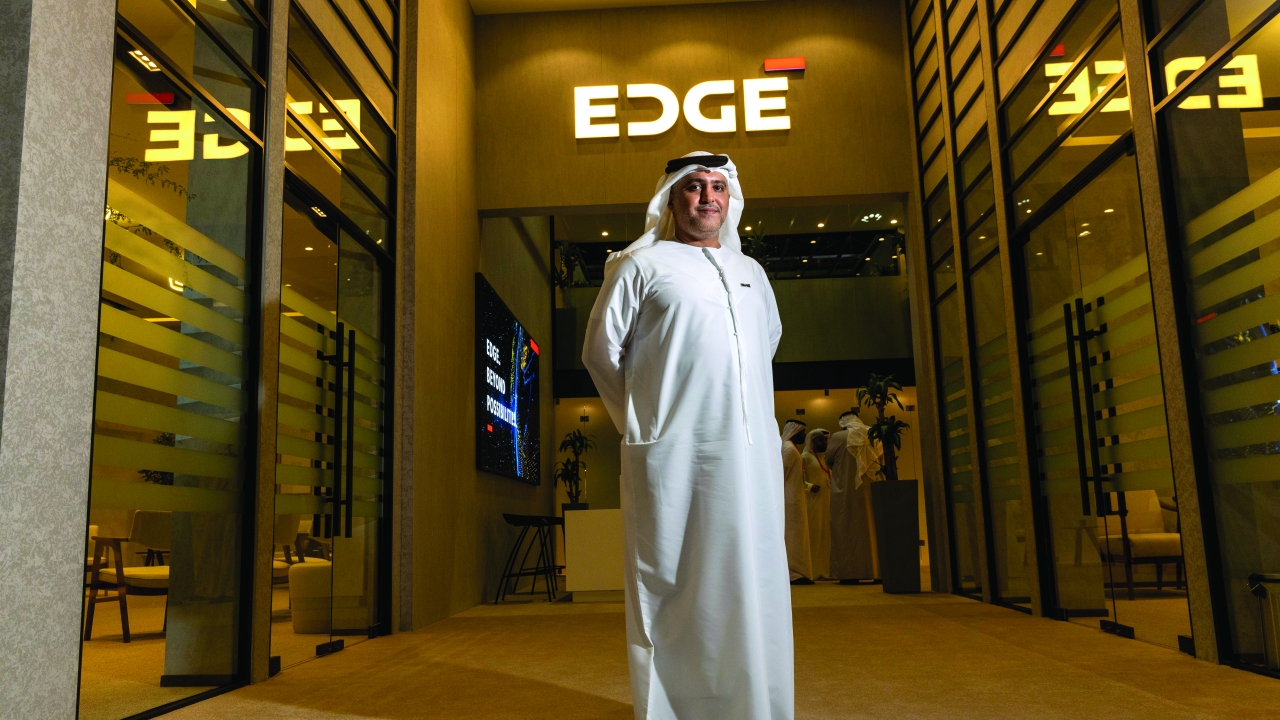 Launched in November 2019, Edge is bidding to consolidate many of UAE's advanced technology aerospace companies into one group as part of the country's vision for self-sufficiency.
Driving that ambition is Mansour AlMulla, the managing director and CEO since early 2021.
"The aim of the business is to bring all the defence companies together under one brand, double down on their efforts and see where we can expand," he said.
It certainly seems to be working, judging from the number of new ambitious projects the company has launched.
Split into three focus areas: precision-guided munitions, autonomous systems, and electronic warfare, all with their own management teams, AlMulla is expecting big things: "Targeting the export markets is one of our priorities – we have come a long way since 2021, when we topped AED 1.1 billion ($299m) worth of sales contracts. Last year we achieved AED 5.2 billion – a 500% increase – and hope to come close to that this year."
It's a tremendous effort, as can be seen by the size of the Edge pavilion and the unveiling of, arguably, IDEX's star exhibit, the stealthy-looking Juneih uncrewed air combat vehicle (UCAV) concept.
"We started its development not that long ago and hope it will be flying in three years or so," AlMullah said, adding: "It's very exciting – one of our newest projects that could be our flagship one day."
Edge cut its teeth on autonomous systems at ADASI, with the Gamoosha UAV positioned at the front of its stand. "Designed to fulfil a surveillance mission, it is now a mature project and has been in operation for seven years," explained AlMulla.
"I am particularly proud of the Reach-S surveillance/armed UAV, which only flew for the first time two weeks ago in bad weather conditions, while there is also the jet-powered Shadow 25 and propeller-driven Shadow 50, depending upon your requirements, which are loitering munitions."
The Shadow 25 has been flight-tested and now it is in the final stages of development. "These are the future of the industry," Al Mullah said proudly. "Edge is always on the look-out for businesses that will complement our existing skills.
"For example, we acquired a majority share in Milrem Robotics, a company that we believe has some exciting solutions. After meeting them at Saudi's World Defense Show in March last year, we had taken over the company by December. It is bringing new and exciting skills to our business."
AlMulla was keen to stress that these projects are not just for the UAE; Edge wants to export them too.
"We get a lot of support from the MoD and Tawazun to help create and realise some of these new capabilities," he said. "Ultimately, we want to integrate all of our weapons on to operational western or eastern platforms.
"Additionally, we want to sell weapons, like the Al Tariq, Thunder, and Desert Sting PGMs, that can be integrated on to any platform."
AlMulla is looking at all possible sales opportunities: "Our main markets are countries around us in the GCC and Africa, but south-east Asia is now receiving more attention – not only to sell, but to partner in a development capability beneficial to the country. We are making real efforts," he concluded.
Stay up to date
Subscribe to the free Times Aerospace newsletter and receive the latest content every week. We'll never share your email address.