Dubai Airshow: Astronaut Duke backs next generation of pioneers
Apollo 16 astronaut Charlie Duke was at the show in support of the Al Worden endeavour scholarship.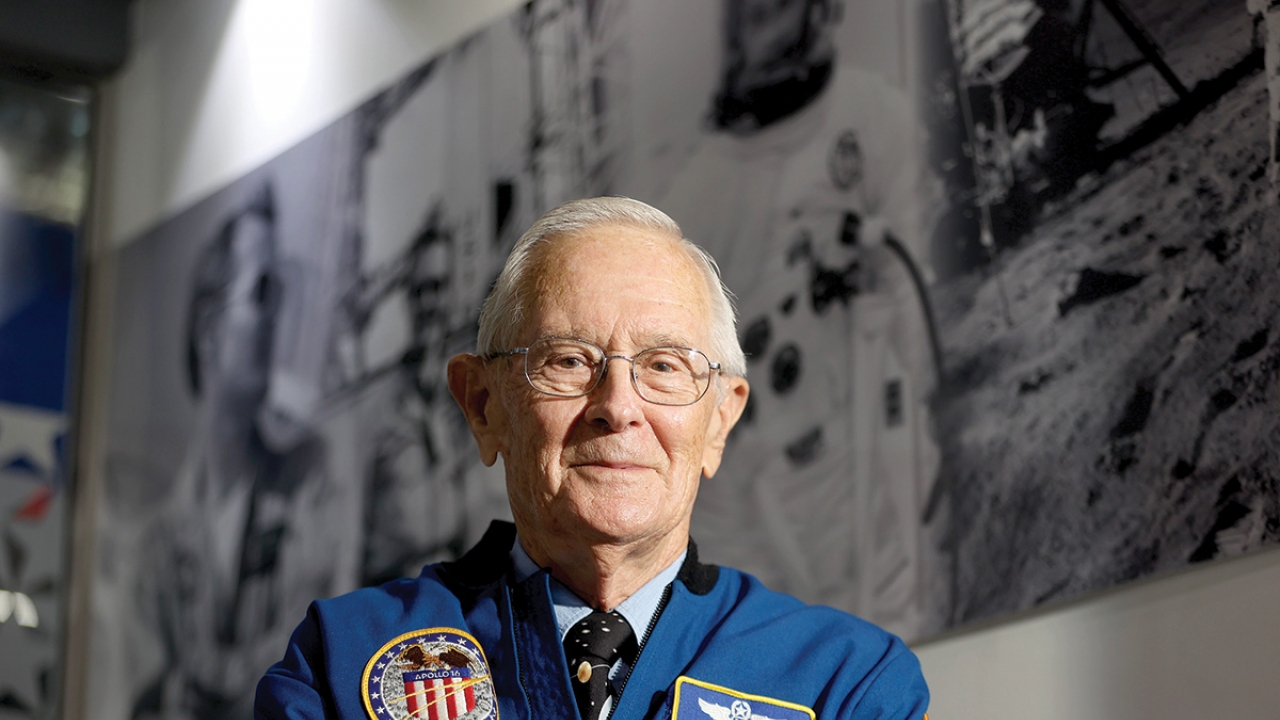 Sadly, Al Worden, who was command module pilot for the Apollo 15 lunar mission in 1971, and a visitor to the 2019 Dubai Airshow, died in March last year.
Worden had been working with Kallman Worldwide, organiser of the USA partnership pavilion, for more than six years on a global goodwill mission to promote international collaboration. He was an active ambassador for US industry and an advocate for the next generation of pioneers.
"Al was a good friend of mine and I miss him," said Duke. "But life goes on and I'm happy to continue his work as an endeavour scholarship ambassador."
The Astronaut Al Worden Endeavour Scholarship scheme was launched at the US pavilion at the Dubai show in 2019. It aims to send select students and educators from the UAE on a week-long, all-expenses paid astronaut training experience at Space Camp in Huntsville, Alabama in the United States.
"Unfortunately, due to Covid-19, we have had to delay the space camp trips, but we hope to get them back online in time," said Duke.
The next scholarship award ceremony takes place today at the USA pavilion at noon, when four students and an educator will be selected for the UAE endeavour mission team.
Duke has been busy while in the UAE. He gave a talk at the mobility pavilion at the EXPO 2020 last night. He also visited a junior school and met with the four UAE astronauts – Hazza Al Mansoori, Sultan AlNeyadi, Mohammad AlMulla and Nora AlMatrooshi.
Al Mansoori is a star in the UAE, having flown to the International Space Station in the Autumn of 2019.
So, did Duke have any advice for the intrepid four?
"Yes I did. Don't do anything in space that you haven't practiced on Earth," Duke said smiling.
He was referring to his attempt at setting a lunar high jump record on his 1972 mission.
"It was the time of the Munich Olympics and we thought we would join in," he said. Duke jumped about 0.81m, but overbalanced, and fell over backwards on to his primary life support system.
"It could have been a fatal accident had my suit ruptured or PLSS broken," he said. As fellow astronaut John Young said at the time: "That ain't very smart!"
Duke said he was impressed by the cooperation between the UAE and US businesses at the show. "It reminds of my early days at NASA," Duke said. "We had 400,000 people working together. It just shows what cooperation can achieve," he concluded.
Stay up to date
Subscribe to the free Times Aerospace newsletter and receive the latest content every week. We'll never share your email address.