Aviation Africa celebrates the opening of its biggest event to date
This year marks the seventh Aviation Africa summit and the first time the event has ever been held in West Africa.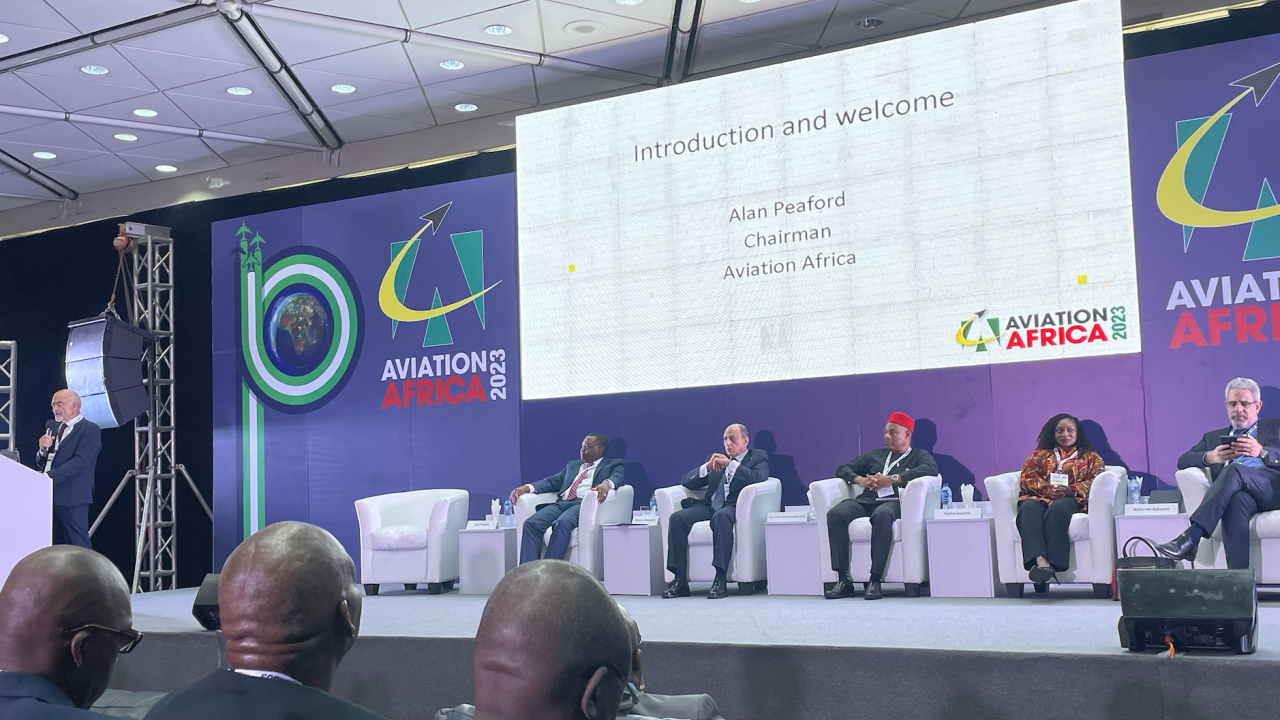 "It's not before time," underlined Summit Chairman, Alan Peaford.
Speaking at the opening ceremony, he explained that the first summit was held nine years ago in Dubai as there were too many visa restrictions for those travelling between African countries to host it on the continent. "However, within a year Rwanda had completed the process for visas on arrival, paving the way for where the event needed to be," he continued.
As the most populous African country with a population of more than 200 million, the promise of Nigeria and the wider West African region has plenty to offer the global aerospace industry. "However, this is not a new promise, or one will see easily fulfilled as there are many factors inhibiting growth," Peaford pointed out.
A lack of investment in infrastructure, high taxes, workforce challenges, poor connectivity and a lack of MRO facilities are all challenges that the industry continues to face. "We've seen many new and often repeated initiatives and great ideas, but they've stumbled through inertia or strong resistance. We must find a way forward, but it has to be an African way," said Peaford as he noted the global industry may have shared goals, but we have to recognise these can be achieved in different ways. "For those outside the continent we must recognise we can benefit from learning the African way."
Picking up on this last point, Adefunke Adeyemi, Secretary General AFCAC, commented that it's important to remember the African way is unique to each African country, as she emphasised that the Single African Air Transport Market (SAATM), which was officially launched in 2018, remains key to unlocking Africa's potential.
"To fly from Dakar to Lagos is not easy, nor is it easy to travel between other African countries," she said revealing it can take 1.5 days to get from one African country to another.
While 44 countries are already signed up to SAATM, the challenge now is pushing ahead with its implementation. "We're looking at the countries that are willing to move forward and working with them to do so," said Adeyemi.
AFCAC launched its Pilot Implementation Project (PIP) at the end of 2022 to drive forward the implementation of SAATM using a tiered approach with the initial phase focused on engaging with ministers to make them aware of whether the SAATM they signed is really being implemented. "The focus now," said Adeyemi "is granting fifth freedom traffic rights to stimulate the market in a different way as it enables access to new markets. Since launching SAATM PIP in November we've launched 11 new fifth freedom routes with more opening soon."
If SAATM isn't implemented, Adeyemi warned Africa will lose additional economic growth of US$4.2 billion over the next two years.
Meanwhile, IATA's regional VP, Kamil Al-Alwadhi referenced that airlines in Africa face a unique set of issues that are not the same as elsewhere. "In Nigeria an airline would need to pay 26% interest on any loans they take, while insurance can be 10 times more expensive than elsewhere, safety incidents are eight times higher and excessive fees on the continent in terms of fuel and airport charges are further hindering growth."
To address these challenges, IATA introduced its Focus Africa initiative in April this year to align private and public stakeholders in strengthening aviation's contribution to Africa's economic and social development, while improving connectivity, safety and reliability. "We need to take a holistic view on addressing these challenges. Africa accounts for 18% of the global population but just 2.1% of air transport activities. We need to close that gap," Al-Alwadhi said.
Responding to Al-Alwadhi's concern about high airport and fuel charges, Lieutenant General Mohamed Abbas Helmy, Minister of Civil Aviation Egypt said it was essential to increase airport charges to develop infrastructure in line with increasing demand. "We are fully aware of the financial burdens our African companies incur whether it's in terms of rising service prices, which are up to 8% higher than the industry average or fuel prices which represent more than 30% of operating costs and are 12% higher than the average global prices. However, it's a practice that's followed by most international airports."
Helmy also stated that while the challenges in Africa are great the opportunities are also promising. "We as governments on the African continent must face these challenges so that they do not affect the capabilities of this vital sector to grow and develop."
With sustainability an ever-pressing focus across the sector, Dr Oliumuywa Benard Aliu, Lifetime Goodwill Ambassador and Former President ICAO council underlined the disproportionate impact of climate change on developing countries.
"Every state must do its part to limit carbon emissions and we must fully support the aviation sector's targets including the long-term goal of net zero by 2030. Active involvement in climate change mitigation represents a challenge, but also a tremendous opportunity to build collaborative partnerships and technological advancements."
While sustainable aviation fuel (SAF) is not widely available globally, let alone in Africa, Aliu also said the "development of SAF will be a key selling point for retaining existing and attracting new airline customers. As such developing SAF infrastructure is key and we need to collaborate closely with other stakeholders to increase the production and distribution of SAF across Africa."
The morning session wrapped up with Festus Keyamo, the Honourable Minister of Aviation and Aerospace development describing the development of aviation as a vital catalyst for growth and advancement of modern society and integral to achieving the United Nation's sustainable development goals. "It is the current government's goal to make Nigeria the home of aviation in Africa," he said. The government is actively seeking foreign investment to enhance the sector with various projects in the pipeline to upgrade the airport infrastructure, including the construction of a new runway in Abuja and plans to develop an aerotropolis for which a site has already been secured.
"We are also seeking major players in the aircraft leasing sector to invest in Nigeria by providing state-of-the-art aircraft and want to develop a maintenance, repair and overhaul (MRO) facility as this doesn't exist currently in West Africa, so aircraft are being flown elsewhere for maintenance."
Reiterating the government's support for Nigeria and West Africa's aviation industry, Keyamo concluded that the Aviation Africa summit provided an ideal opportunity to network, address the challenges and find solutions that can be implemented to help advance Africa's aviation sector.
Stay up to date
Subscribe to the free Times Aerospace newsletter and receive the latest content every week. We'll never share your email address.