Four problems that private aviation needs to fix
Private aviation needs a digital revolution if operators and brokers want to respond to rising demand, this is according to the CEO of a new live bidding platform - AeroBid.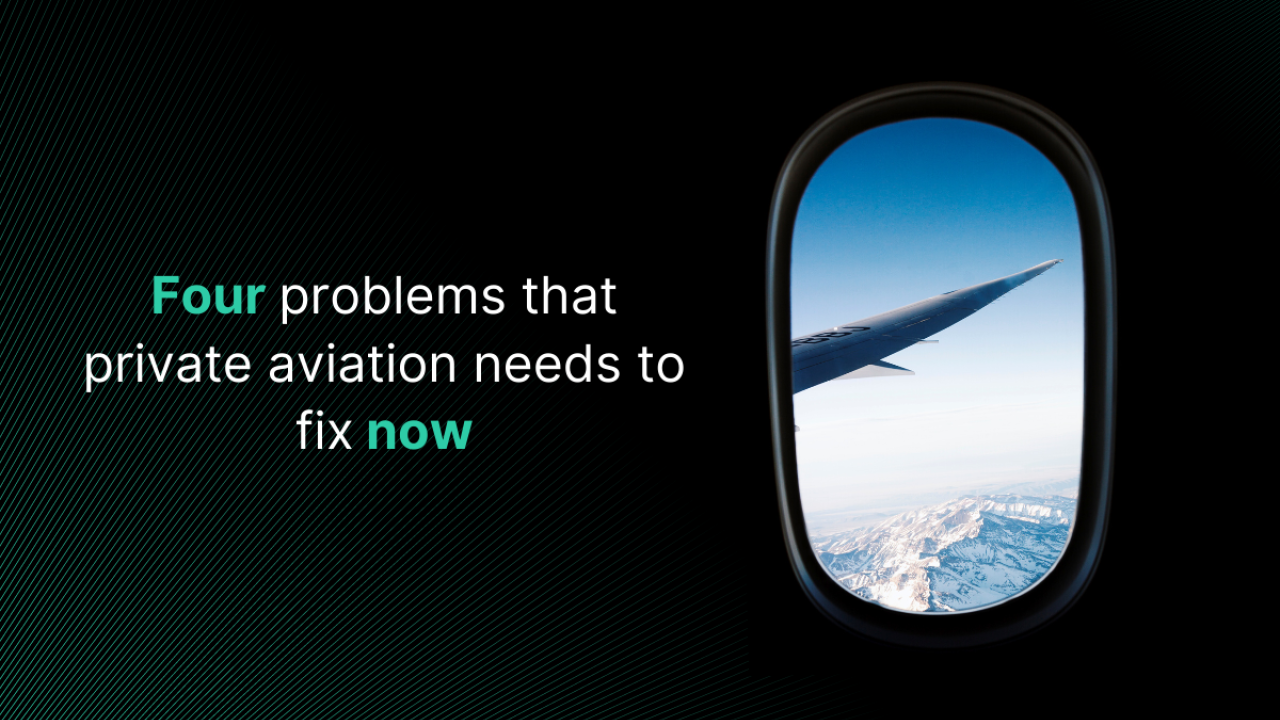 Private aviation has taken steps to digitise in recent years, but it hasn't been enough to shake up the industry and deliver what brokers and operators need to thrive in an evolving digital world. 'Empty legs' remain a lost opportunity, while the flight request and bidding processes remain slow, despite the introduction of online portals to request and bid for flights. If anything, the early stages of private aviation's 'online revolution' has created more problems than it solves (such as the price transparency challenge that surrounds many online bids for charters).
So how can the industry further embrace and utilise online processes to overcome its most urgent challenges – and enjoy the digital revolution that this growing industry deserves?
Slow, manual flight request processes
Online platforms haven't lived up to expectations, particularly when it comes to speed. Up until now, brokers have faced a choice between the traditional method of manually calling their network of trusted operators or requesting flights on a static online bidding platform – which often results in brokers resorting to manual calling anyway, due to a lack of real-time information and bidding processes.
A new platform that is addressing this is AeroBid, which by contrast allows operators to bid in real time, anonymously, on detailed flight requests. The broker then chooses the most valuable quotations for their client.
Operators overwhelmed with requests
As demand increases, operators are finding themselves inundated with flight requests, many of which aren't relevant or useful to them. Current digital platforms that distribute requests from brokers can result in thousands of flight requests in a single day being received by operators, generating masses of admin that makes it harder and more time-consuming to filter out the best opportunities.
Yet data should be simplifying workflow for operators, not complicating it, allowing operators to identify the most relevant and lucrative flight requests based on specific information. AeroBid's data-driven approach enables operators to take control of incoming requests: they can view full flight details, search by key information like location or aircraft, and choose which requests to bid for. They can also choose to receive notifications when requests are posted with key criteria, automating what can otherwise be a laborious selection process.
Sustainability and the 'empty leg' issue
'Empty legs' are a continual issue in private aviation, and it's anticipated that a majority of private aircraft journeys don't carry any passengers. It's a wasted opportunity for operators, who could monetise 'empty legs' at a fraction of the cost of their primary charters, benefiting brokers (and their clients). If the industry could regularly harness even a percentage of 'empty legs', it could, over time, create more affordable private charter fees, as operators utilise both their outbound and return journeys.
Most importantly, it could be a vital step towards greater sustainability. If a plane that would be empty could carry passengers who would otherwise have booked another flight, less return flights would be needed to accommodate a greater number of passengers.
Zaher Deir, CEO and Founder of AeroBid, comments: "I would say that around 30 -50% of the private flights which operate now are empty, either because the aircraft is going to pick up passengers or is returning to its home base after dropping passengers off. No one is making great use of those empty legs. It would be impossible to fill 100% of those flights, but with digital platforms and data, as we use at AeroBid, it's certainly possible to use 80% to 85% of them, and that would represent an enormous leap in efficiency and sustainability."
Supply and demand
Increasing demand for private air travel has led to a boom in private jet ownership, which – combined with supply chain issues in aircraft production – has decreased the availability of aircraft. With private flight requests rising, and aircraft supply stagnating, operators and brokers face the reality of demand that they can't fulfil.
Data can ease this pressure on the industry, not by providing more planes or flights, but by maximising the efficiency of existing inventory. The empty leg problem above is one manifestation of the issue — when demand outstrips supply, empty flights are a squandered opportunity. Online platforms need to align the supply and demand sides of private aviation more intelligently, so that operators don't miss the opportunities to fulfil demand, and more smoothly, so that the bidding process is quicker and more accurate, and more flights get booked and fulfilled in a shorter space of time.
Stay up to date
Subscribe to the free Times Aerospace newsletter and receive the latest content every week. We'll never share your email address.