IATA AGM: Riyadh Air gets RX as designation says Douglas
Saudi Arabia's new "world class" national carrier, Riyadh Air, announced at the IATA annual general meeting (AGM) in Istanbul today that it has obtained "RX" as its airline designator code.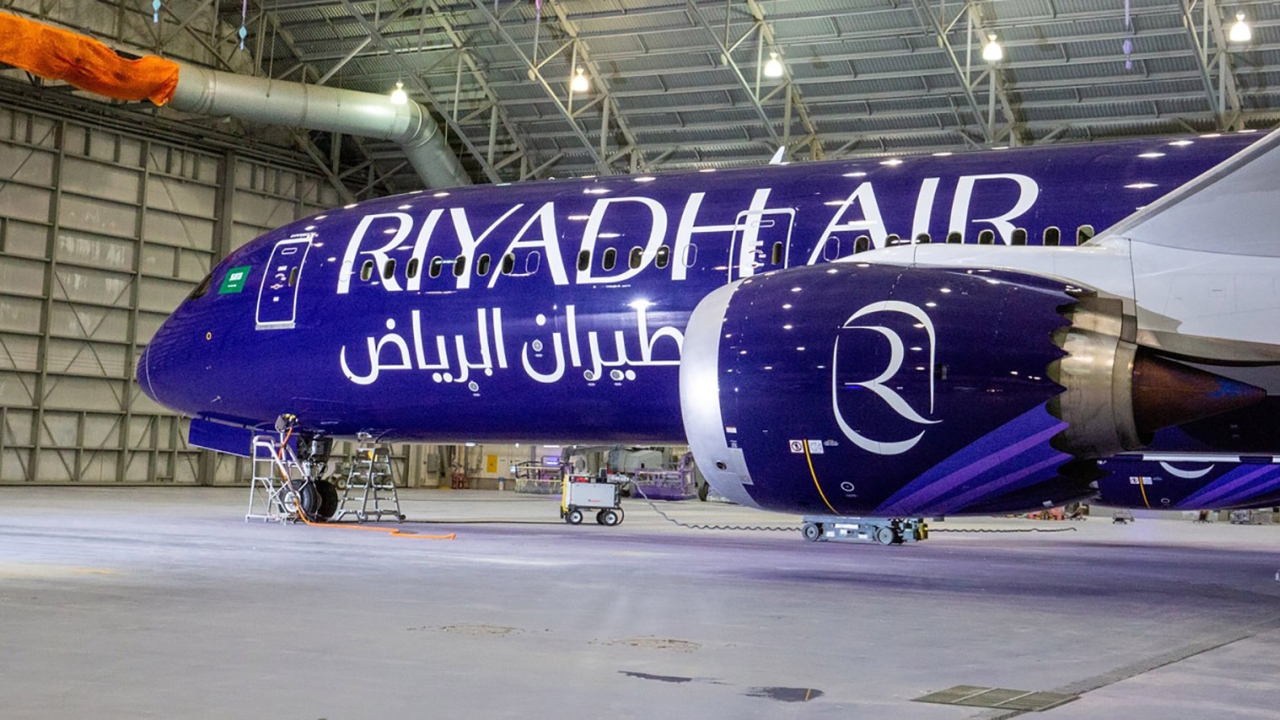 This announcement was made during the airline's first public appearance since launch, with Tony Douglas, CEO and official delegation from Riyadh Air in attendance at this 79th IATA AGM and World Air Transport Summit.
Riyadh Air's main hub and operations will be based in Riyadh, connecting the Kingdom of Saudi Arabia's capital to more than 100 destinations around the world by 2030. As a digitally-native, full-service carrier, Riyadh Air will pioneer new technologies and innovations whilst offering guests an authentic and warm Saudi hospitality style, according to the airline which is funded by Saudi Arabia Public Investment Fund (PIF).
Operations are scheduled for early 2025. In March, the airline ordered 72 Boeing 787-9 Dreamliners and is widely expected to order up to 150 Boeing 737 Max aircraft soon.
During the event Riyadh Air also released first images of its new livery on social media.
While Saudi Arabia already has a successful flag carrier in Saudi Arabian Airlines (Saudia), Riyadh Air was established to support both the Kngdom's national aviation strategy and the wider national transport and logistics strategy, which aspires to fulfil its Vision 2030 goals. As part of this, Riyadh Air will optimize the nation's strategic location of connecting the three continents of Asia, Africa and Europe, facilitate the growth and diversification of the Kingdom's economy and create more than 200,000 job opportunities directly and indirectly.
The new CEO of RX, former Etihad chief, Tony Douglas, speaking ahead of IATA event's opening, said: "It has been an absolute pleasure to be on the ground at the IATA AGM. The Riyadh Air team is able to meet with industry stakeholders and experts to discuss safe, efficient and technologically advanced topics in the global air travel industry.
"We are delighted to announce that we have obtained "RX" as our IATA code, which will be on every touchpoint that our guests see as they take flight with us. The code reflects our ambition to be a digitally led airline, having the connection of innovation and state-of-the-art technology. Riyadh Air has made another strategic milestone towards its operations in 2025, and we are so excited for our guests to be able to travel to over 100 destinations with our code on their bag tags, booking documents and digital services."
IATA codes are considered an integral part of the travel industry and the commercial organisation of air transportation of passengers and cargo. They are essential for the identification of an airline, international bookings and in the work of ground service teams at airports.
Since the airline's launch in March 2023, the airline's careers web page has received job applications from over 300,000 applicants across 182 countries around the world.
Stay up to date
Subscribe to the free Times Aerospace newsletter and receive the latest content every week. We'll never share your email address.