Aviation Africa: Air Peace boosts fleet with Embraer jets and MRO deal
West Africa's largest carrier - – Nigeria based Air Peace – joined Brazilian manufacturer Embraer and Nigeria's new Minister of Aviation & Aerospace Development, and the country's director general of civil aviation on the stage of the Aviation Africa Summit to cement a milestone deal.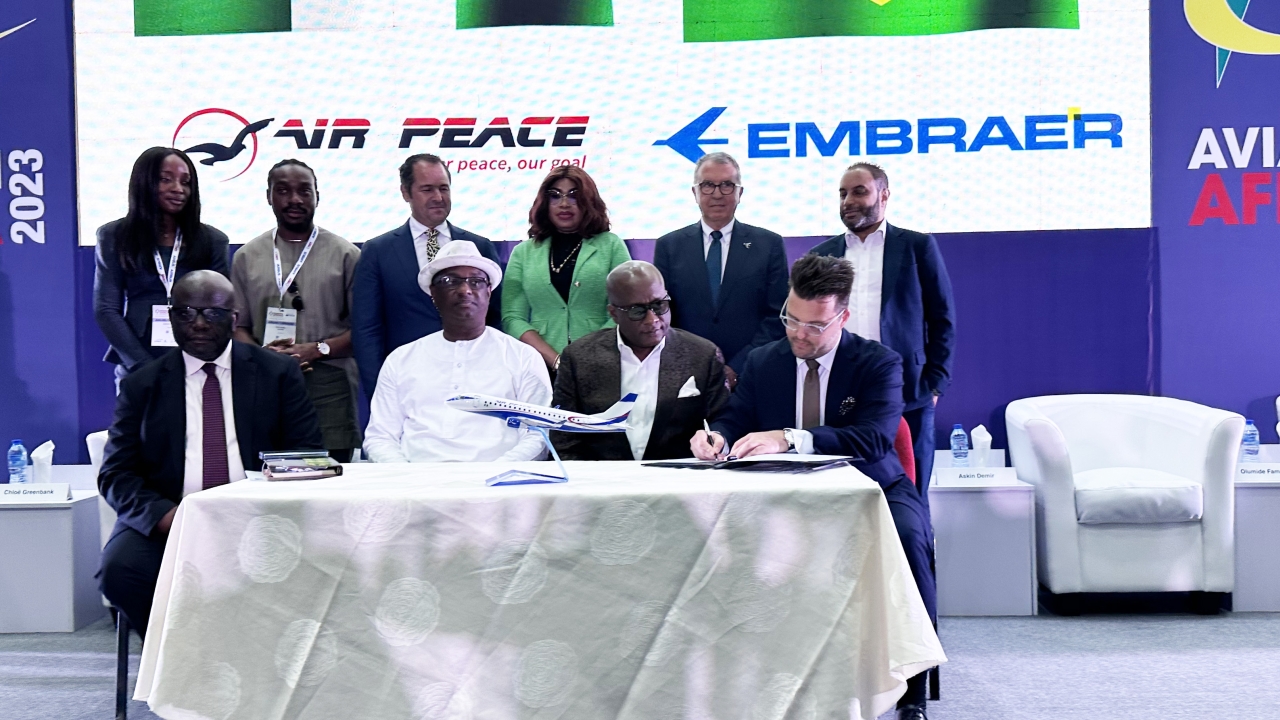 The OEM and the airline had worked through the night to finalise negotiations for Air Peace to buy five E175 regional jets with options for five more. But as part of the agreement, a new MRO facility will be developed in Nigeria to support maintenance on the regional jet types.
Chairman and CEO of Air Peace, Allen Onyema, told the Summit audience that the MRO agreement was in line with a new initiative by the new minister, Festus Keyamo, to ensure fleet growth would be matched by inward investment in service support.
"This is good for Nigeria, good for West Africa and good for the whole of Africa," Onyema said.
The aircraft deal worth just under $300 million will see them replacing existing Embraer ERJ145 fleet.
Already an operator of Embraer's newest and largest jet, the E195-E2, these smaller aircraft will complement the airlines' existing fleet, allowing Air Peace to dynamically match capacity to demand, protecting yields and route viability.
Onyema, said: "This is another important step in helping to realise our ambition to connect the whole of Nigeria with the entire African continent, while also feeding passengers into long-haul flights from our Lagos hub. The acquisition enables us to continue delivering on our 'no-city-left-behind' initiative – connectivity is what our passengers, and Africa, demand.
Stephan Hannemann, Embraer Commercial Aircraft head of Africa & Middle East region said: "Air Peace's strategic and innovative approach continues to make them a powerhouse of aviation success in West Africa. Already an E2 operator, it now makes sense to upgauge their ERJ145 fleet, offering passengers more seats and comfort with the E175. The commonality of the cockpits between the E1 and E2 fleet also simplifies aircrew costs and management," he said.
Stay up to date
Subscribe to the free Times Aerospace newsletter and receive the latest content every week. We'll never share your email address.