Home schooling the key to EFTA success
The Emirates Flight Training Academy recently achieved three huge milestone. Tom Westcott talked to its vice president, Captain Abdulla Al Hammadi.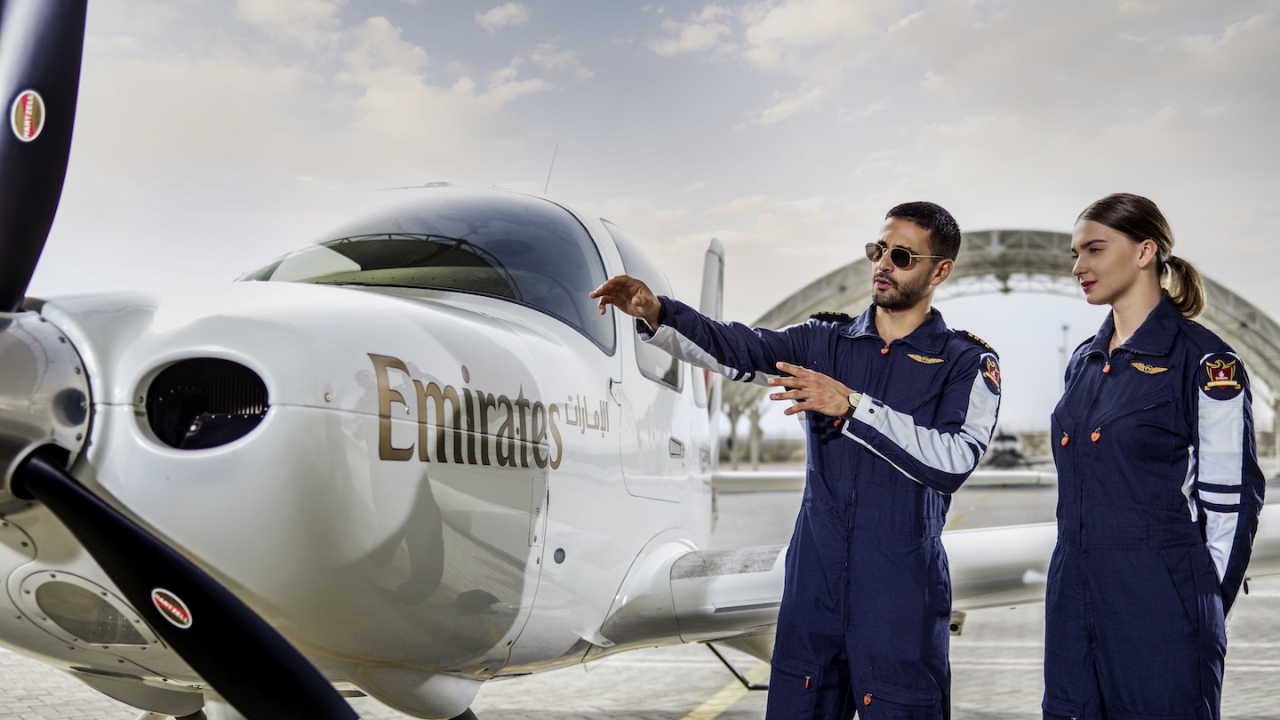 The reliably blue skies of the UAE are an ideal training environment for cadets to earn their stripes.
Making the most of the 'visual flight rules' is the Emirates Flight Training Academy (EFTA), based in Dubai South, which was recently named training provider of the year at the Aviation Business Middle East Awards.
While other GCC carriers are sending their cadets abroad (Etihad and Jazeera Airways have an agreement with FTE Jerez in southern Spain, for example), EFTA is growing its base close to home.
At the tail end of 2022, it celebrated three major milestones: graduating international cadets for the first time since the academy opened to non-Emiratis in late 2019; graduating the largest cohort to date in a single sitting, with more than 50 cadets completing their training; and more than 100 cadets having passed through EFTA's doors since its first graduation in 2020.
Captain Abdulla Al Hammadi, vice president of EFTA, said: "We have never wavered in our intent or purpose: to establish the most advanced academy to train and transform cadets into first-rate pilots and help plug the resource gaps in the global commercial aviation industry.
"EFTA is founded, funded and supported by Emirates and its visionary leadership team. Cadets have the golden opportunity to join the airline after applying and going through the airline's rigorous recruitment process after graduation."
The vast academy has the capacity to train around 600 cadets at any time, with a programme lasting two years allowing students to complete at least 1,100 hours of ground-based training over 53 weeks, followed by 250-plus hours of flight training (including simulator flying) using a competency-based approach.
Al Hammadi said: "Our massive facility is equal to 200 football fields, and has 36 modern ground classrooms, six full-motion flight simulators, an independent air traffic control tower, and a dedicated 1,800 metre runway, where cadet pilots can learn, train and fly successfully without having to leave the academy's premises. That's unique in the region and rare in the rest of the world."
All 36 classrooms are equipped with large touchscreens running bespoke training software created for EFTA by Boeing.
The fleet of aircraft includes 22 Cirrus SR22 G6 single-engine piston aircraft and five Embraer Phenom 100EV very light jet aircraft.
In March 2023, EFTA announced it was bolstering its current fleet with an order for three twin-engine DA42-VIs and the corresponding flight simulator from Diamond Aircraft Industries, ushering in multi-engine piston (MEP) training.
"Our new fleet from Diamond Aircraft is part of our larger strategic intent for our cadet programme. It helps us design a bridging MEP programme for cadets to gain more flying experience, while progressing from a single-engine to a light jet aircraft. It strengthens our offering and makes it more unique, rounded and robust," said Al Hammadi.
While Emirates supports the UAE national cadet programme, the airline also offers direct recruitment opportunities to non-Emirati EFTA cadets.
"EFTA is serving as a robust pipeline to address the shortage of skills in the industry," the vice president said. "Our cadet numbers are healthy and absolutely in line with our expectations. Just the fact that we've already graduated more than 100 cadets within the past three years, despite the pandemic, speaks volumes of the interest in joining EFTA.
"More than 250 students, representing 18 nationalities from around the world, are currently studying with us."
But, for foreign cadets, that study comes with a hefty price tag. While UAE nationals are fully sponsored by Emirates, fees for non-Emirati cadets are set at $181,000, including accommodation, meals and the cost of licences.
"Driven by a projected sharp increase in air travel demand, the Middle East region could face a shortage of 3,000 pilots this year and 18,000 by 2032," Al Hammadi noted. "We've definitely seen a spike in interest from students, and their parents, on how they can pursue a career as a pilot, enrol in flight training, and join EFTA."
Stay up to date
Subscribe to the free Times Aerospace newsletter and receive the latest content every week. We'll never share your email address.