Spinning the web all around the globe
OneWeb's in-flight connectivity solution – claimed to be a "watershed moment" by the company – is on track for service introduction in mid-2024.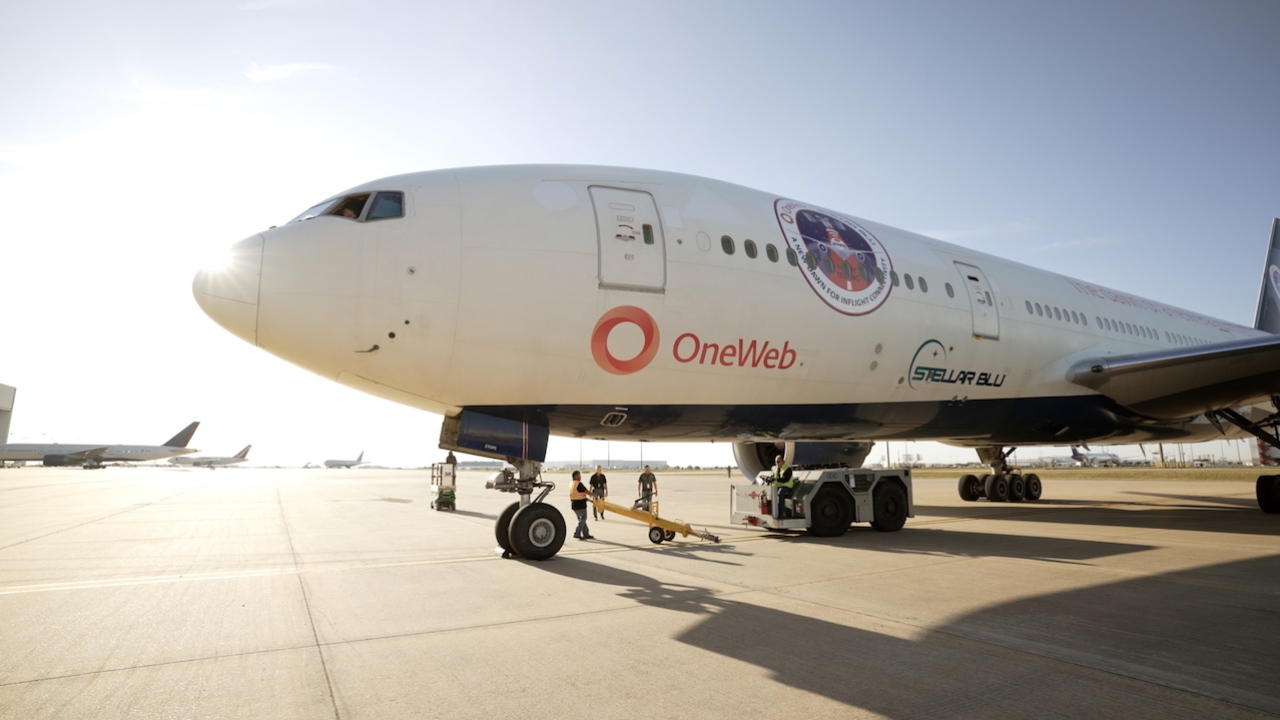 OneWeb in-flight connectivity (IFC) is a step closer to full commercial introduction with distribution partnership agreements now signed with Intelsat, Panasonic Avionics and Eutelsat.
Ben Griffin, OneWeb vice president, mobility services, said the company is also in dialogue with major original equipment manufacturers (OEMs) to make it line-fit available on new commercial aircraft.
"We now have agreements that cover 80% of the commercial market and are on track for service introduction in the middle of 2024," Griffin said. "We aim to have full global coverage by the end of next year."
At the time of writing, the company's next launch of 36 satellites was due to take place in India on October 15. With this launch, OneWeb will have more than 70% of its planned Gen 1 low-Earth orbit (LEO) constellation in orbit delivering high-speed, low-latency connectivity services around the world.
A SpaceX launch the following month should loft a further 30-plus satellites.
OneWeb's new global distribution partnership agreements claim to offer airlines seamless IFC with what it says is the best combination of performance, coverage and reliability on the market.
While the existing Ku-band offers a vast installed base of aviation users, fast speeds and up to about 85 degrees coverage north and south of the equator, OneWeb's LEO satellites offer truly global coverage with low latency.
OneWeb says that airlines and their passengers will no longer have to accept significant gaps in IFC coverage or capacity, even at busy hubs, across oceans, and over polar routes, as it will seamlessly manage connectivity, allowing passengers to remain connected no matter where they are.
Griffin said: "This is a watershed moment for the IFC market and we're excited to work together with our partners to bring our multi-orbit solution to commercial aviation.
"We're committed to delivering the most differentiated and innovative solution for airlines.
"We are proving that, through the power of partnership, a superior suite of multi-orbit capabilities can be offered to better serve the growing connectivity needs of the commercial aviation industry, delivering the highest value coupled with the lowest risk."
OneWeb and Stellar Blu (formerly GDC Advanced Technology) demonstrated the LEO satcom service back in May. The first test-flight was conducted aboard a Boeing B777-200LR and took off from Fort Worth Alliance Airport (KAFW), in Texas , flying for a little more than an hour.
It simultaneously demonstrated the ability to connect MS Teams calls, 4K YouTube streaming, Netflix, online VR gaming, and Nintendo Switch gaming, among other structured performance tests.
Maximum speeds of 260Mbps download/80Mbps upload and file transfer scenarios of 5GB demonstrated in approximately 20 seconds were achieved, all while operating at less than 100ms of network latency.
"This successful flight-test demonstrates the power, not only of the OneWeb network, but our industry-focused and partnership-led approach to the design, development, and deployment of ground-breaking technologies to connect commercial aviation. It's a solution designed for the aviation industry, by the aviation industry," said Griffin.
OneWeb also recently announced that it plans to merge with geostationary satellite giant, Eutelsat.
Eutelsat Communications and key OneWeb shareholders have signed a memorandum of understanding (MoU) with the objective of creating a leading global player in connectivity through the combination of both companies in an all-share transaction. Eutelsat will combine its 36-strong fleet of GEO satellites with OneWeb's constellation of 648 LEO satellites, of which 428 are currently in orbit.
The transaction would be structured as an exchange of OneWeb shares by its shareholders (other than Eutelsat) with new shares issued by Eutelsat, such that, at closing, Eutelsat would own 100% of OneWeb (excluding the 'special share' of the UK Government). OneWeb shareholders would receive 230 million newly issued Eutelsat shares representing 50% of the enlarged share capital.
The potential transaction builds on the collaboration between Eutelsat and OneWeb, which began with the equity stake acquired by Eutelsat in OneWeb in April 2021.
Stay up to date
Subscribe to the free Times Aerospace newsletter and receive the latest content every week. We'll never share your email address.