Ku-band tuned-up to play well in the Middle East
Panasonic's Gen-3 in-flight connectivity is now available in Asia with the Middle East to follow.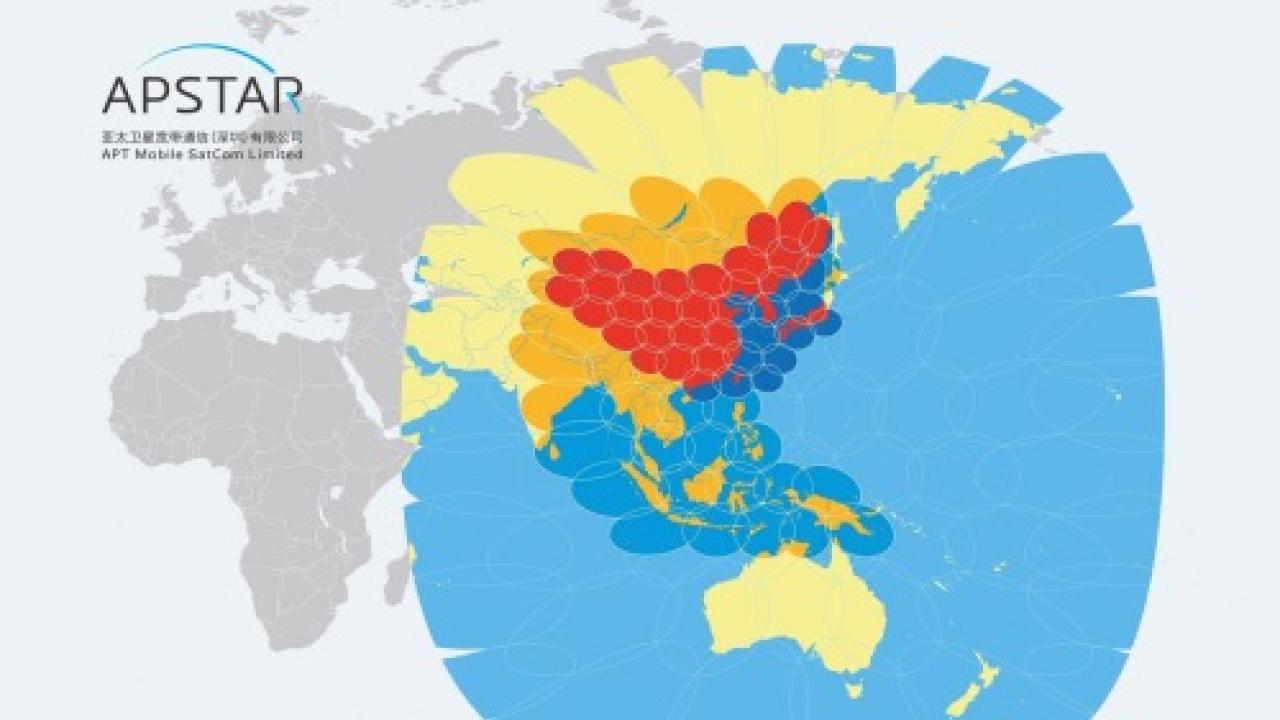 Increased connectivity: The third-generation Ku-band roll-out continues: Image: APSTAR-6D.
Panasonic Avionics is continuing with the roll-out of its third-generation Ku-band communications network, which offers an improved airline and passenger experience.
This includes faster internet, video streaming, VoIP applications, improved live TV picture quality and broader channel choice, 4G phone services, and greater bandwidth for crew applications.
In March, its first extreme high-throughput satellite (XTS) entered service over the Asia-Pacific region. There are plans for another satellite launch to cover the Middle East region next year.
The APSTAR-6D high-throughput satellite was launched last July and has a total capacity of 50 gigabits per second.
It was jointly designed by APSATCOM and Panasonic Avionics, and provides airlines with multiple gigahertz of new Ku-band capacity over China and high-density routes around East Asia, including Tokyo, Seoul, Beijing, Shanghai, Hong Kong, Malaysia, Singapore and Indonesia, using narrow XTS spot beams.
In addition, APSTAR-6D provides high-throughput satellite (HTS) coverage over its full field of view, including the Pacific Ocean, Indian Ocean, Australia and the Southern Ocean down to Antarctica, which includes areas not served by any other HTS satellite.
Plans are now well under way for the launch of a second XTS satellite that will provide enhanced connectivity over Europe and the Middle East.
Built by Thales Alenia Space, Eutelsat 10B is due to launch on an Ariane 5 rocket from the Guiana Space Centre in early 2022. The satellite will be located at 10° East, an orbital position that offers a unique visibility spanning from the Americas to Asia.
Panasonic Avionics has signed a contract with Eutelsat Communications to enable it to provide multiple gigahertz of XTS Ku-band in-flight connectivity to airlines and their passengers flying over a wide area across Europe, the Mediterranean basin, Africa, the Middle East and the Indian Ocean.
The satellite's HTS payloads will be able to process more than 50 GHz of bandwidth, offering a throughput of approximately 35 Gbps in total.
All of the aircraft – more than 2,500 – flying with Panasonic's connectivity solutions have now been upgraded to its Gen-3 network.
Gen-3 is a combination of both new installed next-generation modems and new XTS and HTS that promise to boost both the speeds and bandwidth available while in flight.
In addition to in-flight internet access, Panasonic Avionics offers live television with the world's only global live sports channels delivered in partnership with IMG. It also delivers real-time advertising and other transactions that open up a huge range of in-flight retail possibilities.
The higher-speed Gen-3 network will also help enable Panasonic's ZeroTouch system, which moves content to and from an aircraft using Wi-Fi, 4G or a Ku-band satellite connection.
ZeroTouch reduces an airline's need to physically touch the aircraft because all interactions are managed through a virtual dashboard.
It provides access to real-time passenger data, software, and media, plus content updates can be data-driven, helping to create a relevant and personalised passenger experience.
Picture: Panasonic Avionics.
Ken Sain, chief executive officer of Panasonic Avionics Corporation, said: "Our third-generation communications network delivers the targeted, flexible use of extreme high-throughput capacity, ensuring we can meet the needs of our airline customers with cost-effective and reliable high-bandwidth services well into the future.
"Tailoring the capacity to areas of demand will provide our airline customers with better service, unprecedented coverage, and the ability to dramatically increase throughput. This opens the doors for airlines to further customise their connectivity offerings to meet the evolving expectations of their passengers."
Jeff Sare, the company's vice president, in-flight connectivity solutions added: "We are committed to long-term investment in our high-bandwidth, global Ku-band network, and the service entry of APSTAR-6D is the latest step in that journey."
The company currently has equipment flying on Emirates, Turkish, Etihad, Qatar, Saudia, Egypt, Kuwait, Middle East Airlines-Air Liban, Saudi Gulf and several private operators.
It has delivered more than 15,400 in-flight entertainment systems and 2,540 in-flight connectivity solutions to the world's leading airlines.
Reported by Steve Nichols.
Stay up to date
Subscribe to the free Times Aerospace newsletter and receive the latest content every week. We'll never share your email address.